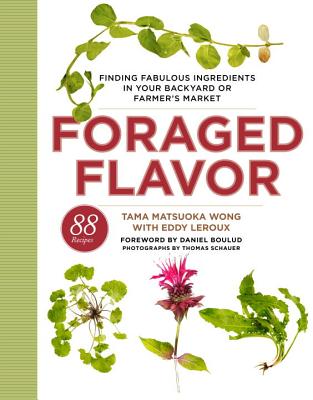 Foraged Flavor
Finding Fabulous Ingredients in Your Backyard or Farmer's Market, with 88 Recipes: A Cookbook
Hardcover

* Individual store prices may vary.
Description
Forage for wild food and discover delicious edible plants growing everywhere—including your backyard—and how best to prepare them to highlight their unique flavors, with this seasonally organized field guide and cookbook.

While others have identified in the past which wild plants are edible, Tama Matsuoka Wong, the forager for Daniel, the flagship restaurant of renowned chef Daniel Boulud, and Eddy Leroux, its chef de cuisine, go two steps further, setting the bar much higher. First, they have carefully selected only the wild plants that are worth seeking out for their fabulous flavors. Second, after much taste-testing, they have figured out the best way to prepare each ingredient—a key in getting to know these exciting new foods. In Foraged Flavor, they reveal their seventy-one favorite plants, which are easy to identify and can be harvested sustainably across the country (including at farmers' markets for those without access to nearby fields and forests). Tama helps readers uncover bright lemony oxalis growing in patches of their lawn or creeping jenny, with its unmistakable leaves and delicate green-pea flavor. Eddy then gives simple recipes to showcase the foraged finds, including Cardamine Cress with Fennel and Orange Vinaigrette; Braised Beef, Dandelion Leaves, and Clear Noodles; and Purslane Eggplant Caponata.

With twenty-five botanical illustrations, fifty color photographs of the plants, and tons of field- and kitchen-tested know-how, Foraged Flavor will be an indispensable guide for cooking enthusiasts.
Praise For Foraged Flavor: Finding Fabulous Ingredients in Your Backyard or Farmer's Market, with 88 Recipes: A Cookbook…
"Much more than a field guide with recipes, this is a fascinating introduction to the nearly lost art of foraging for wild edibles. Tama and Eddy are truly passionate in their approach; their enthusiasm is inspiring."
—David Tanis, author of Heart of the Artichoke and Other Kitchen Journeys
 
"I love any book that brings more plants into our world, and wild plants have the most special place in the kitchen. The combination of sound information and delectable recipes couldn't be more enticing. A lovely book!"
—Deborah Madison, author of Local Flavors
 
"This is a charming and informative introduction to harvesting and cooking with wild plants in a sustainable and environmentally sensitive way. Eddy Leroux's interesting and delicious recipes alone make the book a must-have."
—Daniel Patterson, chef-owner of Coi
 
"Foraged Flavor is the perfect guide for the home cook to the bounty and beauty of what's growing right there in your own backyard. Tama shares her enthusiasm for foraging and turns you on to harvesting from the 'wild' and Eddy's recipes turn the 'wilderness' into pure deliciousness."
—Melissa Hamilton and Christopher Hirsheimer, authors of Canal House Cooking

"Foraged Flavor isn't just a collection of gourmet recipes for weeds and other unappreciated plants. . . .  [It] matches the distinctive, variously nutty, tart, sour, hot, minty tastes of these wild herbs—for a weed, after all, is just a plant we don't like—with their soul mates (ginger or mustard or pine nuts)."
—The New York Times
 
"Foraged Flavor is an unusual book in that it's a joint effort between a forager (Wong) and a chef (Leroux), so in may ways, it provides the best of both worlds: information on the plants plus recipes that provide a sophisticated, culinary usage that go beyond teas and salads."
—Epicurious
 
"The book could be called Foraged Urban Flavor as I count only a handful of plants in the book that I can't find growing wild in my own garden or within a short distance. . . . The ingredients are easy to source (even in my inner-city neighborhood) and the recipes are simple enough that someone like me could follow them."
—Treehugger.com
 
"In a few hours a truck would arrive at Ms. Wong's house in rural Hunterdon County [New Jersey] to pick up bags of deadnettle, creeping jenny, chickweed, and other plants most people would step over or pull out. They will be delivered to Daniel, the three-Michelin-star Manhattan flagship of chef Daniel Boulud. Ms. Wong is the restaurant's forager, relied on to help keep the menu diverse, unique, and flavorful. 'With Tama, the level of trust is absolute,' said Daniel's chef de cuisine Eddy Leroux . . . The recipes [in Foraged Flavor] are largely simplified versions of dishes on the Daniel menu, such a pan-roasted wild turbot with pine needles and spring wild herb ravioli with Gorgonzola, which includes deadnettle, wild garlic mustard, chickweed, and dandelion."
—The Wall Street Journal

Clarkson Potter, 9780307956613, 224pp.
Publication Date: June 12, 2012
About the Author
TAMA MATSUOKA WONG is the forager for restaurant Daniel in New York City and enjoys relationships with organizations that include the Audubon Society and Slow Food. After more than twenty-five years as a financial services lawyer, she launched Meadows and More, LLC, to connect experts in the field of meadow restoration, botany, and wildlife with people in the community. In 2007, she was named Steward of the Year by the New Jersey Forest Service.
 
EDDY LEROUX is the chef de cuisine at Daniel, the award-winning flagship restaurant of celebrity chef Daniel Boulud.
or
Not Currently Available for Direct Purchase