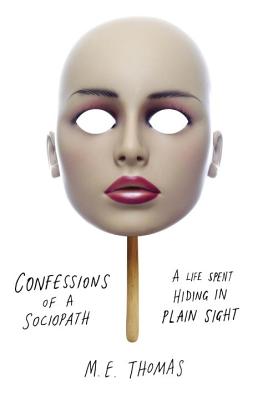 Confessions of a Sociopath (Hardcover)
A Life Spent Hiding in Plain Sight
Crown Publishing Group (NY), 9780307956644, 302pp.
Publication Date: May 14, 2013
Other Editions of This Title:
Digital Audiobook (5/13/2013)
Paperback (5/13/2014)
Compact Disc (5/14/2013)
* Individual store prices may vary.
Description
As M.E. Thomas says of her fellow sociopaths, we are your neighbors, co-workers, and quite possibly the people closest to you: lovers, family, friends. Our risk-seeking behavior and general fearlessness are thrilling, our glibness and charm alluring. Our often quick wit and outside-the-box thinking make us appear intelligent even brilliant. We climb the corporate ladder faster than the rest, and appear to have limitless self-confidence. Who are we? We are highly successful, non-criminal sociopaths and we comprise 4% of the American population (that's 1 in 25 people ).
"Confessions of a Sociopath" takes readers on a journey into the mind of a sociopath, revealing what makes the tick and what that means for the rest of humanity. Written from the point of view of a diagnosed sociopath, it unveils these men and women who are hiding in plain sight for the very first time.
"Confessions of a Sociopath" is part confessional memoir, part primer for the wary. Drawn from Thomas own experiences; her popular blog, Sociopathworld.com; and current and historical scientific literature, it reveals just how different and yet often very similar - sociopaths are from the rest of the world. The book confirms suspicions and debunks myths about sociopathy and is both the memoir of a high-functioning, law-abiding (well, mostly) sociopath and a roadmap right from the source - for dealing with the sociopath in your life, be it a boss, sibling, parent, spouse, child, neighbor, colleague or friend.
As Thomas argues, while sociopaths aren't like everyone else, and it's true some of them are incredibly dangerous, they are not inherently evil. In fact, they re potentially more productive and useful to society than neurotypicals or empaths, as they fondly like to call normal people. "Confessions of a Sociopath" demystifyies sociopathic behavior and provide readers with greater insight on how to respond or react to protect themselves, live among sociopaths without becoming victims, and even beat sociopaths at their own game, through a bit of empathetic cunning and manipulation.
About the Author
M. E. Thomas is a diagnosed sociopath and the founder of SociopathWorld.com. But she is not a killer. Quite the contrary, she is an accomplished attorney and law professor who writes regularly for major law journals, donates 10 percent of her income to charity, and teaches Sunday School.
Praise For Confessions of a Sociopath: A Life Spent Hiding in Plain Sight…
Praise for Confessions of a Sociopath

"[A] gripping and important book…revelatory…quite the memorable roller coaster ride."—New York Times Book Review

"[F]ascinating...part memoir, part psychological treatise, and entirely not to be trusted."—Boston Globe

"The goal of Confessions is to redefine sociopathy—or at least to shake off the stigma associated with it. And Thomas accomplishes both. Through her honest portrayal of herself as a highly capable yet deeply flawed individual, she demystifies her disorder."—Scientific American

"[F]ascinating stuff, and Thomas delivers…riveting…chilling….Her incisive observations about human nature can be breathtakingly pointed."—Cleveland Plain Dealer

"An essential, unprecedented memoir…intelligent, measured…[H]er arguments against using the diagnosis as an indicator of evil or a pre-emptive reason to imprison are a slam-dunk. This is a critical addition to narratives of mental illness, deepened by the awareness that we're reading someone whose most intense motivation is 'acquisition, retention, and exploitation of power'."—Publishers Weekly, starred review

"Fascinating and compelling as well as chilling, Thomas' memoir offers a window into the mind of a portion of the population that usually remains shrouded in mystery and fear."—Booklist, starred review

"[Thomas] invites us into her courtroom, classroom and bedroom to witness how her behavior has stunted her work life and made her love life difficult....Much here is chilling, but there are also cracks that make you ache for her....A work of advocacy for greater awareness of sociopathy's reach and conduct."—Kirkus Reviews

or
Not Currently Available for Direct Purchase