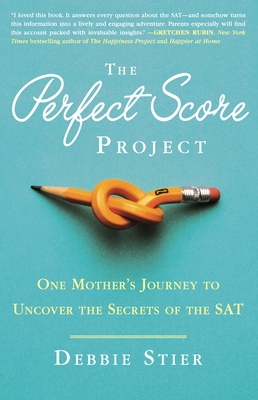 The Perfect Score Project
One Mother's Journey to Uncover the Secrets of the SAT
Paperback

* Individual store prices may vary.
Other Editions of This Title:
Digital Audiobook (2/24/2014)
Hardcover (2/25/2014)
Description
Save yourself time, money, and frustration by reading The Perfect Score Project, one of the most compulsively readable guides to SAT test-prep ever written, and a down-to-earth reminder of the things that really matter in life.

The project began as an attempt by Debbie Stier to help her teenage son, Ethan, who would shortly be studying for the SAT. Aware that Ethan was a typical teenager (i.e., uninterested in any test, especially a 4-hour standardized exam) and would be facing a much more competitive admissions process and economy than when she was in high school, she decided to climb into the trenches with him.  She took the SAT seven times in one year, ultimately compiling an accessible and relatable guide that is both a consumer report of fresh tips and an amusing snapshot of parental love and wisdom colliding with teenage apathy. Stier quickly became hooked, and her quest turned into an exercise in both hilarity and heartbreak as she persisted in deciphering the mind-boggling menu of test prep options. In The Perfect Score Project Debbie tries it all, from Kaplan, to Kumon and The Khan Academy; she meets with a premier grammar coach, takes a battery of intelligence tests, and studies with the world's most prestigious (and expensive) test prep company. She answers all the questions that overwhelm students and parents facing the SAT: "When do I start?" "Does brand-name test-prep work?" "Do I need a tutor, a class, or can I self-study?" "What's the one thing I need to know?" and, "What's the secret to teenage motivation?"
             
    The Perfect Score Project has inspired thousands of parents, students and teachers to connect and transform the most reviled right of passage in a high school student's life into a positive experience. This book provides concrete research on the best ways to succeed on a test that serves as the last big milestone before kids leave for college.
Praise For The Perfect Score Project: One Mother's Journey to Uncover the Secrets of the SAT…
"The Perfect Score Project is the perfect book for parenting in the age of anxiety.  What begins with a mother's worry about her teenage son quickly shifts to the moving story of a woman discovering the roots of her own imperfections. By year's end, you're cheering Debbie on as she and her son sit side-by-side, helping each other score higher.  She has scripted the unimaginable: SAT—The Love Story."
--Bruce Feiler, New York Times columnist and bestselling author of The Secrets of Happy Families 

"I loved this book. Debbie Stier's story of her year-long project answers every question about the SAT—and somehow turns this information into a lively and engaging adventure.  I'm inspired to follow her advice (my poor fourteen-year-old has no idea).  Parents especially will find this account packed with invaluable insights, from a funny, endearing friend who gives the inside scoop on how to deal with the nightmare."
--Gretchen Rubin, New York Times bestselling author of The Happiness Project and Happier at Home

"This book isn't what you might think.  More than just a guide to succeeding at 'the test,' it's a primer for succeeding at life.  Stier deftly connects success, mindset, and habit.  The Perfect Score Project is the book every parent should read before diving into SAT prep."
--Shawn Achor, New York Times bestselling author of Before Happiness and The Happiness Advantage

"What Debbie shows us in The Perfect Score is the possibility of strengthening our relationships with our children and empathizing with them in a time when anxiety often pulls us apart. I can so easily imagine using this book with my sons when it's their turn to take the SAT as a way to ground us through the process."
--Rosalind Wiseman, New York Times bestselling author of Masterminds & Wingmen and Queen Bees & Wannabees 
 
"With The Perfect Score Project, Debbie Stier has accomplished the equivalent of moving mountains: she has made taking the SAT a fascinating, irresistible adventure.  The Perfect Score Project will have teens, their parents, high school guidance counselors, SAT prep centers and colleges reconsidering everything they think they know about the SAT and the world of test prep.  Debbie's entertaining, pioneering and eye-opening book is a page turner that will grab you from the beginning.  And it may just inspire you to follow her lead and strive for a perfect score too." 
--Emily McKhann, co-founder of The Motherhood and author of Living with the End in Mind
 
"Vince Lombardi, the greatest football coach of all time, famously said, 'If we chase perfection, we can catch excellence.' He could have been describing Debbie Stier's unforgettable chase for a perfect SAT score. Her tips, lessons, and no-nonsense insights are insatiably useful. Her story is genuinely moving--not just a woman's obsession with a test, but a mother's love for her son. A perfect 800 in my book!"
--William C. Taylor, cofounder of Fast Company and author of Practically Radical
 
"Debbie Stier is a break-the-mold person. She is far ahead of the curve in seeing the future and finding ways to articulate it. She sees how things fit together—the essence of creativity—long before others do.  So it's no surprise that The Perfect Score Project is a break-the-mold book. Whereas the college application process, and in particular SAT preparation, fills parents and students with anxiety and a sense of being overwhelmed, Debbie's experiences and hard-won insights offer much needed clarity."
--Ellen Galinsky, President, Families and Work Institute, and author of Mind in the Making
 
 
"I love this book more than I can say. Debbie Stier's account will speak to anyone, like myself, who has spent their life trying to prove wrong the scores they achieved years ago, but it will especially speak to parents of boys who require special handling but for whom there is no proper instruction manual.  Debbie may have started out wanting to crack the SAT code, but she's achieved so much more. This book is about motivation, and hard work, and parenting, but, above all, it's about forming the deepest bonds of family connection. So many parents will recognize themselves in Debbie's amazing story -- they'll see themselves in her, and they'll see their children in her children. Sometimes a cigar is a just a cigar, and sometimes an SAT is just an SAT; but here the test Debbie took over and over and over again becomes a metaphor: she chooses to do the hardest work of her life, and it pays off in a thousand different ways."
--Laura Zigman, author of the national bestseller Animal Husbandry

"Debbie Stier's saga of descending into SAT test frenzy is jam-packed with truly sound advice for conquering test fatigue, understanding superscoring, overcoming performance anxiety and perfecting the 'fine art of bubbling.' Enjoy Debbie's cautionary tale of obsession and taking seven SATS -- but don't try this at home!"
--Christine VanDeVelde, coauthor of College Admission: From Application to Acceptance, Step by Step

Harmony, 9780307956682, 304pp.
Publication Date: September 9, 2014
About the Author
Debbie Stier is a single mother of two teenagers whose book publishing career spanned over two decades. Her website, ThePerfectScoreProject.com, has become a major hub for SAT advice, and her book, featured in the New Yorker, USA Today, and The Atlantic. Stier has appeared as guest on The Today Show, the CBS Early Show, Bloomberg, NPR, and ABC, to talk about standardized testing and The Perfect Score Project. She lives with her son and daughter in New York City, but you can find her writing daily advice about education and SAT test prep on her website.
or
Not Currently Available for Direct Purchase