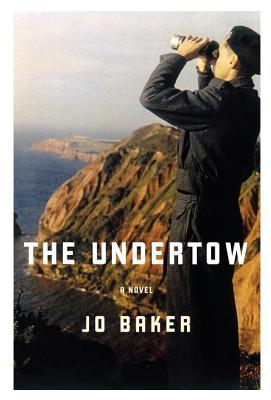 The Undertow (Hardcover)
Knopf, 9780307957092, 352pp.
Publication Date: May 15, 2012
Other Editions of This Title:
Digital Audiobook (4/30/2012)
Paperback (12/11/2012)
Compact Disc (5/15/2012)
MP3 CD (5/1/2012)
Pre-Recorded Audio Player (5/1/2012)
Compact Disc (5/1/2012)
* Individual store prices may vary.
Description
The American debut of an enthralling new voice: a vivid, indelibly told work of fiction that follows four generations of a family against the backdrop of a tumultuous century—a novel about inheritance, about fate and passion, and about what it means to truly break free of the past.

This is the story of the Hastings family—their secrets, their loves and losses, dreams and heartbreaks—captured in a seamless series of individual moments that span the years between the First World War and the present. The novel opens in 1914 as William, a young factory worker, spends one last evening at home before his departure for the navy . . . His son, Billy, grows into a champion cyclist and will ride into the D-Day landings on a military bicycle . . . His son in turn, Will, struggles with a debilitating handicap to become an Oxford professor in the 1960s . . . And finally, young Billie Hastings makes a life for herself as an artist in contemporary London. Just as the names echo down through the family, so too does the legacy of choices made, chances lost, and truths long buried.
About the Author
Jo Baker was born in Lancashire and educated at Oxford and Belfast. "The Undertow" is her first publication in the United States. She is the author of three previous novels published in the United Kingdom: "Offcomer, The Mermaid's Child, " and "The Telling." She lives in Lancaster.
Praise For The Undertow…
"We're in love with the intricate, sensitive historical novel The Undertow." —Oprah.com (Book of the Week)
 
"Gripping . . . This portrait of four generations of a British family is emotionally powerful . . . Baker is skilled at evoking not only the distinctive social circumstances of the settings but the essential nature of each character . . . You can't walk away from her book." —New York Times Book Review

"Moving but never sentimental . . . The Undertow has a quiet, cumulative power; you read it not quite realizing how it's burrowing under your skin . . . 'The whole world in a little room,' says Amelia to William in the book's early pages, speaking of the miraculous way that cinema can capture a moment and show it anywhere. It's a description that applies nicely to the experience of reading this novel, as well." —Seattle Times

"An engaging novel. The Hastings family must fend off adversity of all kinds and from every side. Their challenges—so movingly detailed here—provide a profound sense of the whole tumultuous century." —Washington Post
 
"Richly evocative . . . Places Baker at the top end of the list of emerging British literary talent."  —Time Out London

"Poignant . . . An exceptional 20th-century saga . . . Intricate, but never dull, Baker's U.S. debut is a four-generational span of extraordinary history and ordinary lives, eloquent about the unshared interior worlds of individuals even when connected by the closest of bonds . . . This searchingly observant work captures a huge terrain of personal aspiration against a shifting historical and social background. Impressive." —Kirkus Reviews (starred) 

"The Undertow, so deeply and richly imagined, is one of those books that make you forget to turn off the bedside light. I found myself thinking, just one more page, and then, just one more chapter. If what you love is a larger-than-life story with epic dimensions that pulls you in and won't let you go, this is your book." —Kim Barnes, author of In the Kingdom of Men

"Some writers let you know you're in safe hands from the start, and Jo Baker is one of them. Stretching from the First World War to the present day, this drama-rich saga unfolds as a series of intimate family portraits . . . There are gripping set-pieces, from childbirth to battlefield, all related in cut-glass prose and embedded with telling period detail." —The Independent (UK)

"Jo Baker is a novelist with a gift for intimate and atmospheric storytelling . . . She skilfully delineates the currents of social change and the essential human drama that persists: the intertwining of love and grief, the moments of ecstasy that transfigure banality, and the painful throb of personal loyalty. She writes with conviction and an eye for pregnant detail. The result is an agile, keenly observed novel that evokes the minuscule rewards and disappointments of the everyday." —Financial Times
 
"Deeply affecting . . . This is a sweeping drama with real emotional depth . . . The novel has cumulative force, the final chapters impressing most. Baker infuses her fluid, descriptive prose with a brilliantly generous squirt of smells [and sensations]." —Daily Mail (UK)
 
 "A poignant, emotionally intense read that illuminates the legacies of love and loss for ordinary people." —Marie Claire
 
"An emotionally involving story [whose] scenes ring true . . . Baker tackles Boy's Own subjects—war, cycle racing, great escapes—with impressive confidence. Yet the book's most moving moment is not amid the tragedy of war but in a quiet little scene between a teenage boy and his half-sister." —The Observer (UK)
 
or
Not Currently Available for Direct Purchase