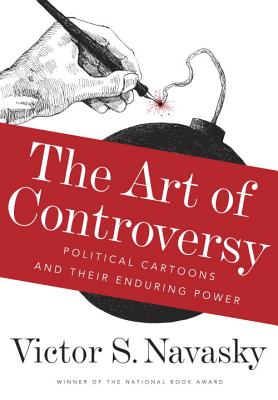 The Art of Controversy
Political Cartoons and Their Enduring Power
Hardcover

* Individual store prices may vary.
Description
A lavishly illustrated, witty, and original look at the awesome power of the political cartoon throughout history to enrage, provoke, and amuse.

As a former editor of The New York Times Magazine and the longtime editor of The Nation, Victor S. Navasky knows just how transformative—and incendiary—cartoons can be. Here Navasky guides readers through some of the greatest cartoons ever created, including those by George Grosz, David Levine, Herblock, Honoré Daumier, and Ralph Steadman.  He recounts how cartoonists and caricaturists have been censored, threatened, incarcerated, and even murdered for their art, and asks what makes this art form, too often dismissed as trivial, so uniquely poised to affect our minds and our hearts.

Drawing on his own encounters with would-be censors, interviews with cartoonists, and historical archives from cartoon museums across the globe, Navasky examines the political cartoon as both art and polemic over the centuries. We see afresh images most celebrated for their artistic merit (Picasso's Guernica, Goya's "Duendecitos"), images that provoked outrage (the 2008 Barry Blitt New Yorker cover, which depicted the Obamas as a Muslim and a Black Power militant fist-bumping in the Oval Office), and those that have dictated public discourse (Herblock's defining portraits of McCarthyism, the Nazi periodical Der Stürmer's anti-Semitic caricatures). Navasky ties together these and other superlative genre examples to reveal how political cartoons have been not only capturing the zeitgeist throughout history but shaping it as well—and how the most powerful cartoons retain the ability to shock, gall, and inspire long after their creation.


Here Victor S. Navasky brilliantly illuminates the true power of one of our most enduringly vital forms of artistic expression.
Praise For The Art of Controversy: Political Cartoons and Their Enduring Power…
"Thoughtful and deftly illustrated…an engaging meditation on cartoon history."
—The New York Times Book Review

"The visuals in The Art of Controversy: Political Cartoons and their Enduring Power are irresistible and the passionate Victor S. Navasky is a wonderful storyteller."
—The Boston Globe

"[Mr. Navasky] is agreeable company…a man who knew many of the great cartoonists of the 20th century and has stories to tell."
—Dwight Garner, The New York Times

"Accessible, yet acutely academic…With The Art of Controversy, Navasky has made a substantial effort to bring understanding to the power of caricature."
—The New York Daily News

"Mr. Navasky's wonderful book is a spirited homage to the art and craft of political caricature."
—The Wall Street Journal

"This heavily illustrated, entertainingly written look at political cartoons is both personal—Navasky's experience with controversial drawing as well as writing is considerable—and thoroughly researched. It is also deeply insightful."
—Booklist

"A lavishly illustrated, witty, and learned look at the power of the political cartoon throughout history."
—Publisher's Weekly

"Engaging and often illuminating."
—Kirkus Reviews

"Navasky argues eloquently and convincingly [that] censorship of caricature artists amounts to an assault on individual free speech. The Art of Controversy is an amazing historical document from a political journalist all too familiar with caricature's intuitive and divisive power."
—Shelf Awareness

"A novel approach to the history of political cartoons. From Picasso, Grosz, and Daumier through Herblock and Ralph Steadman, Navasky illuminates an underappreciated art form."
-Oliver Stone

"As Victor Navasky, a word man, investigates  the wordless art of the political cartoon -- what, he asks, accounts for its implosive power? -- we find ourselves in the hands of a writer of  indefatigable  curiosity  and are caught up in the tempestuous history of newsprint art. An expansive, illuminating work. I know of nothing comparable."
-E.L. Doctorow

"Victor Navasky's The Art of Controversy is an entertaining and instructive reminder of the important place of political cartoons in exposing lies, hypocrisies, stupidity, and corruption in the public arena. Be prepared to laugh and get angry all at once."
-Tom Brokaw

"Victor Navasky pulls it off - he showcases the significance and power of political cartoons without taking the 'funny' out of them or cloistering the amazing rage they evoke that is far beyond the power of mere words to explain."
-Ralph Nader

"For the political junkie, journalist, artist, cartoonist or student, The Art of Controversy is a wonder story of an amazing art form."
-New York Journal of Books

"An invaluable account of two centuries of comic art, with a galvanizing emphasis on the specific conditions of its creation."
—Barnes & Noble

"Thought-provoking…a compelling meander through the complex world of satirical cartooning."
—Ashbury Park Press

"An entertaining tour through a wonderfully affecting mode of illustration."
—Drawing Magazine
Knopf, 9780307957207, 256pp.
Publication Date: April 9, 2013
About the Author
Victor S. Navasky is the former editor and publisher of The Nation, and a former editor at The New York Times Magazine, who once founded his own quarterly of political satire, Monocle, "a radical sporadical."  He is the author of, among other books, Naming Names, which won a 1982 National Book Award, and A Matter of Opinion, which won the George Polk Book Award. He teaches at the Columbia University Graduate School of Journalism, where he is the director of the Delacorte Center for Magazine Journalism and chair of the Columbia Journalism Review. He lives in New York.
or
Not Currently Available for Direct Purchase