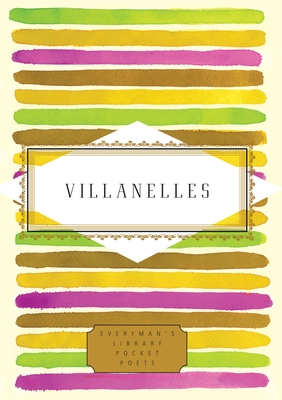 Villanelles (Hardcover)
Everyman's Library, 9780307957863, 256pp.
Publication Date: March 6, 2012
Description
The first of its kind--a comprehensive collection of the best of the villanelle, a delightful poetic form whose popularity ranks only behind that of the sonnet and the haiku. With its intricate rhyme scheme and dance-like pattern of repeating lines, its marriage of recurrence and surprise, the villanelle is a form that has fascinated poets since its introduction almost two centuries ago. Many well-known poets in the past have tried their hands at the villanelle, and the form is enjoying a revival among poets writing today. The poems collected here range from the classic villanelles of the nineteenth century to such famous and memorable examples as Dylan Thomas's "Do not go gentle into that good night," Elizabeth Bishop's "One Art," and Sylvia Plath's "Mad Girl's Love Song." Here too are the cutting-edge works of contemporary poets, including Sherman Alexie, Lorna Dee Cervantes, Rita Dove, Seamus Heaney, Paul Muldoon, and many others whose poems demonstrate the dazzling variety that can be found within the parameters of a single, strict form.
About the Author
ANNIE FINCH is the author of fifteen books of poetry, translation, and criticism. Her collaborations merging poetry with music, visual art, and theater have been produced at Carnegie Hall and the Metropolitan Museum of Art. She has a PhD from Stanford and directs the Stonecoast MFA program in creative writing at the University of Southern Maine. MARIE-ELIZABETH MALI Marie-Elizabeth Mali is the author of Steady, My Gaze (2011) and serves as co-curator for the Page Meets Stage reading series in New York City.
Advertisement