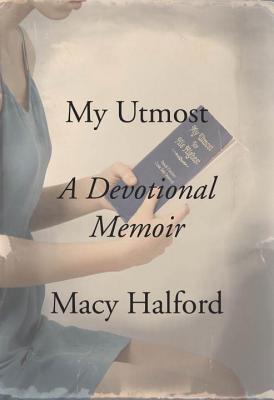 My Utmost
A Devotional Memoir
Hardcover

* Individual store prices may vary.
Other Editions of This Title:
Paperback (1/16/2018)
Compact Disc (2/7/2017)
MP3 CD (2/7/2017)
Compact Disc (2/7/2017)
Description
A  beautifully written and heartfelt memoir by a young woman from Dallas, Texas, exploring the Evangelical Christianity of her childhood and its meaning to her in the present through the classic daily devotional My Utmost for His Highest.

Raised in an Evangelical household by her beloved grandmother and mother, Macy Halford eventually leaves Dallas for college and a career in journalism in New York City. As her work and friendships increasingly take her into a more secular world, Halford finds her Evangelicalism evolving in interesting directions. Yet she continues to read My Utmost for His Highest—a classic Christian text, beloved by millions of Evangelicals around the world—every day. Eager to understand Utmost's unique ability to bridge her two worlds, she quits her coveted job at The New Yorker in order to look more deeply into the background of the devotional—with its daily selection from the sermons and writings of the Scottish Evangelical preacher Oswald Chambers—wrestling with who Oswald really was, what ideas informed his teaching and beliefs, and why the book means so much to her. Interweaving her own story with that of the Chamberses (Oswald died ministering to British soldiers in World War I Egypt; his devoted wife spent her life publishing his speeches, sermons, and books), Halford gives us a captivating and candid memoir about what it means to be a Christian, a reader, and a seeker in the twenty-first century.
Praise For My Utmost: A Devotional Memoir…
"Absorbing . . . One of the best books of [its] kind I've read over the past twenty-five years or so." —John Wilson, Commonweal

"For a faith as American as apple pie at church suppers, if you're outside the circle, evangelicalism might seem as exotic as whirling dervishes. What's needed is someone inside the circle, a guide intelligent and sophisticated enough to have attended exclusive Barnard College, literate enough to have reviewed books for The New Yorker. Rambunctious enough to occasionally drink and smoke, but rooted and raised up in the Rev. W. A. Criswell's First Baptist Church in downtown Dallas. Macy Halford is just such a person, and her book, subtitled  'A Devotional Memoir,' is just such a guide. It's funny, smart, literate—a journey, not into or away from religious belief like so many religious memoirs, but through that belief." —Bill Marvel, The Dallas Morning News 
 
"A valuable memoir . . . The chronicle of her search can help us all, irrespective of our particular religious affiliation." —Father Ron Rolheiser, Catholic San Francisco

"Halford's enlightening memoir is a must-read for those interested in Oswald Chambers's My Utmost for His Highest or evangelicalism in the 21st century . . . Chambers's life and legacy, along with Halford's own personal journey, prove to be a powerful lens through which to examine the roots of fundamentalist evangelicalism and its rocky relationship with the modern world." —Publishers Weekly (starred review)

"Ardently told, diligently researched . . . Halford is an expert, assured surveyor of all the rivers that nursed Chambers's soul . . . My Utmost will be enjoyed and admired primarily by those who feel, as Halford does, 'a complicated nostalgia' for the evangelical faith they were raised in—those who can't and won't defend all the old doctrines but find that religion still pulls at them." —Carlene Bauer, The New York Times Book Review
 
"The memoir is devotional, inspirational and . . . full of interesting quotes. . . . Macy Halford has joined countless others in presenting a spiritual/religious book attempting to make sense of this technological age, excessive instant gratification, and individual renewal." —Myra Arnold, The Decatur Daily

"That the most popular faith in America is so precariously positioned—structurally omnipresent, but substantially obscure—is what makes a book like Macy Halford's so fascinating." —Casey N. Cep, The New Republic

"Self-aware but never self-indulgent, My Utmost provides an edifying look at one person's spiritual journey and the impact an obscure Scottish preacher's musings can have years later." —Christine Engel, Booklist

"[Halford] leaves New York to trace Chambers's history and spiritual and theological influences. Along the way, she experiences her own journey of spiritual self-discovery, embracing anew her commitment to a faith best expressed by Utmost." —Library Journal
Knopf, 9780307957986, 368pp.
Publication Date: February 7, 2017
About the Author
MACY HALFORD was born and grew up in Dallas, Texas; graduated from Barnard College; and worked at The New Yorker, where she eventually wrote most of the book reviews for the website. This is her first book. She is now living in Paris.
or
Not Currently Available for Direct Purchase