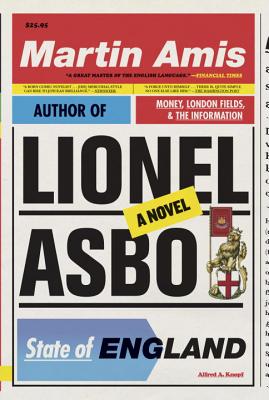 Lionel Asbo (Hardcover)
State of England
Knopf, 9780307958082, 272pp.
Publication Date: August 21, 2012
Other Editions of This Title:
Compact Disc (8/21/2012)
Paperback (5/7/2013)
Compact Disc (8/1/2012)
MP3 CD (8/1/2012)
Paperback, Spanish (5/30/2014)
Pre-Recorded Audio Player (8/1/2012)
Hardcover, Large Print (12/26/2012)
* Individual store prices may vary.
Description
A savage, funny, and mysteriously poignant saga by a renowned author at the height of his powers. 

Lionel Asbo, a terrifying yet weirdly loyal thug (self-named after England's notorious Anti-Social Behaviour Order), has always looked out for his ward and nephew, the orphaned Desmond Pepperdine.  He provides him with fatherly career advice (always carry a knife, for example) and is determined they should share the joys of pit bulls (fed with lots of Tabasco sauce), Internet porn, and all manner of more serious criminality.  Des, on the other hand, desires nothing more than books to read and a girl to love (and to protect a family secret that could be the death of him).  But just as he begins to lead a gentler, healthier life, his uncle—once again in a London prison—wins £140 million in the lottery and upon his release hires a public relations firm and begins dating a cannily ambitious topless model and "poet."  Strangely, however, Lionel's true nature remains uncompromised while his problems, and therefore also Desmond's, seem only to multiply.
About the Author
MARTIN AMIS is the author of twelve previous novels, the memoir "Experience," two collections of stories and six of nonfiction, most recently "The Second Plane." He lives in Brooklyn.
Praise For Lionel Asbo: State of England…
"Despite a time frame that gallops forward into 2013 and a wealth of irresistibly hyperbolized pop cultural references, Lionel Asbo is at heart an old-fashioned novel, earnest in its agenda... a theme familiar to the audience of Amis's forebear, Dickens:  the corrupting influence of money... Amis is, like Dickens, an insistently moral writer, satire being an edifying genre with a noble cause: the improvement of society." —Kathryn Harris, The New York Times Book Review (front page)

"One of Amis's funniest novels —in a league with 'Money' and 'London Fields.'  Amis, like his heroes Nabokov and Bellow, writes exuberant, ecstatic prose.  His ear is precisely tuned, and his sentences—in narration and dialogue—are lethal.  Our hero is a thug named Asbo (for Anti-Social Behaviour Order), a brilliant sociopath who delivers beatings for sport and feeds Tabasco to his pit bulls to make them extra-ornery in the morning.  (Reader alert: Asbo delivers the most hilarious wedding speech in the history of English literature.)  He sort of raises his nephew, an ambitious lad who happens to be sleeping with Grandmum.  Mid-book, Asbo wins the lottery, a Dickensian turn of fortune that not only leads to some unforgettable comic opportunities but deepens matters as well. The jokes, the high-voltage sentences—all that energy—begin to drive an increasingly complicated machine." —The New Yorker  

"Lionel Asbo bears a strong resemblance to the trio of novels (Money, London Fields, The Information) that made Amis' reputation. Like them, it is a satirical work whose subject is what Delmore Schwarz called 'the scrimmage of appetite,' and has an elaborate plot, a series of brilliant set pieces and a matchless sense of the contemporary demotic. But Lionel Asbo maybe be even better than these ambitious works of fiction, more disciplined, funnier and more inventive.... To say that it is a return to form is an understatement—it might be his finest work." –John Broening, The Denver Post

"In his 13th novel—one of his most compulsively readable—wily, dead-on satirist and consummate artist Martin Amis is grandly acerbic, funny and unnerving.... He leads us on, shakes us up, knocks us down, brushes us off, then does it all over again...nimbly delivers stinging surprises, startling turnarounds, bludgeoning moments of horror and eked-out triumphs... Without hobbling the story, he takes on what are, in fact, universal concerns... With crisp insights, rollicking storytelling and acrobatic wit, Amis has created a peppery, topsy-turvy Pygmalion fable and hilarious dismantlement of our cherished rags-to-riches fantasy." —Donna Seaman, Kansas City Star

"Little fiction is more entertaining than Martin Amis at his pithy best. His latest novel posits plenty of pith and cutting cultural criticism. It is wild. It is whacked. [It] swings between wildly funny and harshly real." —Karen Sandstrom, Cleveland Plain Dealer
 
"Amis pumps his novel full of heart and warmth, providing an unexpected reward for readers." —People

"Lionel Asbo crackles with brilliant prose and scathing satire [and is] savagely funny... So who could predict that, from this deliciously nasty setup, an author the New York Times once called 'fiction's angriest writer' would craft a novel so... Dickensian, a novel with such... I hate to even say it...heart... What follows is hilarious and strangely compelling—a gleefully twisted Great Expectations...  Amis adopts a big, playful storytelling voice in this book.  He riffs like a jazz master, in and out of vernacular, with brief gusts of description, all driven by a tight bass line of suspense." —Jess Walter, Publishers Weekly

"Amis' portrait of someone who feeds Tabasco-splashed meat to his pit bulls in order to enrage them and toughen them up is surprisingly tender. Through Asbo, Amis explores the isolation and dislocation that comes with the shattering of old bonds and the manufacture of new ones due to spectacular accession to celebrity status…. Fond, too, is Amis' approach to Asbo's mixed-race nephew, who serves as the vehicle for the moral conclusion of what in form is in fact not satire but a fairytale. Des Pepperdine is an autodidact who escapes the cycle of crime and violence that plagues Diston Town—Amis' fictional London hood where 'everything hated everything else'—by doing well in school, going to college and landing a job… Amis' plea would seem to be that nobody is beyond redemption, no matter what their circumstance." —Liam Hoare, The Daily Beast 

 "A ripper of a story, in the Dickens mode... the novel mingles in genuine characters with the usual comedic grotesques, and is tender, almost earnest, in its emotions.... Amis is the most original sentence-writer in English." —Charles Foran, The Globe and Mail
 
"Technically brilliant, dazzling in style, manic in energy and driven by a narrative momentum impossible to resist... The novel is full of Amis' trademark virtuoso prose and wit." —Michel Basilieres, The Toronto Star
 
"The Amis energy is intact. As is the Amis gift for aperçus… There's no formula for this sort of writing. It simply comes out of the same pot miracles do." —Daniel Asa Rose, Barnes and Noble Review
 
"Amis's language is electric, his wit as sharp and precise than it has been in a decade, and Lionel Asbo has a savage, post-apocalyptic feel." —David Daley, USA Today
 
"Amis' phenomenal vim and versatility, anchoring roots in English literature, and gift for satire power this hilariously Dickensian, nerve-racking, crafty, bull's eye tale of a monster and a mensch…This deliciously shivery, sly, and taunting page-turner provokes a fresh assessment of the poverty of place, mind, and spirit and the wondrous blossoming of against-all-odds goodness." —Donna Seaman, Booklist

"Lionel Asbo becomes, incredibly, an imaginatively cautionary account of what we've become and a surprisingly (especially from Amis) hopefully illustration of what we can be." —Steve Whitton, Anniston Star

"An acidic satire on contemporary England by one of that country's most controversial and caustic wits [with an] energetic, funny, idiosyncratic and biting use of language, here used to brilliant effect." —Karen Virag, The Edmonton Journal
 
"A masterpiece of social satire and cultural observation...fine, caustic, funny, angry and outrageous." –Gaylord Dold, The Wichita Eagle

"[Set in] the kind of place a 21st-century Dickens might conjure up, 'where calamity made its rounds like a postman.' ... Deploying his accomplished satirical gifts with surgical skill, Amis delivers a grimly humorous portrayal [of] the sometimes inexplicable bonds that tie family members to each other and the ways we can love against all our better instincts... With wit and style, Martin Amis shows us that money changes everything and nothing." —Harvey Freedenberg, Shelf Awareness
 
"As combative and as vicious as ever, Amis skewers the noughties as cruelly, as inventively and with as much screwy black comedy as his Money did the Eighties."  —Olivia Cole, GQ UK
 
"Amis's funniest and most satisfying novel in years—the book's comedy [lashed] with a serious dose of menace... his warmest book—and also his most authentically chilling... Among its other surprises, Lionel Asbo delivers the most compelling plot Amis has crafted." —David Free, The Australian

"A joy— and strangely life-affirming... It certainly has much of the dazzling prose that made his earlier works so stand-out.  As ever he makes the dreadful funny, the grotesque poetic.  But there's something else, a tenderness and humanity... Amis seems to have affection for all his characters [in what] could be seen as a meditation on social mobility... Though it satirises a society in decline it is also, in the end, a story about the triumph of education over ignorance, love over hate." —Carole Midgley, The Times [U.K.]

 "A surprisingly tender story… For all its scabrous humour, this is at heart an old-fashioned tale in which goodness may still find a way to triumph." —The Daily Mail [U.K.]

"The novel comes at you and comes at you and keeps on coming.  It never flags… It is a great big confidence trick of a novel—an attack that turns into an embrace—a book that looks at us, laughs at us, looks at us harder, closer, and laughs at us harder and still more savagely.  It is every inch the novel that we all deserve." – Nicola Barker, The Guardian [U.K.]
 
"A wicked satire [and] frequently wincingly funny.  Amis's aim at the totems and mores of common fame is as unerring, and his phrase-making as pyrotechnically dazzling, as ever…Amis also writes with real – and uncharacteristic – tenderness." – Mick Brown, The Telegraph [U.K.]
 
"Martin Amis has let himself go at last, [with] the broadest comedy he has ever published… Amis's delight in the incorrigible is genuinely Dickensian." —David Sexton, Evening Standard [U.K.]
 
or
Not Currently Available for Direct Purchase