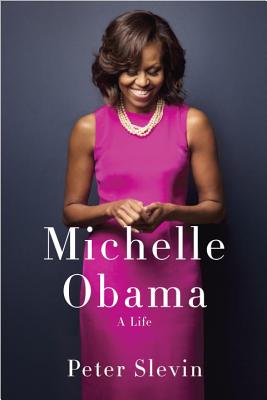 Michelle Obama
A Life
Hardcover

* Individual store prices may vary.
Other Editions of This Title:
Paperback (1/26/2016)
MP3 CD (1/26/2016)
Description
An inspiring story of a modern American icon, here is the first comprehensive account of the life and times of Michelle Obama. With disciplined reporting and a storyteller's eye for revealing detail, Peter Slevin follows Michelle to the White House from her working-class childhood on Chicago's largely segregated South Side. He illuminates her tribulations at Princeton University and Harvard Law School during the racially charged 1980s and the dilemmas she faced in Chicago while building a high-powered career, raising a family and helping a young community organizer named Barack Obama become president of the United States. From the lessons she learned in Chicago to the messages she shares as one of the most recognizable women in the world, the story of this First Lady is the story of America. Michelle Obama: A Life is a fresh and compelling view of a woman of unique achievement and purpose.  


Praise For Michelle Obama: A Life…


Finalist for the 2015 PEN/Jacqueline Bograd Weld Award for Biography

Named one of the 10 best biographies of 2014-15 by Booklist


"Journalist Slevin explores Michelle Obama's family history, struggle to rise above racial limitations, marriage, and close friendships as he traces her path to the White House to become an accomplished First Lady who has changed the trajectory of American history."
—booklistonline.com

"No first lady in American history has been at once so popular, pervasive, and yet so hard to know as Michelle Obama. Now Peter Slevin has gone deep and wide to render the most ambitious and authoritative book about her yet. Richly reported, beautifully written, thoughtful in its judgments and revelatory in its details, Michelle Obama is a work that does justice to Michelle Obama in a fresh way."
—John Heilemann, co-author of Game Change and Double Down
 
"It's a challenge to tell the life story of a public figure, particularly a transformative one. But in Michelle Obama: A Life Peter Slevin is dogged in his reporting, nuanced in his storytelling and thoughtful in his analysis. He not only shows us who this historical first lady is, but how she came to be. In the process, he reveals much about our times and our culture."
—Robin Givhan, Pulitzer Prize-winning critic for the Washington Post
 
"Michelle Obama is one of the most famous women in the world and one of the least understood. Peter Slevin brings us an amazing, eye-opening biography that begins on Chicago's South Side and ends in the White House. Here, Michelle Obama comes alive, as a complex and inspiring woman whose dilemmas mirror America's own continuing struggle for racial equality. Completely convincing and gripping, Michelle Obama:  A Life is a rich, powerful portrait at once revealing of Mrs. Obama and of ourselves as Americans."
—Dexter Filkins, author of The Forever War
 
"The life of Michelle Obama is a uniquely American story, and Peter Slevin tells it beautifully in this deft, revealing work. In sharing Michelle's extraordinary journey, Slevin also paints a rich picture of Chicago's  South Side during the past century and the family and forces that helped shape this exceptional woman."
—David Axelrod, former Senior Advisor to the President, director of the Institute of Politics at the University of Chicago

"Thoughtful… Ripe with revelations about her deeply complicated relationship with her own position as an Ivy League-­educated black woman… Richly rendered context for Mr. Obama's 2008 campaign, when Mrs. Obama suddenly became a litmus test."
—Amy Chozick, New York Times Book Review

"The Michelle who emerges fully understands the transformative value of being an African-American First Lady."
—The New Yorker

"Must-read...An important new biography…Political journalist Peter Slevin, who covered the Obamas for a decade, has written a literate, deeply reported portrait of the First Lady… Slevin treats her and her accomplishments with the detail and nuance they deserve."
—Elle Magazine
 
"Slevin, a former reporter for The Washington Post, goes to great lengths to depict the first lady's 1960s and 1970s upbringing in a racially divided Chicago, often hostile to African-Americans. He also presents the humble — and driven, artistic and outspoken — relatives who shaped her… Such glimpses into the first lady's early life are found throughout this meticulously researched biography…Slevin pulls back the curtain of her White House life."
—Katherine Skiba, Chicago Tribune
 
"Slevin's work is detailed and absorbing; his careful research presents the most comprehensive portrait of Obama to date. Though analytical, the work is never dry and includes many anecdotes that bring a storied public figure to life....While other books have probed race issues, Slevin's work enables the reader to appreciate the sweep of the pre- and post-civil rights movement as it played out in Chicago and was experienced by the young Michelle, her family and friends...A major and welcome addition to the bookshelf of first lady biographies."
—Myra G. Gutin, The Washington Post
 
"Makes a convincing case that Mrs. Obama's popularity today has more to do with events that took place on the south side of Chicago decades ago than with the work of an image maker in the East Wing of the White House."
—The Wall Street Journal

"Impressively reported and researched... fast-paced."
—Chicago magazine

"Richly detailed prose...Tons of little-known nuggets revealed in the book, offering readers a closer look at the Mrs. Obama they never knew."
— NBC News

"Her life story charts the progress of the civil rights movement...Michelle Obama's success is a direct result of those societal advancements, but she has also made the case for her childhood, and adults who instilled in her and her brother "a larger message fundamental to their upbringing," Slevin writes. It's a venerable African-American ideology, a necessary survival strategy, but also a kind of a moral argument about human possibility." 
—Bloomberg Politics

"Intimate view of her life...[Slevin] interviewed a vast collection of Michelle Obama's friends, family members and acquaintances...to craft the most comprehensive portrait to date of the nation's first African-American first lady.
— Atlanta BlackStar"

"The incredible journey: A new biography brings First Lady Michelle Obama's inspiring story to life… A drive to give back is the through line in Slevin's thoughtful account."
—Vogue

"An in-depth look at America's FLOTUS—starting at the Great Migration, and leaving no stone unturned."
—Jezebel
 
"[T]he future First Lady was a girl from the South Side of Chicago, navigating the Ivy League world and its social intricacies while questioning the impact black Princeton graduates had on the community at large. She didn't want to forget her roots and the importance of reaching back — a value instilled in her by her parents back home...Slevin is able to connect the dots of Mrs. Obama's life and assess the impact her upbringing, deeply rooted in the black experience, has had on not only her impressive career trajectory, but also the legacy she'll leave behind as First Lady."
—Time

"Rich in familial details....Recounts Obama's working-class childhood, her struggle to fit in at Princeton, her social activism at Harvard Law, and her success in community affairs...Those nostalgic for the 'Yes We Can' era will delight in reliving the ups and downs of the 2008 election."
—Bust
 
"We might daydream about being BFFs with Michelle Obama, but Peter Slevin's new biography of the First Lady is probably as close as we'll get. Reading it...is a weekend well spent."
—Dame
 
"Michelle Obama: A Life is a refreshing reminder that a serious journalist taking an interesting first lady seriously can produce compelling results...Exhaustive and thoughtful portrait that produces many insights and surprises...We get a seldom-explored view of a tight-knit, closely guarded South Side Chicago neighborhood that produced a number of success stories including the first African-American first lady...a number of "I didn't know that" moments that will delight the most ardent Michelle Watchers."
—Patrik Henry Bass, Essence Magazine

"It took Peter Slevin to tell the inspiring story of Michelle Obama. Thrilled to recommend this book....I know this author, and he has used his vast skills and sensitivity to paint a fair and inspiring portrait of America's first black First Lady....Peter's book is the story of her life, but in his capable hands it's also the story about race in America."                  
—Connie Schultz, winner, Pulitzer Prize for commentary


"The first African-American first lady is not only a historic figure, she's someone we don't know very well beyond the idealized or demonized figure portrayed in partisan media....Slevin makes this mostly happy life interesting by putting it in the context in which Michelle came of age...we see her shed her discomfort with being a black woman in a historically white job, playing out the story she hopes to make possible for other people."
—Maclean's

"Michelle Obama's story is an American classic....Slevin combines access to her and her family and friends with a keen understanding of American politics and history... ...[T]he many new details, combined with a keen sense of the political and social dynamics at work during Michelle Obama's formative years, make this book a standout."
—USA Today

"Meticulously reported, close-up look…A detailed portrait of an ambitious, civic-minded woman with a track record for getting things done."
—The Florida Times-Union

"If anyone is qualified to tell the first lady's story, it is Slevin....Meticulously researched...Michelle Obama fans should be pleased...A woman presented here as a full partner in her husband's political career."
—The Houston Chronicle

"It's a great read!"
—Rev. Al Sharpton, MSNBC

"Slevin relied on dozens of conversations with friends, family and others to trace her historic orbit. He draws a hyper intelligent, charismatic and complex woman molded by working-class parents in segregated Chicago."
—Chicago Sun Times

"Great book!....I am having just a great time reading Michelle Obama: A Life.
—Joe Madison, SiriusXM Urban View

"A deeply informed portrait of the first lady and her native Chicago, particularly this city's often shameful treatment of African Americans...Exhaustively reported, painstakingly footnoted...Her larger story, told so powerfully in Slevin's biography, suggests she will forever be a force with which to be reckoned."
—Heidi Stevens, Chicago Tribune

"Slevin depicts Obama as human—with foibles and flaws—as well as courageous—sacrificing personally...His thorough research, openness and compassion combine to create a stunning profile of an inspirational role model for the twenty-first century."
—Jen Forbus, Shelf Awareness for Readers

"Meticulously detailed and engrossing...engaging and insightful."
—Deesha Philyaw, Pittsburgh Post-Gazette

"Inspiring read for women in search of (authentic) positivity...We see her passion for equality and her commitment to ending childhood obesity, but above all the takeaway is this: Never give anyone else the power to decide what is possible for you."
—Dawn Raffel, Oprah.com



Knopf, 9780307958822, 432pp.
Publication Date: April 7, 2015
About the Author
Peter Slevin is a contributing writer for The New Yorker, focusing on politics. He spent a decade on the national staff of The Washington Post, writing extensively about Barack and Michelle Obama, as well as political campaigns and policy debates from one end of the country to the other. He lives in Evanston, Illinois, where he is a professor at Northwestern University's Medill School of Journalism.