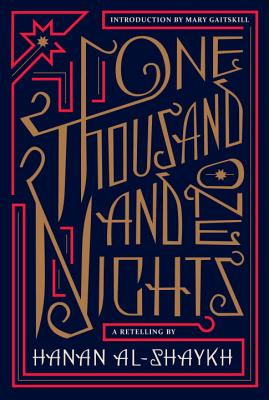 One Thousand and One Nights (Hardcover)
A Retelling
Pantheon Books, 9780307958860, 288pp.
Publication Date: June 11, 2013
Other Editions of This Title:
Paperback (6/3/2014)
Paperback (5/23/2013)
* Individual store prices may vary.
Description
Gathered and passed down over the centuries from India, Persia, and across the Arab world, the mesmerizing stories of One Thousand and One Nights tell of the real and the supernatural, love and marriage, power and punishment, wealth and poverty, and the endless trials and uncertainties of fate. They are related by the beautiful, wise, young Shahrazad, who gives herself up to murderous King Shahrayar. The king has vowed to deflower and then kill a virgin every night—but Shahrazad will not be defeated by the king's appetites. To save herself, she cunningly spins a web of tales, leaving the king in suspense each morning, and thus prolonging her life for another day.

Acclaimed Lebanese writer Hanan al-Shaykh has selected nineteen of these stories, retold them in modern English, and knitted them together into an utterly intoxicating collection. In al-Shaykh's hands, Shahrazad's tales are lush and evocative, rich with humor, and utterly captivating. 
About the Author
Hanan al-Shaykh, an award-winning journalist, novelist, and playwright, is the author of the short story collection "I Sweep the Sun off Rooftops"; the novels "The Story of Zahra, Women of Sand and Myrrh, Beirut Blues," and "Only in London"; and a memoir about her mother, "The Locust and the Bird." She was raised in Beirut, educated in Cairo, and lives in London.
Praise For One Thousand and One Nights: A Retelling…
"Charming. . . . Al-Shaykh brings her tales to life with a wonderful earthy immediacy, informal and intimate. . . . Al-Shaykh's variations and narrative choices concentrate and focus the stories on the erotic passions and struggles of women and men. . . . [Shaharazad's] is the speech of freedom, of what is marvelous, unforeseeable, and possible." 
—Patricia Storace, The New York Review of Books

"The Lebanese writer Hanan al-Shaykh performs a great service in retelling [the Arabian Nights] in her new book that also features a superb introduction by Mary Gaitskill. Al-Shaykh has shifted the camera angles, as it were, and trained the spotlight on the characters—and especially the female characters. We get more of the essence of these stories, their anarchic humor and cheerful sadism, the horror and delight they all seem to take in 'the cunning of women.'" 
—NPR, "Lost and Found: 5 Forgotten Classics Worth Revisiting"

"Magical. . . . Bursting with jennis and mischief." 
—Donna Tartt, The Times (London)

"Al-Shaykh's One Thousand and One Nights is a treasure-box of stories."
—Daniel Hahn, The Independent (London)
 
"[al-Shaykh] brings the modern fiction writer's gift for psychological complexity to the rich-but-streamlined quality of the originals. . . . Read through knowing you're getting the very best of The Arabian Nights."
—The Atlantic

"This new twist on The Arabian Nights by Lebanese novelist Hanan al-Shaykh, entitledOne Thousand and One Nights, collects 19 of the ancient tales of lust, greed, and betrayal into one spellbinding narrative. As a young girl, al-Shaykh first heard this tantalizing tome dramatized on the radio but was forbidden to read it; later she became obsessed with the mythic storyteller Shahrazad, who invents these postcoital cliff-hangers to save her own skin. In the introduction, Mary Gaitskill calls the book 'a fight between sacred and profane love.' Sign us up." 
—Oprah Magazine

"Hanan Al-Shaykh's vivid 'reimagining' of the One Thousand and One Nights is a treat and a trap for story lovers. Like a contemporary Shahrazad, Al-Shaykh has rendered nineteen little masterpieces into a wondrously warm, ribald and hilarious concoction, reminding us of how bang up to date these stories can be." Hanif Kureishi, The Guardian (London)

"Imaginative. . . . As one story segues into the next, effortlessly, patterns emerge that depict a Muslim world far different from the conservatism, the fundamentalism, that has hijacked so much of the contemporary Islamic world. . . . A delightful romp." —Counterpunch

"Although the language [of The Arabian Nights] has been updated for adults, the settings, characters, action, and themes retain their original features. These are intricately interwoven tales of thievery, deceit, treachery, love, lust, violence, and magic and they are each in their own way delightful. Can centuries-old stories of jinnis and witches, tricksters and frauds, kings and slaves, corrupt government officials, wronged women and devious men hold any interest or meaning for modern readers? The answer, somewhat surprisingly but resoundingly, is Yes."
—Portland Book Review

"Marvelously engaging. . . . These are great stories, and Hanan Al-Shaykh tells them splendidly. . . . [She] is one of Egypts's most highly-regarded novelists, and her decision to present new translations of (some of) Shahrazad's tales most likely raised a few eyebrows. We are fortunate, though, to have an author of her caliber to take on this project. Language in her hands is always supple and controlled, and the tales bounce merrily along with plenty of momentum and linguistic verve. . . . There's a reason why these stories have survived so long; they're fun and unpredictable, occasionally moving and, most of all, populated by an array of characters we still recognize on a daily basis. Al-Shaykh is to be thanked for reminding us of what's been here, available to us, all along."
—Pop Matters
 
"A haunting collection of stories about women who, if not always heroic, are resilient, funny, sexual, and, above all, smart. . . . Lebanese novelist al-Shaykh takes the hundreds of stories that make up the traditional One Thousand and One Nights and with concision pares them down to 19. Focusing on tales . . . interested in how women grapple with a society that is stacked against them. . . . The beautiful language is deceptively simple: readers are in danger of being lulled into marathon reading sessions. . . . It's no wonder al-Shaykh identifies with Shahrazad; they are very much the same. . . . For lovers of true heart, these stories are gory, lusty, and very, very good."
—Library Journal (starred review)

"A striking new version. . . . Surprising and delightful, al-Shaykh's masterful work has restored the [tales] to contemporary relevance. . . . These stories pulse with sex, magic, and moral ambiguities; while terrible violence underscores moments of pure beauty. . . . Why retread such well-worn territory? In her foreword al-Shaykh speaks of rediscovering her own Arab roots while recognizing the power these ancient women held."
—Publishers Weekly (starred review)
 
"Some journeys are eternal: Lebanese novelist Hanan al-Shaykh's terrific update of One Thousand and One Nights [includes] a delightfully provocative introduction by Mary Gaitskill."
—Vogue.com
 
"Charmingly retold. . . . The Lebanese author Hanan al-Shaykh has recast several of Shahrazad's tales in modern English, presenting them in a coherent narrative that is as spellbinding as ever. . . . The age-old conundrum regarding literature's function—is it to tickle or to teach?—is solved here, and the answer is: both. You could make the case that the clever, resourceful Shahrazad is literature's first feminist heroine, and each of her stories is filled with nuggets of simple philosophy."
—Shelf Awareness

"Bawdy, violent, spellbinding, and not for children, like all truly great fairy tales."
—Flavorwire, "Must-Read for June"

"Elegant, pointed. . . . As Sir Richard Burton well knew, the tales that Shahrazad spun in order to keep from having her sultan husband chop off her head were full of erotic moments, explicit and implicit alike. Denatured into fables for children, the tales of Ali Baba, magical caves, flying carpets and Sindbad the sailor lost any such erotic possibilities, which al-Shaykh very gamely restores. . . . It would take an accomplished psychotherapist and dream interpreter to plumb the depths of what al-Shaykh reveals of the relations, as fraught as any in Faulkner, of cloistered women and fearful men. . . . A lovely book, and a wonderful revisiting of tales that, told once again, are meant to inspire—well, if not piety, at least more humane behavior toward our fellow adventurers."
—Kirkus

"The Lebanese author Hanan al-Shaykh has recast several of Shahrazad's tales in modern English, presenting them in a coherent narrative that is as spellbinding as ever. . . . The age-old conundrum regarding literature's function—is it to tickle or to teach?—is solved here, and the answer is: both. You could make the case that the clever, resourceful Shahrazad is literature's first feminist heroine, and each of her stories is filled with nuggets of simple philosophy." 
—Shelf Awareness

"I've always been intrigued with Shahrazad's storytelling, especially when I discovered that the real stories are not for children but instead are sexy, violent, unforgiving morality tales filled with intrigue, excitement, and wit, and beautifully rendered in this wonderful version. Who can resist a lewd demon's lover whose mischief proves her declaration, "How great is the cunning of women!" 
—Louisa Ermelino, reviews director, Publishers Weekly, One of the Best Books of Summer
 
"Hilarious, horrifying, touching, enlightening, or revelatory, al-Shaykh's versions of these ancient tales remind us how story-cycles overwhelm limits of space or time or culture."
—Mary Carroll, Booklist
 
"Before I knew it, I had finished half of them. Like Shahrazad's captive king, I was hooked."
—Molly Mcardle, Library Journal
 
"[F]or grown-ups interested in rediscovering the One Thousand and One Nights in all its bawdy, violent glory. It is captivating."
—Daily Mail (London)
 
"[A]n uplifting read, precisely because [the stories] are so fantastical and transport the reader, by flying carpet, to lands filled with jinnis, princes and concubines, and also of people making contact across divides. Some of them are surprisingly erotic. Bedtime reading, for sure."
—Time Out (London)
  
"A brutal, bawdy, earthy and humorous narrative where the real world and the supernatural collide. . . .  Al-Shaykh's stories are no less beguiling than their name suggests."
—Metro (London)

"The book combines poetry and wit, whilst still being an erotic and brutal tale. Al-Shaykh is one of the Arab world's most acclaimed writes."
—Rebecca Lax, Lifestyle (North East)
or
Not Currently Available for Direct Purchase