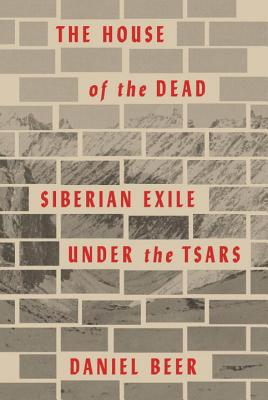 The House of the Dead (Hardcover)
Siberian Exile Under the Tsars
Knopf, 9780307958907, 496pp.
Publication Date: January 3, 2017
Other Editions of This Title:
Digital Audiobook (1/2/2017)
Paperback (12/12/2017)
* Individual store prices may vary.
Description
Winner of the Cundill History Prize 

A visceral, hundred-year history of the vast Russian penal colony.

It was known as 'the vast prison without a roof.' From the beginning of the nineteenth century until the Russian Revolution, the tsars exiled more than one million prisoners and their families beyond the Ural Mountains to Siberia.  Daniel Beer illuminates both the brutal realities of this inhuman system and the tragic and inspiring fates of those who endured it. Here are the vividly told stories of petty criminals and mass murderers, bookish radicals and violent terrorists, fugitives and bounty hunters, and the innocent women and children who followed their husbands and fathers into exile.

Siberia was intended to serve not only as a dumping ground for criminals but also as a colony. Just as exile would purge Russia of its villains so too would it purge villains of their vices. In theory, Russia's most unruly criminals would be transformed into hardy frontiersmen and settlers. But in reality, the system peopled Siberia with an army of destitute and desperate vagabonds who visited a plague of crime on the indigenous population.  Even the aim of securing law and order in the rest of the Empire met with disaster: Expecting Siberia also to provide the ultimate quarantine against rebellion, the tsars condemned generations of republicans, nationalists and socialists to oblivion thousands of kilometers from Moscow. Over the nineteenth century, however, these political exiles transformed Siberia's mines, settlements and penal forts into a virtual laboratory of revolution. Exile became the defining experience for the men and women who would one day rule the Soviet Union.

Unearthing a treasure trove of new archival evidence, this masterly and original work tells the epic story of Russia's struggle to govern its prison continent and Siberia's own decisive influence on the political forces of the modern world. In The House of the Dead, Daniel Beer brings to light a dark and gripping reality of mythic proportions.
About the Author
DANIEL BEER is senior lecturer in the Department of History at Royal Holloway, University of London. He has written widely on nineteenth-century Russia and is the author of Renovating Russia: The Human Sciences and the Fate of Liberal Modernity, 1880-1930.
Praise For The House of the Dead: Siberian Exile Under the Tsars…
Shortlisted for the Wolfson History Prize, the Pushkin House Russian Book Prize, and the Longman-History Today Book Prize

"Impressive…a history with the sort of granular details that make the terror of the "very name 'Siberia'" so vividly, so luridly clear."
–Steven Lee Myers, The New York Times Book Review

"The definitive work in English on this enormous topic…Mr. Beer devotes 80 pages to a fascinating new account of the Decembrists that soberly delves into their tensions and personal weaknesses…[and he] argues persuasively for a direct line between their story and the role played by the exile system in the eventual fall of the czars…As a result of his work deep in Siberian archives, there is much that is new here."
–Bartle Bull, The Wall Street Journal

 
"[A] thorough and sober history of the tsars' brutal 19th-century penal colonies."
–Bob Blaisdell, The Christian Science Monitor


"Beer gracefully brings to life the immensely rich and tragic history of Siberia…In this lush mosaic laced together with fluent prose, [he] profiles prisoners of all sorts, narrating their ordeals and the stomach-turning punishments they endured."
—Robert Legvold, Foreign Affairs


"An elucidating study of Russia's far-flung penal system…Beer ably shows how educated dissidents…transformed Siberia from a political wasteland into a crucible of the nascent Russian revolutionary movement. An eye-opening, haunting work that delineates how a vast imperial penal system crumbled from its rotten core."
—Kirkus Reviews

"Enlightening…meticulously researched…dense with memorable anecdotes and images…Beer details the systemic incompetence of the penal administration and the brutal physical punishments inflicted on exiles, as well as the violence that escaped convicts unleashed on the indigenous population…[and] shows that populating and cultivating the resource-rich expanse east of the Ural Mountains was a test that the czars failed spectacularly."
—Publisher's Weekly 

 
Praise from the United Kingdom:

"[A] masterly new history of the tsarist exile system...Mr Beer's book makes a compelling case for placing Siberia right at the centre of 19th-century Russian—and, indeed, European—history. But for students of Soviet and even post-Soviet Russia it holds lessons, too. Many of the country's modern pathologies can be traced back to this grand tsarist experiment—to its tensions, its traumas and its abject failures."
—The Economist 
 
 
"Beer's fascinating book teems with human detail…By bringing the voices of the million-plus victims of katorga vividly to life…The House of the Dead tells the story of how modern Russia was born among the squalor, the cockroaches and the casual violence of the world's largest open-air prison."
—Owen Matthews, The Spectator
 
 
"A superb history of the [Russian] exile system…a splendid example of academic scholarship for a public audience. Though [Beer] is an impressively calm and sober narrator, the injustices and atrocities pile up on every page."
—Dominic Sandbrook, The Sunday Times
 
 
"Ground-breaking…moving…[A] deeply humane account of the way the tsars used Siberia as a giant open-air prison. Beer's account uses both the telescope and the microscope. He sketches out the broad parameters of tsarist policy, as well as detailing the lives of individual exiles. Although Beer's subject is grim, his writing is not. Grace notes of metaphor elevate The House of the Dead above standard histories."
—Oliver Bullough, The Telegraph
 
 
"An expansive work that neatly manages to combine a broad history of the Romanovs' Gulag with heart-rending tales of the plights of individual prisoners. With admirable insight and sensitivity, [Beer] has rescued from the obscurity of archives in Tobolsk and Irkutsk a number of remarkable individual stories."
—Douglas Smith Literary Review