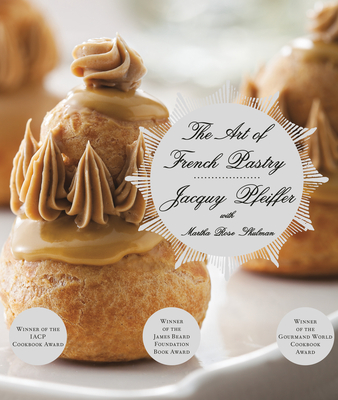 The Art of French Pastry (Hardcover)
Knopf Publishing Group, 9780307959355, 395pp.
Publication Date: December 3, 2013
Description
Winner of the 2014 James Beard Award for Best Cookbook, Dessert & Baking

What does it take to perfect a flawlesseclair? A delicate yet buttery croissant? To pipe dozens of macarons? The answer is: an intimate knowledge of the fundamentals of pastry. InThe Art of French Pastryaward-winning pastry chef Jacquy Pfeiffer, cofounder of the renowned French Pastry School in Chicago, gives you just that.
By teaching you how to make everything from pate a choux to pastry cream, Pfeiffer builds on the basics until you have an understanding of the science behind the ingredients used, how they interact with one another, and what your hands have to do to transform them into pastry. This yields glorious results Expect to master these techniques and then indulge in exquisite recipes, such as:
.brioche
.napoleons / Mille-Feuilles
.cream puffs
.Alsatian cinnamon rolls / chinois
.lemon cream tart with meringue teardrops
.elephant ears / palmiers
.black forest cake
.beignets
as well as some traditional Alsatian savory treats, including:
. Pretzels
. Kougelhof
. Tarte Flambee
. Warm Alsatian Meat Pie
Pastry is all about precision, so Pfeiffer presents us with an amazing wealth of information lists of necessary equipment, charts on how ingredients react in different environments, and the precise weight of ingredients in grams, with a look at their equivalent in U.S. units which will help you in all aspects of your cooking.
But in order to properly enjoy your just desserts, so to speak; you will also learn where these delicacies originated. Jacquy Pfeiffer comes from a long line of pastry chefs and has been making these recipes since he was a child working in his father's bakery in Alsace. Sprinkled with funny, charming memories from a lifetime in pastry, this book will have you fully appreciating the hundreds of years of tradition that shaped these recipes into the classics that we know and love, and can now serve to our friends and families over and over again.
The Art of French Pastry, full of gorgeous photography andPfeiffer's accompanying illustrations, is a master class in pastry from a master teacher.
About the Author
Jacquy Pfeiffer'scareer began with an apprenticeship in Strasbourg, Alsace, at the famous Jean Clauss Patisserie. In 1995, Pfeiffer cofounded the French Pastry School in Chicago with Chef Sebastien Canonne, M.O.F., where their team is devoted to imparting excellence. Pfeiffer has participated in many of the world s most prestigious pastry competitions, placing in the World Chocolate Masters in Paris in 1996 and at the Coupe du Monde de la Patisserie in Lyon, France, in both 1995 and 1997.He was named one of the Top Ten Pastry Chefs in America byChocolatierandPastry Art & Designfor two consecutive years and was inducted into the Academie Culinaire de France in 2003.In 2009, Pfeiffer was featured inKings of Pastry, a documentary by internationally acclaimed filmmakers D. A. Pennebaker and Chris Hegedus.Shortly after, he was inducted intoDessert Professional sPastry Hall of Fame and the Chicago Culinary Museum s Chefs Hall of Fame. Today, Pfeiffer is the Academic Dean for Student Affairs at the French Pastry School, widely considered one of the leading pastry institutions in the world. Martha Rose Shulmanis the award-winning author of more than twenty-five cookbooks, includingThe Very Best of Recipes for Health, Mediterranean Harvest: Vegetarian Recipes from the World s Healthiest Cuisine, Mediterranean Light, Provencal Light, andEntertaining Light. She writes the dailyRecipes for Health column for the online New York Times, is a founding contributor of the website Zester Daily, and is the co-owner of theVenice Cooking Schoolin Los Angeles. She has coauthored books with pastry chef Sherry Yard, Wolfgang Puck, Dean Ornish, and Mark Peel, and has collaborated with the Culinary Institute of America on two books, Culinary Boot CampandSpain and the World Table. Learn more about Martha atmartha-rose-shulman.com."
Praise For The Art of French Pastry…
Praise for Jacquy Pfeiffer's The Art of French Pastry
 
"Jacquy Pfeiffer is a master whose talent and artistry I respect. He has written a book that everyone can enjoy—classic French pastry techniques, presented with Jacquy's twist."
—Jacques Torres
 
"Everyone will love this book because it's more than just a pastry chef giving his recipes—it teaches you about different techniques and ingredients. I've always known that Jacquy Pfeiffer is an incredible teacher and through this book you can learn so much from him. The Art of French Pastry is easy to follow and really a joy to go through and cook from."
—François Payard
 
"Finally, a book that demystifies the secrets of classic French pastry! I am thrilled that Jacquy Pfeiffer has created this masterful, must-have book in which he shares his remarkable journey and recipes from apprentice to chef. Even the most skilled baker will be thrilled with these recipes that work like little miracles. This is a classic that everyone will use for years to come!"
—Sherry Yard, author of Secrets of Baking
 
"The Art of French Pastry is a very personal collection of exceptional French pastry recipes collected over many years by Jacquy Pfeiffer, one of the most gifted and respected pastry teachers and chefs. This book is a distillation of all the experiences accumulated over a lifetime and Jacquy is guiding the reader through every technical step, just as if he were standing beside you in his pastry school, making sure that you're achieving a glorious result! The book is written in the language of memories and can affect your life wonderfully . . . it is a must-read for anyone who wants to understand the art of French pastry!"
—Hubert Keller, Chef/Owner, Fleur de Lys, Fleur by Hubert Keller, and BurgerBar
Advertisement