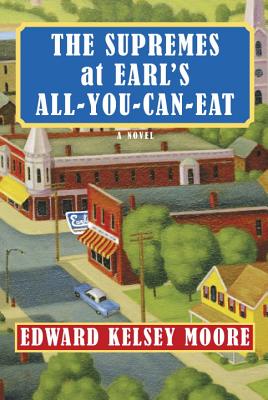 The Supremes at Earl's All-You-Can-Eat
Hardcover

* Individual store prices may vary.
Other Editions of This Title:
Digital Audiobook (3/11/2013)
Paperback (2/4/2014)
Description
Meet Odette, Clarice, and Barbara Jean in the New York Times best-selling novel . . . 
           
Earl's All-You-Can-Eat is home away from home for this inseparable Plainview, Indiana, trio.  Dubbed "the Supremes" by high school pals in the tumultuous 1960s, they weather life's storms together for the next four decades. Now, during their most challenging year yet, dutiful, proud, and talented Clarice must struggle to keep up appearances as she deals with her husband's humiliating infidelities. Beautiful, fragile Barbara Jean is rocked by the tragic reverberations of a youthful love affair. And fearless Odette engages in the most terrifying battle of her life while contending with the idea that she has inherited more than her broad frame from her notorious pot-smoking mother, Dora.

Through marriage, children, happiness, and the blues, these strong, funny women gather each Sundayat the same table at Earl's diner for delicious food, juicy gossip, occasional tears, and uproarious banter.

With wit and love, style and sublime talent, Edward Kelsey Moore brings together four intertwined love stories, three devoted allies, and two sprightly earthbound spirits in a big-hearted debut novel that embraces the lives of people you will never forget. 
Praise For The Supremes at Earl's All-You-Can-Eat…
"Edward Kelsey Moore has written a novel jam-packed with warmth, honesty,  wit, travail, and just enough madcap humor to keep us giddily off-balance. It  teems with memorable characters, chief among them Odette, as unlikely and  irresistible protagonist as we are likely to meet. The Supremes at Earl's All-You-Can-Eat is that rare and happy find: a book that delivers not only  good story, but good company." —Leah Hager Cohen, author of The Grief of Others

"What a delight and a privilege it is to be among the earliest readers of this breathtaking debut. The supremely gifted, supremely entertaining, and supremely big-hearted Edward Kelsey Moore has conjured up the story of an entire community and, at its sparkling center, a trio of memorable heroines. How I long to have Odette, Clarice, and Barbara Jean on speed-dial! At least I'll be able to brag that I knew them before they hit the big time . . . as I can promise you they will." —Julia Glass, author of Three Junes and The Widower's Tale

"Funny and tenderhearted. . . Moore expertly combines tragedy and comedy in a way that feels fluid and natural, creating a world that is internally consistent and rich. . . . Perhaps the most remarkable quality of The Supremes is love—the author's love for his characters, even the most flawed, shines from every page." —Ilana Teitelbaum, Shelf Awareness
 
"Edward Kelsey Moore knows how to write a terrific, complex, believable, and always intriguing story." —Zetta  Brown, The New York Journal of Books
 
"A book that deserves to be read in its enchanting entirety before the inevitable movie deal comes to pass." —Stevie Godson, The New York Journal of Books

"Moore is a demonstrative storyteller and credits youthful eavesdropping for inspiring this multifaceted novel. Comparisons to The Help and Fried Green Tomatoes at the Whistle Stop Cafe are inevitable, but Moore's take on this rowdy troupe of outspoken, lovable women has its own distinctive pluck." —Publishers Weekly
 
"A gripping novel that weaves together the lives of three remarkable women, and does so with flair, wit, and tremendous heart." —Carolina De Robertis, author of Perla and The Invisible Mountain

"The author uses warmhearted humor and salty language to bring to life a tight-knit African-American community. . . . With salt-of-the-earth characters like fearless Odette, motherless Barbara Jean, and sharp-tongued Clarice, along with an event-filled plot that readers will laugh and cry over, this is a good bet to become a best seller." —Library Journal

Throughout the Supremes' intertwined stories is one constant—meeting and eating at Earl's All-You-Can-Eat, a place where relationships are forged, scandals are aired and copious amounts of chicken are consumed. . . . A novel of strong women, evocative memories and deep friendship." —Kirkus

Edward Kelsey Moore's The Supremes at Earl's All-You-Can-Eat had me nodding in recognition and laughing out loud when I wasn't crying. His delightful voice really rings true, bringing the unforgettable Odette, Clarice and Barbara Jean to vivid life on every page.—Connie Briscoe, author of Money Can't Buy Me Love
 
"The Supremes at Earl's-All-You-Can-Eat is a scrumptious delight! I can't wait for my old friends to get to know my new friends: Odette, Barbara Jean, and Clarice (not to mention Odette's pot-smoking mama and her friend Mrs. Roosevelt!)." – Carleen Brice, author of Orange Mint and Honey and Children of the Waters
 
"I am always a little suspicious of a male writer speaking for female characters, but Moore inhabits and enlarges the experience he creates so delightfully. A real triumph for a brilliant new novelist." —Suzanne Levine, author of How We Love Now: Women Talk About Intimacy after Fifty
Knopf Publishing Group, 9780307959928, 320pp.
Publication Date: March 12, 2013
About the Author
Edward Kelsey Moore lives in Chicago, where he has enjoyed a long career as a cellist. His short fiction has appeared in several literary magazines, including "Indiana Review, African American Review, "and "Inkwell." His short story "Grandma and the Elusive Fifth Crucifix" was selected as an audience favorite on National Public Radio's "Stories on Stage "series.
or
Not Currently Available for Direct Purchase