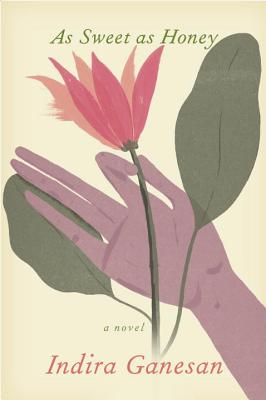 As Sweet as Honey
Hardcover

* Individual store prices may vary.
Other Editions of This Title:
Paperback (11/5/2013)
MP3 CD (7/12/2016)
Description
In her latest novel, Indira Ganesan, a writer often likened to Arundhati Roy and Chitra Divakaruni (see back of jacket for reviews), gives us an enchanting story of family life that is a dance of love and grief and rebirth set on a gorgeous island in the Indian Ocean.

The island is filled with exotic flora and fauna and perfumed air. A large family compound is presided over by a benign, stalwart grandmother. There is a very tall South Asian heroine with the astonishing un-Indian name of Meterling, who has found love at last in the shape of a short, round, elegant Englishman who wears white suits. There are also numerous aunts, uncles, and young cousins—among them, Mina, grown now, and telling this story of a marriage ceremony that ends with a widowed bride who, in the midst of her grief, discovers she is pregnant.            

While enjoying their own games and growing pains, Mina and her young cousins follow every nuance of gossip, trying to puzzle out what is going on with their favorite aunt, particularly when the groom's cousin arrives from England and begins to woo her. As Meterling—torn between Eastern and Western ideas of love and family, duty and loyalty—struggles to make a new life, we become as entranced with this family, its adventures and complications, as Mina is.

And with her we celebrate a time and place where, although sometimes difficult, life was for the most part as sweet as honey.   

Praise For As Sweet as Honey…
 "The imaginary Indian coastal island of Pi, where Ganesan has set her previous fiction, works beautifully as the setting for this East Asian homage to To the Lighthouse, both the nostalgic recreation of a lost perfect moment and an exploration into Woolf's 'thousand shapes of love.' The novel is masterful at exploring the difficulty of cultural identity and integration. There's also a bit of magical realism in the shape of a
ghost. But ultimately, this is a novel about the many permutations of both love and
family. . . . The characters' genuine charm and the girlish, witty energy of the storytelling are irresistible."—Kirkus starred review

"This sweet, sun-drenched, lovely book is the perfect antidote to a long, gray winter."––Kate Tuttle, The Boston Globe
 
"Whether she is describing verdant, lush Pi or bustling, crowded London, Ganesan brings two worlds, and [the protagonist's] conflicted feelings about each of them, to vibrant life."––Kristine Huntley, Booklist
 
"Beautifully crafted . . . A young woman living on a lush island in the Indian Ocean is torn between modern ways and her elders' beliefs."––People Magazine
 
"Ms. Ganesan is one of several female novelists from India who trace the trajectories of middle-class Indians as they move between their own country and America or Britain. (Others include Jhumpa Lahiri and Sunetra Gupta.) This experience gives the writer and her characters critical distance from both India and the West, and nurtures clear-sightedness and irony, nurtures, in fact, the novel of manners. The considerable appeal of As Sweet as Honey is that East and West, romance and novel, coexist so enticingly."––Claire Hopley, The Washington Times
Knopf Publishing Group, 9780307960443, 273pp.
Publication Date: February 12, 2013
About the Author
Indira Ganesan was born in Srirangam, India, and moved to the United States as a child. She graduated from Vassar College and received an M.F.A. from the Iowa Writers' Workshop. Her previous novels were "The Journey" and "Inheritance." She currently lives in Provincetown, MA.
or
Not Currently Available for Direct Purchase