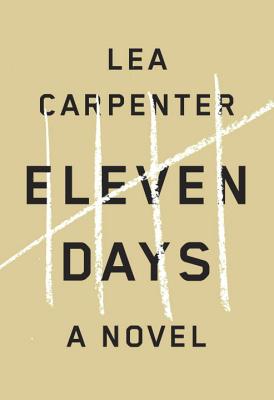 Eleven Days
Hardcover

* Individual store prices may vary.
Other Editions of This Title:
Paperback (3/11/2014)
Description
Powerful and lean, Eleven Days is an astonishing first novel full of suspense that addresses our most basic questions about war as it tells of the love between a mother and her son. When the story opens on May 11, 2011, Sara's son, Jason, has been missing for nine days from a Special Operations Forces mission on the same night as the Bin Ladenraid. Smart, young, and bohemian, Sara had dreams of an Ivy League university for Jason that were not out of reach, followed by a job on the Hill where there were connections through his father. The events of 9/11 changed Jason's mind and Sara accepted that, steeping herself in all things military to better understand her son's days, while she works as a freelance editor for Washington policy makers and wonks.
Now she knows nothing more about Jason's fate than the crowds of well-wishers and media camped out in the driveway in front of her small farmhouse in Chadds Ford, Pennsylvania, waiting to hear news. In a series of flashbacks we learn about Jason's dashing absentee father, a man who said he was a writer but whose career seemed to involve being in faraway places. And through letters Jason writes home from his training and early missions, we get a picture of a strong, compassionate leader who is wise beyond his years and modest about his abilities. Those exceptional abilities will give Jason the chance to participate in a wholly different level of assignment, the most important and dangerous of his career. At the end Sara will find herself on an unexpected journey full of surprise.
This is a haunting narrative about a mother's bond with her son; about life choices; about the military, war, and service to one's country. Lea Carpenter, a dazzling new talent with the kind of strong and distinctive voice that comes along all too rarely, has given us a thrilling and unforgettable story.

Praise For Eleven Days…
Praise for Eleven Days

"A novel of stillness and reflection…Carpenter's greatest accomplishment here may be her success at creating an Olympian warrior who seems entirely human, modest and decent…Carpenter's intelligence and sincerity find powerful expression in the novel's sophisticated structure…this story reminds us that each of these warriors, no matter how brave and tough and deadly, is still some woman's beloved son."
            –Ron Charles, The Washington Post

"Lea Carpenter's debut novel, Eleven Days, tells a story that is at once timeless and also grounded in the very real vicissitudes brought about by current events…The level of realism here is superb, and Carpenter does a masterful job…She has written a tremendous novel that serves as a valuable contribution to our nation's literature about warfare."
            –Andrew Ervin, San Francisco Chronicle
 
"A deeply affecting story about a mother and a son that attests to the debut of an extraordinarily gifted writer…Ms. Carpenter has written a novel that maps—much the way that Jayne Anne Phillips's classic Machine Dreams and Bobbie Ann Mason's In Country did—the fallout that war has not just on soldiers, who put their lives on the line, but also on their families, who wait anxiously back home."
        —Michiko Kakutani, The New York Times

"Graceful and assured."
        —The New Yorker

"Carpenter provides a convincing portrait of an exclusive and exclusively male military subculture."
            –Elizabeth Samet, The New York Times Book Review


"Assured debut…affecting portrayal of maternal love at a time of war."
         —Megan O'Grady, Vogue.com
 
"Filled with characters who exist on the edge of emotion…poignant prose and an impeccably structured narrative."
         —Publishers Weekly

"Carpenter's incisive, graceful novel is certain to vault to the top of any list of high quality literature about the wars in Iraq and Afghanistan."
         —Matt Gallagher, The Daily Beast

"Eleven Days lingers on the cold inevitabilities of conflict, which makes it a highly moral anti-war novel without noisily announcing itself as such…This well-turned story packs plenty of emotion…with equal measures of intellect and heartbreak…Among the smartest of the batch of recent American war novels."
      —Kirkus Reviews

"Eleven Days is a powerful, moving read: Jason and his Argonauts reborn as Navy Seals.  But it is far more than just a compelling story; it's a window onto the new world of 21st century warfare. I would assign it in any high school or college class on international politics or national security." 
      —Anne-Marie Slaughter, author of Keeping Faith with our Values in a Dangerous World

"A compelling story made memorable by the strength of its elegant prose."
      —Toni Morrison, author of Home
 
"What Denis Johnson did for the Vietnam War in Tree of Smoke, Lea Carpenter does for Iraq and Afghanistan in her superb Eleven Days.  She drills deeply into the culture and lore of special operations warfare, and just as deeply into the minds of the people—the military-intellectual complex, if you will—who ultimately determine the American way of making war. But at the core of this extraordinary novel is the love of a mother for her child.  That's the story of us all, and that's the story that may well break your heart."
      —Ben Fountain, author of Billy Lynn's Long Halftime Walk
 
"Eleven Days is an extraordinary accomplishment. Written with an elegant precision, this book is at its core a story about love: between a mother and a son, a son and a father, and a special group of men for each other and the imperfect country they choose to serve. I highly recommend it."
      —Kevin Powers, author of The Yellow Birds
 
"Every soldier was, once, someone's child. With this ineluctable truth at her story's core, Lea Carpenter has crafted a beautiful, and original, work of art. Eleven Days manages to be both a meditation on courage and a gripping read. Scholarly and stylish, displaying a capacious mind and even greater heart. A magnificent debut." 
      —Alexandra Styron, author of Reading My Father
 
"Not only a dramatic, affecting and wholly original story about war from a woman's point of view but an incisive look at the experience of special operations."
      —Doug Stanton, author of In Harm's Way and Horse Soldiers
 
"Powerful, moving and beautifully written, this story of a mother and her son shows us how 9/11 has changed our lives forever." 
      —Bob  Kerrey, author of When I Was a Young Man
Knopf Publishing Group, 9780307960702, 270pp.
Publication Date: June 18, 2013
About the Author
Lea Carpenter lives in New York with her husband and two sons. This is her first novel.
or
Not Currently Available for Direct Purchase