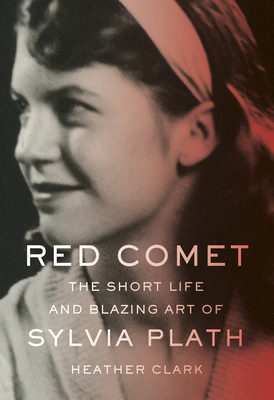 Red Comet
The Short Life and Blazing Art of Sylvia Plath
Hardcover

* Individual store prices may vary.
Other Editions of This Title:
Digital Audiobook (10/26/2020)
Paperback (9/28/2021)
Description
Finalist for the Pulitzer Prize and the National Book Critics Circle Award in Biography • "One of the most beautiful biographies I've ever read." —Glennon Doyle, author of #1 New York Times Bestseller, Untamed • Named one of the "100 Notable Books of 2021" by the New York Times

The highly anticipated biography of Sylvia Plath that focuses on her remarkable literary and intellectual achievements, while restoring the woman behind the long-held myths about her life and art.

With a wealth of never-before-accessed materials--including unpublished letters and manuscripts; court, police, and psychiatric records; and new interviews--Heather Clark brings to life the brilliant daughter of Wellesley, Massachusetts who had poetic ambition from a very young age and was an accomplished, published writer of poems and stories even before she became a star English student at Smith College in the early 1950s.

Determined not to read Plath's work as if her every act, from childhood on, was a harbinger of her tragic fate, Clark evokes a culture in transition, in the shadow of the atom bomb and the Holocaust, as she explores Plath's world: her early relationships and determination not to become a conventional woman and wife; her conflicted ties to her well-meaning, widowed mother; her troubles at the hands of an unenlightened mental-health industry; her Cambridge years and thunderclap meeting with Ted Hughes, a marriage of true minds that would change the course of poetry in English; and much more.

Clark's clear-eyed portraits of Hughes, his lover Assia Wevill, and other demonized players in the arena of Plath's suicide promotes a deeper understanding of her final days, with their outpouring of first-rate poems. Along with illuminating readings of the poems themselves, Clark's meticulous, compassionate research brings us closer than ever to the spirited woman and visionary artist who blazed a trail that still lights the way for women poets the world ove
Praise For Red Comet: The Short Life and Blazing Art of Sylvia Plath…
*Winner of the Biographers' Club Slightly Foxed Prize for Best First Biography*
*Finalist for the LA Times Book Prize in Biography*
*Named a "Book of the Year" by The Times (London), The Guardian, The Daily Telegraph, O, the Oprah Magazine, Entertainment Weekly, Literary Hub, and The Times of India*

"Mesmerizing . . . Comprehensive . . . Stuffed with heretofore untold anecdotes that illuminate or extend our understanding of Plath's life . . . Clark is a felicitous writer and a discerning critic of Plath's poetry . . . There is no denying the book's intellectual power and, just as important, its sheer readability." —Daphne Merkin, The New York Times

"One of the most beautiful biographies I've ever read." —Glennon Doyle

"A joyful affirmation for Plath fanatics and a legitimization of her legacy . . . It isn't just modern hindsight that renders Red Comet uniquely complete: it's old sources newly procured . . . Only in a biography this comprehensive can you get a sense of her intense trajectory and the transcendent achievement that is her poetry . . . Clark masterfully analyzes the poetry with intelligent incorporation of the biography." —Jessica Ferri, Los Angeles Times

"Aiming to shake the public perception of Sylvia Plath as 'the Marilyn Monroe of the literati,' Clark delivers a meticulous, unflinching and fresh view of the brilliant, troubled poet." —People
 
"Surely the final, the definitive, biography of Sylvia Plath . . . Takes its time in desensationalizing the life and the art; this lets Clark place both firmly in the literary and politically engaged contexts that formed them and simultaneously demonstrate how Plath's work, in return, gifted the writing life unimaginable new sinew." —Ali Smith, The Guardian ("The Best Books of 2020")

"Insightful . . . Captures the frenetic pace of Plath's life, from the speed with which she tackled her Smith courseload to her whirlwind courtship with and marriage to Hughes, to the dizzying dance of her correspondences . . . Red Comet is a critical examination of what it means to be a female artist, to suffer from depression, and to be alone, as it is revelatory about this one particular life and the art that came from it." –Valerie Duff, The Boston Globe

"An impressive achievement representing a prizeworthy contribution to literary scholarship and biographical journalism." —Paul Alexander, The Washington Post

"Plath was much more than the worshipping fangirl she seems in this moment. As Clark's meticulous research reveals, she was a woman who took herself and her poetry seriously." —Rafia Zakaria, The Baffler

"A clearer and more comprehensive account of Plath's life than any that have appeared before, particularly strong in analyzing the complexities of her evolving relationship with Hughes . . . An intensely human portrait . . . Red Comet feels bracingly free of old grievances and shopworn vindications. It's the big, generous biography Plath has always deserved." —Steve Donoghue, The Christian Science Monitor
 
"[Red Comet] does not so much seek to correct the record as establish it in the first place . . . In the past, Plath has often been read and written about as anomalous, a mad poet fallen from a cold star to land briefly among the living. Red Comet insists on her as a woman of her time . . . [It] is alive with Plath's countless dates, love affairs, and general escapades." —Emily Van Duyne, Literary Hub

"Revelatory . . . Plath's struggles with depression and her marriage to Ted Hughes emerge in complex detail, but Clark does not let Plath's suicide define her artistic achievement, arguing with refreshing rigor for her significance to modern letters. The result is a new understanding and appreciation of an innovative, uncompromising poetic voice." —The New Yorker

"A superb reappraisal of a literary and feminist legend whose death has too much eclipsed her work." —Anne C. Heller, Washington Independent Review of Books

"Clark lifts the poet's life from the Persephone myth it has become and examines it in all its complexity . . . [Her] detailed, multidimensional treatment gives Plath's life and work its dignity, character and sense of interiority. We get the full scope of Plath's incredible talent here, rightfully established as complicated, radiant and worthy of deep consideration. Plath was a genius [and] Red Comet allows [her] to emerge from the shadows, shining in all her intricacy and artistry." —Anna Spydell, BookPage (starred review)

"Remarkable . . . Clark's approach is unfailingly compassionate, respectful, and honest—about the circumstances of Plath's life and death, the characters that surrounded her, and the work that made her one of our most important poets . . . To witness [Plath] through this work is a privilege." —Corinne Segal, Literary Hub

"A terrific, even-handed biography . . . After more than half a century of occlusion, the time has come to see Plath emerge now into the full daylight of her immortality . . . [Clark] deftly integrates drafts, unpublished pieces, stories and critiques of poems. To demythologize Sylvia Plath is to make this extraordinary story more moving than ever. It will bring home to readers the enduring force of her 'song.'" —Lyndall Gordon, The Daily Telegraph

"[A] first-class biography . . . A mighty achievement. Clark is compassionate, clear-eyed, skeptical. Each chapter reads with the ease of a novel. You feel the smart of every rejection letter, share Plath's elation in each published poem, read the recreation of her first suicide attempt with a tightening chest and reel through the night when she met Ted Hughes with drunken exultance. I couldn't put it down . . . Plath's resilience, genius and insight blaze through the book . . . This is a vast and heartbreaking book. I would not have wished it shorter." —Laura Freeman, The Times (London)
 
"A definitive biography . . . What ultimately bursts off the page is Plath's short, vibrant life, which is too often most remembered for the way it ended: 'That's the irony, isn't it?' says Clark. 'She's so incredibly alive.'" —Mary Sollosi, Entertainment Weekly

"The full, complex scope of poet Sylvia Plath's life and writing is given a bracingly thought-provoking reexamination in this massive—and massively absorbing—biography." —The Christian Science Monitor

"A major biography that redeems Plath from the condescension of easy interpretation . . . [Clark] meticulously explores Plath's omnivorous literary interests and busy social life . . . The author's attention to specifics serves her very well in the closing pages, as she tracks how Plath's depression, anxiety over her literary standing, despair over her failed marriage, and fear of institutionalization speeded her death even while those same forces inspired indelible, harrowing late poems." —Kirkus Reviews (starred review)

"A page-turning, meticulously researched biography of Sylvia Plath. Informed by never-before-accessed documents, Clark builds a narrative that gathers full force . . . [Her] in-depth scholarship and fine writing result in a superb work that will deliver fresh revelations to Plath's many devoted fans." —Publishers Weekly (starred review)

"Finally, the biography that Sylvia Plath deserves, one that takes her seriously as both a poet and a person. Combining rigorous research with in-depth literary analysis and immersive style, Heather Clark's magisterial book not only traces Plath's influences and inspirations, but also chronicles her often-tumultuous relationships with respect and empathy. A spectacular achievement." —Ruth Franklin, author of Shirley Jackson: A Rather Haunted Life
 
"An exciting contribution not only to Plath studies but to biography, poetics, cultural history, and feminist history and theory, Red Comet is an extraordinary book. Clark animates Plath anew, both through the very dailiness of her life—rendered gripping and engrossing—and through the brilliant situating of Plath (and her stormy marriage to Ted Hughes) in the larger, indelibly evoked Anglo-American poetic context. Clark delivers a brilliant scholarly exegesis in vivid prose that renders Plath's life into art. This is the major biography of this major poet that we have long awaited." —Mary V. Dearborn, author of Ernest Hemingway: A Biography
 
"With Red Comet Heather Clark has produced a superb biography, scholarly, acutely perceptive and beautifully written. She shows a profound understanding not only of Plath and her work, but also of the worlds she inhabited on both sides of the Atlantic. This is without doubt one of the most remarkable biographies of the present era." —Selina Hastings, author of The Secret Lives of Somerset Maugham

"Once I started reading this book, I couldn't stop; I read it upon waking and late at night, at the dinner table and during the workday. I thought I knew Plath, but this wonderful book shows me I did not. Like the lyric speakers of her late poetry, she emerges from these pages transformed. Red Comet presents Sylvia Plath as she ought to be: as an innovative, ambitious, driven artist, at a time when women weren't supposed to be any of these things. In the end, I was awestruck by Plath's courage and strength in the face of so many obstacles; I was awed, too, by the work Clark has done to bring this writer to life." —Maggie Doherty, author of The Equivalents
Knopf, 9780307961167, 1152pp.
Publication Date: October 27, 2020
About the Author
HEATHER CLARK earned her bachelor's degree in English literature from Harvard University and her doctorate in English from Oxford University. Her awards include a National Endowment for the Humanities Public Scholar Fellowship, a Leon Levy Biography Fellowship at the City University of New York, and a Visiting US Fellowship at the Eccles Centre for American Studies, British Library. A former visiting scholar at the Oxford Centre for Life-Writing, she is the author of The Grief of Influence: Sylvia Plath and Ted Hughes and The Ulster Renaissance: Poetry in Belfast 1962-1972. Her work has appeared in publications including Harvard Review, Times Literary Supplement, Time, AirMail, and LitHub, and she recently served as the scholarly consultant for the BBC documentary Sylvia Plath: Life Inside the Bell Jar. She divides her time between Chappaqua, New York, and Yorkshire, England, where she is a professor of contemporary poetry at the University of Huddersfield.