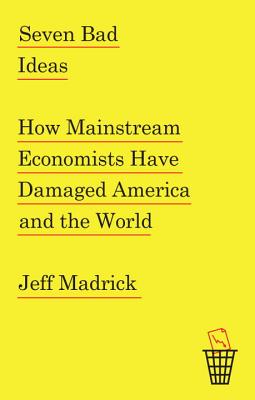 Seven Bad Ideas (Hardcover)
How Mainstream Economists Have Damaged America and the World
Knopf Publishing Group, 9780307961181, 254pp.
Publication Date: September 30, 2014
Other Editions of This Title:
Digital Audiobook (9/29/2014)
Paperback (8/18/2015)
* Individual store prices may vary.
Description
A bold indictment of some of our most accepted mainstream economic theories why they re wrong, and how they ve been harming America and the world.
Budget deficits are bad. A strong dollar is good. Controlling inflation is paramount. Pay reflects greater worker skills. A deregulated free market is fair and effective. Theories like these have become mantras among American economists both liberal and conservative over recent decades. Validated originally by patron saints like Milton Friedman, they ve assumed the status of self-evident truths across much of the mainstream. Jeff Madrick, former columnist for "The New York Times" and "Harper's, " argues compellingly that a reconsideration is long overdue.
Since the financial turmoil of the 1970s made stagnating wages and relatively high unemployment the norm, Madrick argues, many leading economists have retrenched to the classical (and outdated) bulwarks of theory, drawing their ideas more from purist principles than from the real-world behavior of governments and markets while, ironically, deeply affecting those governments and markets by their counsel. Madrick atomizes seven of the greatest false idols of modern economic theory, illustrating how these ideas have been damaging markets, infrastructure, and individual livelihoods for years, causing hundreds of billions of dollars of wasted investment, financial crisis after financial crisis, poor and unequal public education, primitive public transportation, gross inequality of income and wealth and stagnating wages, and uncontrolled military spending.
Using the Great Recession as his foremost case study, Madrick shows how the decisions America should have made before, during, and after the financial crisis were suppressed by wrongheaded but popular theory, and how the consequences are still disadvantaging working America and undermining the foundations of global commerce. Madrick spares no sinners as he reveals how the Friedman doctrine has undermined the meaning of citizenship and community, how the Great Moderation became a great jobs emergency, and how economists were so concerned with getting the incentives right for Wall Street that they got financial regulation all wrong. He in turn examines the too-often-marginalized good ideas of modern economics and convincingly argues just how beneficial they could be if they can gain traction among policy makers.
Trenchant, sweeping, and empirical, "Seven Bad Ideas" resoundingly disrupts the status quo of modern economic theory.
About the Author
Jeff Madrick, a former economics columnist for "Harper s" and "The New York Times, " is a regular contributor to "The New York Review of Books" and the editor of "Challenge "magazine. He is visiting professor of humanities at The Cooper Union and director of the Bernard L. Schwartz Rediscovering Government Initiative at the Century Foundation. His books include "Age of Greed, The End of Affluence, " and "Taking America." He has also written for "The Washington Post, "the "Los Angeles Times, Institutional Investor, The Nation, The American Prospect, The Boston Globe, "and "Newsday." He lives in New York City.

www.jeffmadrick.com

@JeffMadrick"
Praise For Seven Bad Ideas: How Mainstream Economists Have Damaged America and the World…
"'Zombie ideas,' it's been said, are those that should have been killed by evidence, but refuse to die. Even more obdurate are the axioms of orthodox economics, upon which pernicious policies are erected. Mythbuster Madrick, in clear and compelling prose, demolishes seven of the biggest of these. May they (hopefully) rest in peace."
—Mike Wallace, Pulitzer Prize-winning historian and coauthor of Gotham 

"In his incisive new book Jeff Madrick shows in rigorous and compelling detail how mainstream economic theory not only failed to anticipate the financial crisis of 2008 and the recession that followed, but actively contributed to the worst economic calamity since the Great Depression. If you suspect there is something radically wrong with mainstream economic theory, you must read Seven Bad Ideas."
—John Gray, emeritus professor, London School of Economics

"In the venerable Mark Twain tradition, Jeff Madrick explains that what makes some economists so dangerous isn't what they don't know, it's what they know that just ain't so."
—Robert H. Frank, author of The Economic Naturalist

or
Not Currently Available for Direct Purchase