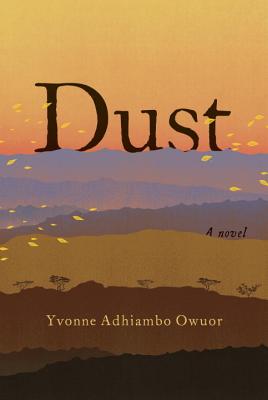 Dust (Hardcover)
Knopf Publishing Group, 9780307961204, 369pp.
Publication Date: January 28, 2014
* Individual store prices may vary.
or
Not Currently Available for Direct Purchase
Description
From a breathtaking new voice, a novel about a splintered family in Kenya a story of power and deceit, unrequited love, survival and sacrifice.
Odidi Oganda, running for his life, is gunned down in the streets of Nairobi. His grief-stricken sister, Ajany, just returned from Brazil, and their father bring his body back to their crumbling home in the Kenyan drylands, seeking some comfort and peace. But the murder has stirred memories long left untouched and unleashed a series of unexpected events: Odidi and Ajany's mercurial mother flees in a fit of rage; a young Englishman arrives at the Ogandas house, seeking his missing father; a hardened policeman who has borne witness to unspeakable acts reopens a cold case; and an all-seeing Trader with a murky identity plots an overdue revenge. In scenes stretching from the violent upheaval of contemporary Kenya back through a shocking political assassination in 1969 and the Mau Mau uprisings against British colonial rule in the 1950s, we come to learn the secrets held by this parched landscape, buried deep within the shared past of the family and of a conflicted nation.
Here is a spellbinding novel about a brother and sister who have lost their way; about how myths come to pass, history is written, and war stains us forever.
About the Author
Yvonne Adhiambo Owuor was born in Kenya. Winner of the Caine Prize for African Writing, she has also received an Iowa Writers Fellowship. Her work has appeared in "McSweeney s "and" "other publications, and she has been a TEDx Nairobi speaker and a Lannan Foundation resident. She lives in Brisbane, Australia."
Praise For Dust…
"Go buy Yvonne Adhiambo Owuor's Dust. In this dazzling novel you will find the entirety of human experience—tearshed, bloodshed, lust, love—in staggering proportions . . . Although written by an East African, Dust is not just for Afrophiles. It is for bibliophiles . . . Akai-ma ranks among the most inimitable female characters in modern literature." —Taiye Selasi, New York Times Book Review

"An astonishing novel . . . Engrossing . . . Owuor demonstrates extraordinary talent and range in these pages . . . Here in this remarkable novel is a brave, healing voice." —Washington Post
 
"Inventive, even breathtaking . . . Dust [is] the next step in what I anticipate to be a prodigious career." —NPR.org
 
"An amazing novel . . . Dust anchors Owuor as the rightful heir to Kenya's greatest novelist: Ngugi wa Thiong'o . . . A dazzling narrative, Faulknerian in many ways . . . The rewards are significant, especially Owuor's unforgettable characters . . . By the story's end you are rewarded with a genuine sense of fulfillment." —Counterpunch

"Owuor's fragmentary style is dense but lyrical." —New Yorker

"Brilliant . . . A chilling portrait of Kenya that's brimming with pain and promise . . . Owuor is taking her place in Kenya's long line of outstanding writers." —Essence magazine
 
"Owuor dives back into Kenya's history as far as the Mau Mau uprising of the 1950s, tracing its postcolonial troubles up to the near-present. As in a baroque Cormac McCarthy production, that history's defining motif is blood . . . The reader is repaid with scenes of strange, horror-stricken beauty." —Wall Street Journal

"This stunning debut novel grabs the reader's heart, refusing to let go . . . Owuor represents another shining talent among Africa's young writers publishing in English. This searing novel, though informed by her Kenyan roots, should not be pigeonholed. These unforgettable characters and universal themes will speak to all readers who seek truth and beauty in their literature." —Library Journal (starred)

"There is hardly any aspect of Kenya that Owuor seems unable to tackle with her unique flair in this masterfully executed novel, from the mid–20th century's Mau Mau rebellion and its aftermath to the stirring personal destinies of her sundry cast of characters . . . Her writing is exceptionally chiseled." —Publishers Weekly (starred, boxed)
 
"This powerful first novel will evoke references to William Boyd and even to Graham Greene and Joseph Conrad . . . [An] important addition to the literature of contemporary Africa." —Booklist
 
"This is a big, big unforgettable book, full of love and full of pain. Yvonne Adhiambo Owuor's prose can burn your skin off. Her narrative power tears through the landscapes of Kenya: life, cheap death, torture, love, friendship. Dust is a most visceral, moving novel about a family caught up in the smelt of a Kenya roiling inside the lusts and violences of its adolescence, determined to move past it. Epic in scope, Dust covers over sixty years of betrayals, love, mysterious caves, colonial brutalities, epic love, political betrayals. A crisis that brings the nation to the brink of self-destruction. You will meet a mother with an AK-47 you will never forget, a father shamed by a secret, betrayed by a nation. The varied landscapes of Kenya have never been more tenderly made alive. We gush and cry through the floods of rivers and rage that burst past civilities and boundaries; we melt at love that has to live with blood needlessly shed; we gasp at lives most unexpectedly saved. We can carry all of this unbearable world, Yvonne Adhiambo Owuor proposes, because it is beautiful. This is the novel my twenty-first century has been waiting for, for our world in these seismic times." —Binyavanga Wainaina, author of One Day I Will Write About This Place 
 
"The prose has an appealingly rough-hewn poetry, built on clipped sentences and brush-stroke evocations of the dry landscape . . . Owuor has style to spare." —Kirkus Reviews


Advertisement