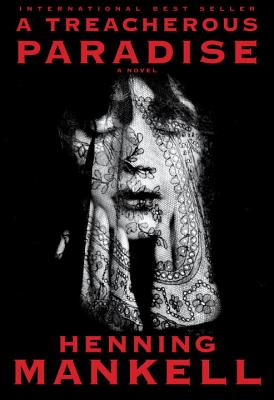 A Treacherous Paradise
Hardcover

* Individual store prices may vary.
Other Editions of This Title:
Digital Audiobook (7/8/2013)
Paperback (5/6/2014)
Compact Disc (7/9/2013)
Paperback, Large Print (7/9/2013)
Description
From the internationally acclaimed author of the Kurt Wallander crime novels, a powerful stand-alone novel set in early-twentieth-century Sweden and Mozambique, whose vividly drawn female protagonist is awoken from her naïveté by her exposure to racism and by her own unexpected inner strengths.

Cold and poverty define Hanna Renström's childhood in remote northern Sweden, and in 1904, at nineteen, she boards a ship for Australia in hope of a better life.  But none of her hopes—or fears—prepares her for the life she will lead. After two brief marriages both leave her widowed, she finds herself the owner of a bordello in Portuguese East Africa, a world where colonialism and white colonists rule, where she is isolated within white society by her profession and her gender, and, among the bordello's black prostitutes, by her color. As Hanna's story unfurls over the next several years in this "treacherous paradise," she wrestles with a devastating loneliness and with the racism she's meant to unthinkingly adopt. And as her life becomes increasingly intertwined with the prostitutes', she moves inexorably toward the moment when she will make a decision that defies all the expectations society has of her and, more important, those she has of herself.

Gripping in its drama, evocative and searing in its portrait of colonial Africa, A Treacherous Paradise is, at its heart, a deeply moving story of a woman who manages to wrench wisdom, empathy, and grace from the most unforgiving circumstances. 
Praise For A Treacherous Paradise…
"A fascinating new novel [with] unusual flavor. It often reads like a fable of folktale . . . Reminiscent of Latin American magic realism, transplanted to Africa . . . Carlos the chimp might have come out of a Garcia Marquez novel, and the richly colored details of brothel life could be from a sprawling Jorge Amado tale. . . . [A] sensuous, beguiling tapestry."
—William Boyd, The New York Times Book Review
 
"Mankell's narrative incorporates comments on racism, colonialism and the treatment of women, and his love of Africa has not blinded him to many abiding issues which he makes timelessly resonant, despite the period setting. . . . [But] Any polemical points are never foregrounded but are allowed to be grace notes in a saga of sex, race and the shifting balance of power."
—Barry Forshaw, The Independent
 
"Mankell uses his deep knowledge of Mozambique's history and politics to great advantage in this unusual and riveting story."
—Kathy Stevenson, The Daily Mail
 
"Impressively deft . . . By the time it ends, readers might be surprised how far they have traveled . . . both literally and psychologically. It's a testament to how powerfully moving and nuanced Mankell's books can be, when he turns his attention away from corpses and world-weary detectives."
—Doug Childers, Tampa Tribune
 
"[An] engrossing tale of a woman cast adrift in an alien world. . . . How she confronts the loneliness and racism of her unique place spins out in Mankell's masterful prose. As always with Mankell, the characters are brilliantly conceived."
—Margaret Cannon, The Globe and Mail
 
"[An] intriguing tale . . . It keeps you guessing to the end."
—Tina Moran, The Sunday Express
 
"The story is well put together and never less than absorbing."
—Owen Richardson, The Age
 
"The prose (translated by Laurie Thompson) is crisp and clear yet atmospheric as it conjures tensions that would simmer for decades then explode into open rebellion. . . . This novel confirms his ability to present a central character plausibly and sympathetically, a creative talent that shines throughout this absorbing, speculative construct."
—Philip Altbeker, The Times (South Africa)
 
"Considerable suspense derives from the tense atmosphere and the fact that neither Hanna nor the reader knows quite what will happen next. The tragic effects of colonialism in this divided land emerge slowly via a succession of shocking reveals. This powerful work boasts a courageous, well-drawn heroine and makes its points without stridency or didacticism. Since it's written by Mankell, an author of such high stature, it should get the large audience it deserves."
—Sarah Johnson, Booklist
 
 "A story as magical as a fairy tale and just about as brutal too."
—Kirkus Reviews
 
"[Mankell's] gift lies in the creation of a sequence of events that is credible and illuminating. The proverbial stranger in a strange land, Hanna is the lens that exposes the ugly realities of racism, sexism, and colonialism—easy targets, obviously, but this book is very much of a piece with Mankell's nongenre, and more polemical works. Hanna is a curious mix of helplessness and fortitude, and her story, like the story of Africa itself, is tragically sad."
—Publishers Weekly
Knopf Publishing Group, 9780307961228, 384pp.
Publication Date: July 9, 2013
About the Author
Henning Mankell's novels have been translated into forty languages and have sold more than forty million copies worldwide. He is the first winner of the Ripper Award (the new European prize for crime fiction) and has also received the Glass Key and Golden Dagger awards. His Kurt Wallander mysteries were adapted into a PBS television series starring Kenneth Branagh. Mankell divides his time between Sweden and Mozambique.
or
Not Currently Available for Direct Purchase