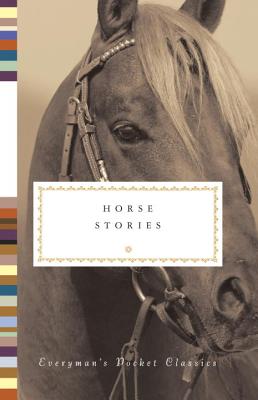 Horse Stories (Everyman's Library Pocket Classics Series) (Hardcover)
Everyman's Library, 9780307961457, 368pp.
Publication Date: October 16, 2012
* Individual store prices may vary.
Description
A perfect Christmas gift—a beautifully jacketed Everyman's Library Pocket Classics hardcover anthology of two centuries of short fiction about our most majestic companion animal. With full-cloth binding and a silk ribbon marker.

Annie Proulx and Bret Harte transport us to the ranches of the Old West and Rudyard Kipling to the polo fields of India. Arthur Conan Doyle makes a famous Thoroughbred disappear, and Raymond Carver gives us a vision of runaway horses in the mist. Jane Smiley, Margaret Atwood, Isaac Babel, and Ted Hughes explore the human passions horses can unleash. From the rollicking racetrack humor of Damon Runyon to the poignant lyricism of John Steinbeck's "The Red Pony" to the wild recklessness of adolescence in William Saroyan's "The Summer of the Beautiful White Horse" and Lydia Peelle's "Sweethearts of the Rodeo," these stories testify to our varied and timeless fascination with the noble animal.
About the Author
Diana Secker Tesdell is the editor of the Everyman's Pocket Classic anthologies Christmas Stories, Love Stories, Dog Stories, Cat Stories, Horse Stories, New York Stories, Bedtime Stories, Stories of Art and Artists, Stories of Fatherhood, Stories of Motherhood, Stories of the Sea, and Stories from the Kitchen, and of the Everyman's Library Pocket Poet Lullabies and Poems for Children.