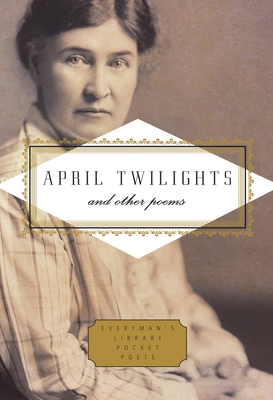 April Twilights and Other Poems (Everyman's Library Pocket Poets Series) (Hardcover)
Everyman's Library, 9780307961464, 240pp.
Publication Date: March 26, 2013
* Individual store prices may vary.
Description
Before Willa Cather went on to write the novels that would make her famous, she was known as a poet, the most popular of her poems reprinted many times in national magazines and anthologies. Her first book of poetry, April Twilights, was published in 1903, but Cather significantly revised and expanded it in a 1923 edition entitled April Twilights and Other Poems. This Everyman's Library edition reproduces for the first time all the poems from both versions of April Twilights, along with a number of uncollected and previously unpublished poems by Cather, as well as an illuminating selection of her newly released letters.

In such lyrical poems as "The Hawthorn Tree," "Winter at Delphi," "Prairie Spring," "Poor Marty," and "Going Home," Cather exhibits both a finely tuned sensitivity to the beauties of the physical world and a richly symbolic use of the landscapes of myth. The themes that were to animate her later masterpieces found their first expression in these haunting, elegiac ballads and sonnets.
About the Author
WILLA CATHER, author of twelve novels, including O Pioneers!, My Ántonia, and Death Comes for the Archbishop, was born in Virginia in 1873 but grew up in Nebraska, where many of her novels are set. She died in 1947 in New York City.