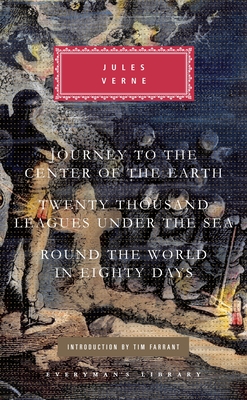 Journey to the Center of the Earth/Twenty Thousand Leagues Under the Sea/Round the World in Eighty Days (Hardcover)
Everyman's Library, 9780307961488, 688pp.
Publication Date: October 1, 2013
Description
Jules Verne's most beloved novels are gathered here in one hardcover volume: three thrilling tales of fabulous journeys under, through, and around the earth.
Verne was one of the great pioneers of science fiction. Born in France in 1828, he wrote brilliantly about space, air, and underwater travel long before airplanesand space ships had been invented, and he is still one of the most widely read internationally of all science-fiction writers.
But beyond charting new territory for adventurous fiction, his creations have entered our culture and taken on the magnitude and vitality of myth. It is hard to imagine anyone who has not heard of Captain Nemo and his giant submarine exploring the ruins of Atlantis in Twenty Thousand Leagues Under the Sea, Phileas Fogg's frantic race around the world by every means of transportation in Round the World in Eighty Days, and the harrowing descent through a volcanic crater to underground caverns where prehistoric creatures roam in Journey to the Center of the Earth. These stories have seized the imaginations of readers for generations and are as vivid and exciting now as when their author first imagined traveling beyond the bounds of the possible.
Translated by Henry Frith
(Book Jacket Status: Jacketed)
About the Author
JULES VERNE, the "father of science fiction," was born in Nantes, France, in 1828 and died in 1905. He began writing while studying to be a lawyer; when his father discovered this, he cut him off and Verne was forced to support himself as a stockbroker. Victor Hugo and Alexandre Dumas offered the young Verne writing advice, and eventually he found a publisher who brought out his first adventure novel, Five Weeks in a Balloon, in 1863. Set in Africa, it was an instant hit and made Verne financially independent; he went on to write one to two books a year for the rest of his life. TIM FARRANT is a Lecturer in French at Oxford University and a Fellow of Pembroke College. He is the author of An Introduction to Nineteenth-Century French Literature and Balzac's Shorter Fictions.
Praise For Journey to the Center of the Earth/Twenty Thousand Leagues Under the Sea/Round the World in Eighty Days…
"The tension between the armchair and adventure, between security and possibility, lies at the heart of Verne, as of his age—an age of scientific, technical, industrial, colonial expansion, but also of questioning and reverie . . . The template of Verne's great novels [is] a fusing of myth and the real; a new, modern, awestruck apprehension of the man-made and the natural; a dream—yet sometimes nightmare—of the possibilities of mankind, technology and the sublime."
—from the Introduction by Tim Farrant
 
Advertisement