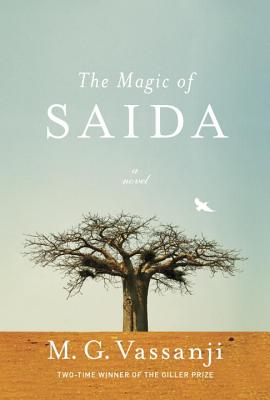 The Magic of Saida (Hardcover)
Knopf Publishing Group, 9780307961501, 303pp.
Publication Date: March 5, 2013
Other Editions of This Title:
Paperback (12/3/2013)
* Individual store prices may vary.
Description
Giller Prize–winner M. G. Vassanji gives us a powerfully emotional novel of love and loss, of an African/Indian man who returns to the town of his birth in search of the girl he once loved—and the sense of self that has always eluded him.
Kamal Punja is a physician who has lived in Canada for the past forty years, but whom we first meet in a Tanzanian hospital. He is delirious and says he has been poisoned with hallucinogens. But when Kamal finds a curious and sympathetic ear in a local publisher, his ravings begin to reveal a tale of extraordinary pathos, complexity, and mystery.

Raised by his African mother, deserted when he was four by his Indian father, married to a woman of Indian heritage, and the father of two wholly Westernized children, Kamal had reached a stage of both undreamed-of material success and disintegrating personal ties. Then, suddenly, he "stepped off the treadmill, allowed an old regret to awaken," and set off to find the girl he had known as a child, to finally keep his promise to her that he would return.

The girl was Saida, granddaughter of a great, beloved Swahili poet. Kamal and Saida were constant companions—he teaching her English and arithmetic, she teaching him Arabic script and Swahili poetry—and in his child's mind, she was his future wife. Until, when he was eleven, his mother sent him to the capital, Dar es Salaam, to live with his father's relatives, to "become an Indian" and thus secure his future. Now Kamal is journeying back to the village he left, into the maze of his long-unresolved mixed-race identity and the nightmarish legacy of his broken promise to Saida.

At once dramatic, searching, and intelligent, The Magic of Saida moves deftly between the past and present, painting both an intimate picture of passion and betrayal and a broad canvas of political promise and failure in contemporary Africa. It is a timeless story—and a story very much of our own time.

About the Author
M. G. Vassanji is the author of six previous novels: "The Gunny Sack, " which won a regional Commonwealth Writers' Prize; "No New Land; The Book of Secrets, " which won the very first Giller Prize; "Amriika; The In-Between World of Vikram Lall, " which also received the Giller Prize; and, most recently, "The Assassin's Song." He is also the author of two short-story collections, a travel memoir about India, and a biography of Mordecai Richler. He lives in Toronto.
Praise For The Magic of Saida…
"A magical, heart-breaking story." —Emily Taylor, Charleston City Paper
 
"Sophisticated . . . The Magic of Saida is as ambitious and sprawling as it is compelling." —Susi Wyss, Washington Independent Review of Books
 
 "Vassanji's remarkable new novel is a magic trick that reveals how it's performed while in process . . . As Kamal relates the colonial history, [it] amounts to the best sort of historical fiction . . . Vassanji has won Canada's Giller Prize twice. This book also seems bound for glory."  —Michael Autrey, Booklist (starred)
 
 "An ambitious, passionate work about racial identity, deracination, and the unsolvable mysteries of the human heart . . . The retro echoes of Graham Greene and W. Somerset Maugham play with readers expectations in this decidedly contemporary African novel . . . Vassanji employs dense but splintered prose to mirror the dense but splintered identity of his multicultural/multiethnic protagonist." —Kirkus Reviews
 
"It's a bravura performance, but subtle and understated. Vassanji isn't a bombastic writer; his prose is rich, but never distracting, multifaceted, but never simply beautiful for its own sake . . . [The novel's frame] allows for fluid, non-linear storytelling that brings the past and the present, the recounted and the shown, the pedestrian and the magical, into a crystalline narrative immediacy . . . The Magic of Saida is the sort of novel that, upon finishing, one wants to immediately read again, to examine, to study just how Vassanji works his narrative magic, and to allow oneself to savour it just that little bit longer." —Robert J. Wiersema, Globe and Mail
 
"M. G. Vassanji's new novel offers an experience as mysterious and haunting as hearing the sudden beat of drums in the middle of the night . . . Kamal [has] a great story to tell, a narrative that echoes the best-known African-set tale in the English language: Joseph Conrad's Heart of Darkness . . . The seductive power of Vassanji's prose mesmerizes . . . [He is] one of Canada's best novelists." —Paul Gessell, Quill & Quire
 
"Seductive and poignant." —Peter Robb, Ottawa Citizen
 
"Vassanji has taken on a story sufficiently broad and deep to furnish a trilogy, so a good deal of the pleasure in reading The Magic of Saida lies in how he fits it all into a single mid-length novel . . . Shifts in perspective, setting and time are handled without a hitch . . . Vassanji is at his best writing about how history affects at a micro level [and] such moments are plentiful." —Ian McGillis, Montreal Gazette
 
"A gripping narrative . . . What is most moving is the theme of betrayal . . . Vassanjis material is so compelling that he needs little more than to adopt the role of a chronicler." —Philip Marchand, National Post
 
"A sensitive examination of love, loss, and homelessness . . . The sub-plot regarding a famous poet, Saidas grandfather, is remarkable . . . Its impossible not to feel enormous sympathy for [Kamal,] a man who overcomes so many hurdles except that of his own humanity. For creating this character, M. G. Vassanji must be thanked." —Candace Fertile, Vancouver Sun
or
Not Currently Available for Direct Purchase