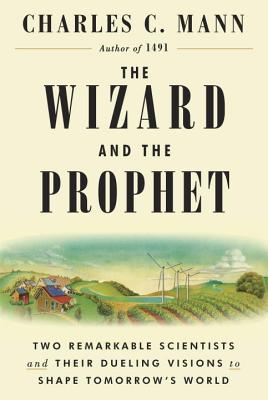 The Wizard and the Prophet
Two Remarkable Scientists and Their Dueling Visions to Shape Tomorrow's World
Hardcover

* Individual store prices may vary.
Other Editions of This Title:
Digital Audiobook (1/22/2018)
Description
From the best-selling, award-winning author of 1491 and 1493--an incisive portrait of the two little-known twentieth-century scientists, Norman Borlaug and William Vogt, whose diametrically opposed views shaped our ideas about the environment, laying the groundwork for how people in the twenty-first century will choose to live in tomorrow's world.

In forty years, Earth's population will reach ten billion. Can our world support that? What kind of world will it be? Those answering these questions generally fall into two deeply divided groups--Wizards and Prophets, as Charles Mann calls them in this balanced, authoritative, nonpolemical new book. The Prophets, he explains, follow William Vogt, a founding environmentalist who believed that in using more than our planet has to give, our prosperity will lead us to ruin. Cut back! was his mantra. Otherwise everyone will lose! The Wizards are the heirs of Norman Borlaug, whose research, in effect, wrangled the world in service to our species to produce modern high-yield crops that then saved millions from starvation. Innovate! was Borlaug's cry. Only in that way can everyone win! Mann delves into these diverging viewpoints to assess the four great challenges humanity faces--food, water, energy, climate change--grounding each in historical context and weighing the options for the future. With our civilization on the line, the author's insightful analysis is an essential addition to the urgent conversation about how our children will fare on an increasingly crowded Earth.
Praise For The Wizard and the Prophet: Two Remarkable Scientists and Their Dueling Visions to Shape Tomorrow's World…
"Scrupulous, stimulating, and elegant . . . A beautifully crafted book. Anyone wanting a readable, relentlessly intelligent narrative showing where our environmental ideas and anxieties in the present-day Anglophone world come from will find it here in abundance." —Robert J. Mayhew, Times Literary Supplement

"Brilliant . . . The author's science journalism shines." —William Easterly, The Wall Street Journal

"An elegantly written, devoted testimonial to the art of the possible." —Jonathan Hahn, Sierra
 
"Mann's storytelling skills are unmatched. . . . The great virtue of Mann's book—and much of his journalism over many years—is that it raises very large questions . . . that are usually either ignored or answered in slogans. He provides detail enough, and simplicity enough, that anyone who is struggling with these puzzles will be enlightened and informed. And entertained, which, given the subject matter, is no small feat." —Bill McKibben, The New York Times Book Review

"Fascinating . . . An inquisitive and gifted science writer." —Tyler Priest, Science

"The most persuasive writers on the environment punctuate their big-picture theses with telling details that bring the relevant issues to life. Like Elizabeth Kolbert and Tim Flannery, Charles C. Mann is one of the masters of this art . . . a stimulating, thoughtful, balanced overview of matters vital to us all." —Dan Cryer, The Boston Globe

"Mann is a compelling and forensic analyst of big tipping points in human affairs." —Fred Pearce, The Washington Post

"Charles C. Mann specializes in deep, comprehensive looks at the past that better elucidate the present." —Mary Ellen Hannibal, San Francisco Chronicle

"Best-selling author and journalist Mann tackles the thorny problem of humankind's future through the lens of two 20th-century visionaries. . . . A sweeping, provocative work of journalism, history, science and philosophy." —Library Journal starred review

"Without taking sides, Mann delivers a fine examination of two possible paths to a livable future." —Publisher's Weekly starred review

"An insightful, highly significant account that makes no predictions but lays out the critical environmental problems already upon us."—Kirkus starred review

"The contrast is stark—technological wizardry or romantic prophecy as a lens to view the future path for the planet and humanity. Charles Mann provides a deeply corrugated, richly nuanced, and highly entertaining narrative to make sense of the most consequential decisions facing civilization. Read, think, and enjoy." —Ruth deFries, author of The Big Ratchet: How Humanity Thrives in the Face of Natural Crisis

 "Brilliantly conceived and executed, Charles Mann's The Wizard and the Prophet is the book I have long awaited—thoughtful, balanced and unbiased—to understand the  challenges that humanity will face as the twenty-first century progresses. Mann's historical perspective provides the critically important context for us to understand how we got here and how we might solve the problems presented by a finite world of ten billion humans." –Gary Taubes, author of The Case Against Sugar 

"The Wizard and the Prophet is a fascinating portrait of two men who probably shaped your thinking about the future, whether you realize it or not. Charles Mann proves, once again, a masterful storyteller." – Elizabeth Kolbert, author of The Sixth Extinction

"A rich, elegant, ferociously readable study of our global quandary. Among the many excellent things Charles C. Mann does in The Wizard and the Prophet is give us a fresh, and wholly unexpected, way of understanding today's political divide." —Russell Shorto, author of Revolution Song

"A fascinating story of two forgotten men whose ideas changed our understanding of humanity's place in nature. The Wizard and the Prophet is an intellectual history of the clash between techno-optimists and environmentalists, but it's also the very personal story of two thinkers, Norman Borlaug and William Vogt. Mann offers a sympathetic, nuanced way to understand one of the fundamental debates of our time: How will 10 billion humans live sustainably on Earth, when our demands for energy and food are growing? This book showcases an important new kind of futurism, which looks to the past to understand how we'll survive. Never preachy nor dogmatic, Mann asks his readers to do the most difficult thing possible: choose a path to a better world, by consulting your own conscience." —Annalee Newitz, editor, Ars Technica
Knopf, 9780307961693, 640pp.
Publication Date: January 23, 2018
About the Author
CHARLES C. MANN, a correspondent for The Atlantic, Science, and Wired, has also written for Fortune, The New York Times, Smithsonian, Technology Review, Vanity Fair, The Washington Post, as well as the TV network HBO and the series Law & Order. A three-time National Magazine Award finalist, he is the recipient of writing awards from the American Bar Association, the American Institute of Physics, the Alfred P. Sloan Foundation, and the Lannan Foundation.
or
Not Currently Available for Direct Purchase