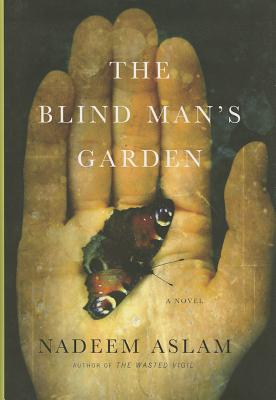 The Blind Man's Garden (Hardcover)
Knopf Publishing Group, 9780307961716, 367pp.
Publication Date: April 30, 2013
Other Editions of This Title:
Paperback (1/28/2014)
* Individual store prices may vary.
Description
The acclaimed author of The Wasted Vigil now gives us a searing, exquisitely written novel set in Pakistan and Afghanistan in the months following 9/11: a story of war, of one family's losses, and of the simplest, most enduring human impulses.

Jeo and Mikal are foster brothers from a small town in Pakistan. Though they were inseparable as children, their adult lives have diverged: Jeo is a dedicated medical student, married a year; Mikal has been a vagabond since he was fifteen, in love with a woman he can't have. But when Jeo decides to sneak across the border into Afghanistan—not to fight with the Taliban against the Americans, rather to help care for wounded civilians—Mikal determines to go with him, to protect him.

Yet Jeo's and Mikal's good intentions cannot keep them out of harm's way. As the narrative takes us from the wilds of Afghanistan to the heart of the family left behind—their blind father, haunted by the death of his wife and by the mistakes he may have made in the name of Islam and nationhood; Mikal's beloved brother and sister-in-law; Jeo's wife, whose increasing resolve helps keep the household running, and her superstitious mother—we see all of these lives upended by the turmoil of war.

In language as lyrical as it is piercing, in scenes at once beautiful and harrowing, The Blind Man's Garden unflinchingly describes a crucially contemporary yet timeless world in which the line between enemy and ally is indistinct, and where the desire to return home burns brightest of all.

About the Author
Nadeem Aslam is the author of three highly acclaimed novels: "Season of the Rainbirds, " which won a Betty Trask Award and was long-listed for the Man Booker Prize; "Maps for Lost Lovers, " winner of the Kiriyama Prize, short-listed for the International IMPAC Dublin Literary Award, long-listed for the Man Booker Prize, and named a "New York Times" Notable Book; and, most recently, "The Wasted Vigil, "short-listed for the Prix Femina etranger and the Prix Medicis etranger."" He is also the recipient of a Lannan Literary Fellowship. In 2012 he was made a Fellow of the Royal Society of Literature.
Praise For The Blind Man's Garden…
Praise for The Blind Man's Garden

"Magnificent." —The Times (London)

"Exhilarating . . . An engaging work of humane-minded and artful literary fiction . . . replete with striking images." —The Wall Street Journal
 
"One the most important novels of the past decade. . . . The Blind Man's Garden is as much a family saga and a love story as a dialectic reflecting the dual responses to 9/11. . . . A masterpiece . . . Extraordinary prose—lush, full of vivid images and juxtapositions." —Counterpunch
 
"Aslam finds poetry in scenes both ordinary and dreamlike . . . The writing is so assured and the story so urgent that it's easy to suspend disbelief. Aslam sympathizes not with causes but with people, and this is a memorable portrait of a people torn apart by war." —Kirkus Reviews (starred)
 
"A follow-up to Aslam's almost unnervingly beautiful The Wasted Vigil . . . While Vigil sparkled like sharp-cut jewels, this new work has a garden's shaded quiet yet just as effectively conveys the entanglements of history in the Middle East and the awful human price." —Library Journal

 "The extraordinary beauty of [Aslam's] writing makes the experience of reading [The Blind Man's Garden] wholly exhilarating." —The Spectator
 
"The Blind Man's Garden is most impressive in its stitching together of dramatic ironies, often under the star of sensuality and underlined by a stripe of brutality. . . . There is much to admire." —Times Literary Supplement
 
"A gripping and moving piece of storytelling that gets the calamitous first act in the 'War on Terror' on to the page with grace, intelligence, and rare authenticity." —The Guardian
 
"Once or twice a year, a book stuns me. The Blind Man's Garden has done just that . . . Rich imagery, sage reflections, and immaculate prose are evident on every page . . . This book glows with a radiant beauty . . . The poignancy is gut-wrenching." —The Independent on Sunday
 
"A gripping work that goes to the heart of Muslim fanaticism and Pentagon intransigence alike. Aslam is a wonderful talent, and we are lucky to have him." —The Telegraph
 
"Aslam has established a reputation for two rare abilities: to write rich, lyrical prose; and to examine Islam in a heartfelt yet clear-eyed way. In both cases, that reputation looks certain to be boosted by The Blind Man's Garden . . . Aslam never forgets his duty to make all of these [characters] entirely convincing or to serve up page after page of compelling story-telling." —Daily Mail
 
"A monumental novel of love and conflict . . . Aslam has proven himself adept at showing the struggles within Islam, particularly the tension between extremist Islam and its counterpoint, and he does so most powerfully here . . . Breathtaking." —The Independent
 
 "Powerful and quite astounding . . . The Blind Man's Garden could be Nadeem Aslam's masterpiece." —The National (UAE)
 
"A brave, passionate narrative that is rich in symbolism and hard truths . . . Aslam is a gifted writer, an honest witness with the eye of a poet . . . There is no disputing the passion and urgency of Aslam's work. Its elegantly raw humanity appeals to the soul." —Irish Times
 
"A wonderful book—as propulsive as any thriller yet leavened with the subtlety of a writer who can inhabit the febrile mind of a jihadist just as intuitively as he can the weeping soul of a country drowning in religious extremism." —Metro 

"To surpass expectations when you have books like Maps for Lost Lovers and The Wasted Vigil behind you must be no mean task. However, Nadeem Aslam makes short work of it with The Blind Man's Garden, as he plunges the rea­der headlong, heart first, into the biggest conflict of our times. . . . This is a life-affirming tale of love and redemption emerging from the stark landscape of loss. Love is not consolation, it is light. The book is Aslam's prayer for the whole world, his attempt to bathe it in light." —Manjul Bajaj, Outlook India

 
or
Not Currently Available for Direct Purchase