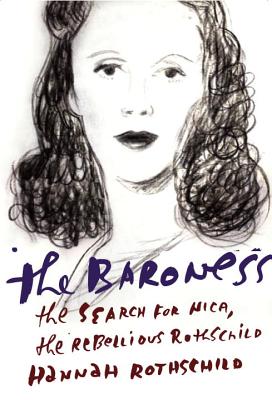 The Baroness (Hardcover)
The Search for Nica, the Rebellious Rothschild
Knopf Publishing Group, 9780307961983, 285pp.
Publication Date: March 19, 2013
Other Editions of This Title:
Paperback (12/2/2014)
Compact Disc (3/19/2013)
MP3 CD (6/3/2014)
Compact Disc (4/1/2014)
Hardcover (5/1/2012)
MP3 CD (3/19/2013)
MP3 CD (3/19/2013)
Compact Disc (3/19/2013)
Paperback (3/1/2013)
* Individual store prices may vary.
Description
Beautiful, romantic and spirited, Pannonica, known as Nica, named after her father's favorite moth, was born in 1913 to extraordinary, eccentric privilege and a storied history. The Rothschild family had, in only five generations, risen from the ghetto in Frankfurt to stately homes in England. As a child, Nica took her daily walks, dressed in white, with her two sisters and governess around the parkland of the vast house at Tring, Hertfordshire, among kangaroos, giant tortoises, emus and zebras, all part of the exotic menagerie collected by her uncle Walter. As a debutante, she was taught to fly by a saxophonist and introduced to jazz by her brother Victor; she married Baron Jules de Koenigswarter, settled in a chateau in France and had five children. When World War II broke out, Nica and her five children narrowly escaped back to England, but soon after, she set out to find her husband who was fighting with the Free French Army in Africa, where she helped the war effort by being a decoder, a driver and organizing supplies and equipment.
In the early 1950s Nica heard Round Midnight by the jazz pianist and composer Thelonious Monk and, as if under a powerful spell, abandoned her marriage and moved to New York to find him. She devoted herself to helping Monk and other musicians: she bailed them out of jail, paid their bills, took them to the hospital, even drove them to their gigs, and her convertible Bentley could always be seen parked outside downtown clubs or up in Harlem. Charlie Parker would notoriously die in her apartment in the Stanhope Hotel. But it was Monk who was the love of her life and whom she cared for until his death in 1982.
Hannah Rothschild has drawn on archival material and her own interviews in this quest to find out who her great-aunt really was and how she fit into a family that, although passionate about music and entomology, was reactionary in always favoring men over women. Part musical odyssey, part love story, "The Baroness" is a fascinating portrait of a modern figure ahead of her time who dared to live as she wanted, finally, at the very center of New York's jazz scene.

About the Author
Hannah Rothschild is a writer and director whose documentaries have appeared at film festivals including Telluride and Tribeca. She conceived and directed "The Jazz Baroness, " a film about her great-aunt and Thelonious Monk, which was broadcast by BBC and HBO in 2009. She has written for British "Vanity Fair, " "Vogue, " "The Independent" and "The Spectator." She is vice president of the Hay Literary Festival and trustee of the National Gallery and Waddesdon Manor.
Praise For The Baroness: The Search for Nica, the Rebellious Rothschild…
"Hannah Rothschild blends biography and personal history to uncover an enigma who had all but vanished from the family annals."
            —Matthew Ruiz, Town and Country

"Remarkable…sophisticated recounting of [the Rothschilds'] riveting history."
            —WWD
 
"Given [Nica's] importance, this 'revelatory and unique' biography feels long overdue…A more rounded portrait of Nica than any published before. Rothschild builds a convincing case for her great-aunt's significance."
            —The Week

"Smoky, seductive, smart, and full of both beautiful and sad family lore…The Baroness is a sweeping biography in tender, tumultuous, tragic, iconic tones."
            —Royal Young, Interview Magazine

"A fascinating tale."
            —New York Post
 
"Honest, compassionate portrait…Rothschild's work covers the unique perspective of a family member whose quest to comprehend the essence of her fascinating yet controversial great-aunt is illuminating. This well-written and researched text with a diverse selection of photos provides thoughtful insight into Nica's life, milieu, and cultural era, and will appeal to jazz enthusiasts as well as to musicians and popular historians."
            —Library Journal
 
"Fascinating history of the Rothschild dynasty…remarkable."
            —Diane Solway, W Magazine
 
"Charming…Nica is an irresistible combination of British eccentricity and Rothschild sophistication. Readers will enjoy this intimate story of a lifetime of rule breaking, told with remarkable detail, tenderness, and true empathy."
            —Publisher's Weekly
 
 "The fascinating story of a member of Europe's banking aristocracy who spent  the second, half of her life swinging with New York's jazz aristocracy …An engaging mixture of well-researched biography and personal reminiscences about her formidable relatives.
            —Kirkus Reviews
 
Praise from the U.K.
"Hannah tells this story with care, balancing narrative tension with a desire to lay out all the facts so readers can make up their own minds… wholly gripping."
—Rachel Cooke in The Guardian
 
"Very moving… a most beguiling book and tale."
—Libby Purves on Midweek, BBC Radio 4
 
 "Riveting, touching and insightful."
—The Daily Telegraph
 
"An eminently readable, well researched biography- one third a history of the Rothschild family, one third a portrait of Nica and one third a biography of Monk. Nica comes across as a remarkable woman, strong, feisty and rebellious."
—Helen Davies, Sunday Times
 
"An honest portrait of an extraordinary life. It's a gripping yarn that more than proves that life is stranger than fiction."
—The Literary Review
 
"Rothschild's riveting account of her eccentric great-aunt Nica stands out for its nimble writing and brilliant story."
—The Independent's 50 Best Summer Reads
 
"Eloquently-written labour of love."
—Daily Mail
 
"An intriguing biography, a detective story of sorts… Rothschild sketches a tantalising portrait of an heiress who turned her back on a cloistered life."
—The Independent
 
"Hannah Rothschild has done a brilliant job of telling the story, by turns moving, shocking and inspiring. Filled with photographs and startling details, it's utterly absorbing."
—Elle
 
"Full of interest and warmth."
—Spectator
 
"The colourful life of a jazz philanthropist… A rounded portrait."
— Richard Williams in The Guardian
  
"Vivid."
—Financial Times
 
"At first glance Thelonious (Monk) and Pannonica (Rothschild) might seem to have nothing in common. Yet as Hannah Rothschild shows in this tender memoir, the symmetries of their lives ran far deeper."
—Kathryn Hughes, The Mail on Sunday
 
"Richly textured, elegantly told and often as surprising as its subject, Hannah Rothschild's biography of her great-aunt is a moving tribute to a fascinating and original woman."
—Country Life
 
"A colourful, entertaining study of a fearless, fiercely loyal, independent and slightly bonkers adventuress."
—The Herald
 
"A lucid, clear-eyed account of a charismatic, self-willed but ultimately elusive figure, this absorbing book should be enjoyed by anyone."
—London jazz Blog
or
Not Currently Available for Direct Purchase