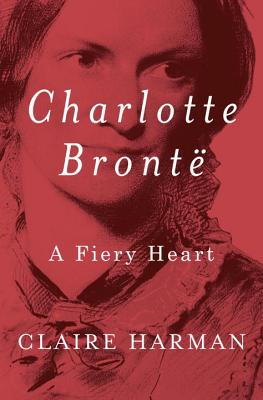 Charlotte Brontë
A Fiery Heart
Hardcover

* Individual store prices may vary.
Other Editions of This Title:
CD-Audio (3/1/2016)
Paperback (2/7/2017)
Description
On the two hundredth anniversary of her birth, a landmark biography transforms Charlotte Brontë from a tragic figure into a modern heroine.
 
Charlotte Brontë famously lived her entire life in an isolated parsonage on a remote English moor with a demanding father and siblings whose astonishing childhood creativity was a closely held secret. The genius of Claire Harman's biography is that it transcends these melancholy facts to reveal a woman for whom duty and piety gave way to quiet rebellion and fierce ambition.

Drawing on letters unavailable to previous biographers, Harman depicts Charlotte's inner life with absorbing, almost novelistic intensity. She seizes upon a moment in Charlotte's adolescence that ignited her determination to reject poverty and obscurity: While working at a girls' school in Brussels, Charlotte fell in love with her married professor, Constantin Heger, a man who treated her as "nothing special to him at all." She channeled her torment into her first attempts at a novel and resolved to bring it to the world's attention.

Charlotte helped power her sisters' work to publication, too. But Emily's Wuthering Heights was eclipsed by Jane Eyre, which set London abuzz with speculation: Who was this fiery author demanding love and justice for her plain and insignificant heroine? Charlotte Brontë's blazingly intelligent women brimming with hidden passions would transform English literature. And she savored her literary success even as a heartrending series of personal losses followed.

Charlotte Brontë is a groundbreaking view of the beloved writer as a young woman ahead of her time. Shaped by Charlotte's lifelong struggle to claim love and art for herself, Harman's richly insightful biography offers readers many of the pleasures of Brontë's own work.
Praise For Charlotte Brontë: A Fiery Heart…
"Just as Jane Eyre happily survives multiple readings, so does the story of Charlotte Brontë—particularly when in the hands of a gifted teller. Just in time for the bicentennial anniversary of Brontë's birth, A Fiery Heart is an engrossing, almost novelistic tale of a woman who since childhood embraced an uncanny ability 'to enter trance-like into her own imaginary world' and find everlasting stories there ... Throughout we hear Brontë's voice, with Harman's chiming in alongside. Quite rightly for a work on Charlotte Brontë, one gets the sense of a sisterly collaboration."
—Seattle Times
 
"Harman's well-paced narrative and keen attention to the tentative and troubled way Charlotte adjusted to sudden fame make this latest version of a literary life all the more modern and captivating."
—San Francisco Chronicle

"A well-researched, wonderfully lucid, pleasingly written treatment of a most extraordinary woman ... What makes this biography such a rewarding work is the poise and easy confidence with which Harman summons character and creative imagination, not only Charlotte's, but her sisters' too, showing, most crucially, how Charlotte's reading of their work unleashed a bold, hitherto absent 'emotional force' in her own writing ... Harman's tart, understated wit and gift for quotation shine throughout ... Who can say at this point which is the best biography of Charlotte Brontë, but Harman's is among them and perhaps the most engaging of all."
—Chicago Tribune
 
"Harman mines [Charlotte's letters], which she credits as 'the fullest and most suggestive source to date of Charlotte Brontë's behavior and private opinions,' with considerable subtlety ... Harman skillfully interweaves the correspondence with other sources, including autobiographical passages from the novels, to produce as intimate and nuanced an account of the writer's life as we are likely to get ... Charlotte Brontë's end seems to have been harrowing. But at least Harman's meticulous, affectionate biography reassures us that her afterlife is in good hands."
—Los Angeles Times

"[A] masterly biography ... Harman leads readers on a precipitous journey through the writer's interior landscape ... Harman's psychologically astute portrait deftly bridges Charlotte's world and her work."
—The New Yorker
 
"Lively ... [Charlotte Brontë] has found an affectionate champion in British biographer Claire Harman."
—Washington Post

"An irresistible read."
—Christian Science Monitor

"Two hundred years after her birth, Charlotte Bronte's rage over social expectations for women and thwarted ambitions are as relevant as ever, and [this] new biography by Claire Harman makes the Jane Eyre author fresh and relatable to readers who might only think of the Brontes as figures long buried in tragic myth ... Harman's Bronte is a fighter, with so much still to say."
—Associated Press

"Charlotte Brontë: A Fiery Heart is a moving and intimate portrait of a troubled genius. Blessed with a wealth of new material, this is a beautifully written and exceptionally engaging biography. Charlotte Brontë has a new champion and her name is Claire Harman."
—Dr. Amanda Foreman, author of Georgiana: Duchess of Devonshire
 
"Claire Harman's book captures all of Charlotte Brontë's idiosyncrasies, her brilliance and her oddness, as seen through the mind of a scrupulous and perceptive biographer. Thanks to Harman, we discover Brontë's contradictions and beguilements as she courageously acts on a trust beyond herself, the details of her life forcefully accumulating both mystery and meaning."
—Susanna Moore, author of One Last Look and The Life of Objects

"[Harman] vividly portrays a life of loneliness, anguish, tragedy, and suppressed rage in serene and elegant prose with frequent flashes of ironic humor; the underlying scholarship is extensive but never obtrusive. A delightfully engaging biography of a highly talented but deeply troubled prodigy of English literature."
—Kirkus Reviews, starred review

"Fresh, vigorous ... Drawing on prodigious research, both old and new, Harman creates an expert portrait of life at Haworth Parsonage and of its eccentric inhabitants ... In telling Charlotte's story anew, Harman has created a work that will appeal both to readers meeting the Brontë clan for the first time and to those already steeped in their lore."
—Publishers Weekly

"'There's a fire and a fury raging in that little woman,' Thackeray observed of Charlotte Brontë. 'She has a story and a great grief that has gone badly with her.' Harman tells the story with quick wit, a sharp sympathy, and a fire and fury of her own."
—Frances Wilson, Evening Standard
 
"Harman's narration of [the] devastating events [of Charlotte's life] is elegant, sensitive, beautifully paced and moving. She has . . . produced a work that is affirmative, edifying, inspiring and humane."
—Matthew Adams, Sunday Express
 
"[An] excellent new bicentennial biography . . . Ms. Harman writes with warmth and a fine understanding of Ms. Brontë's literary significance. Above all, she is a storyteller, with a sense of pace and timing, relish for a good scene and a wry sense of humor."
—The Economist
 
"Elegantly written, consistently perceptive . . . [Harman] succeeds in bringing Charlotte back to life in all her spiky vulnerability."
—John Preston, The Daily Mail
 
"As someone who once wrote a book about the Brontës' afterlives, few people can have read as many biographies of them as I have. I thought I was Brontë-ed out, but reading this book—which will be equally accessible to someone coming to Charlotte for the first time—has drawn me back in."
—Lucasta Miller, The Independent
 
"Three rounds of applause . . . for Claire Harman's superb retelling of Charlotte's story."
—Mark Bostridge, The Spectator
 
"Finely judged and authoritative."
—Sunday Times
 
"A retooled classic biographical narrative, shipshape and serviceable for the next 200 years."
—Kathryn Hughes, The Guardian
Knopf, 9780307962089, 480pp.
Publication Date: March 1, 2016
About the Author
CLAIRE HARMAN is the author of Sylvia Townsend Warner, for which she won the John Llewellyn Rhys Prize, as well as biographies of Fanny Burney and Robert Louis Stevenson, and Jane's Fame: How Jane Austen Conquered the World. She is a fellow of the Royal Society of Literature and a frequent reviewer. She divides her time between New York City and Oxford, England.

www.claireharman.com
or
Not Currently Available for Direct Purchase