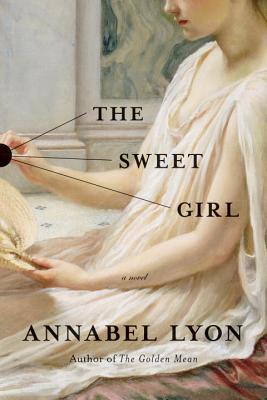 The Sweet Girl (Hardcover)
Knopf Publishing Group, 9780307962553, 235pp.
Publication Date: June 4, 2013
* Individual store prices may vary.
or
Not Currently Available for Direct Purchase
Description
From the award-winning author of The Golden Mean, a captivating, wholly transporting new novel that follows Aristotle's strong-willed daughter as she shapes her own destiny: an unexpected love story, a tender portrait of a girl and her father, and an astonishing journey through the underbelly of a supposedly enlightened society.

Aristotle has never been able to resist a keen mind, and Pythias is certainly her father's daughter: besting his brightest students, refusing to content herself with a life circumscribed by the kitchen, the loom, and, eventually, a husband. Into her teenage years, she is protected by the reputation of her adored father, but with the death of Alexander the Great, her fortunes suddenly change. Aristotle's family is forced to flee Athens for a small town, where the great philosopher soon dies, and orphaned Pythias quickly discovers that the world is not a place of logic after all, but one of superstition. As threats close in on her—a rebellious household, capricious gods and goddesses—she will need every ounce of wit she possesses, and the courage to seek refuge where she least expects it.

About the Author
Annabel Lyon's first novel, "The Golden Mean, " was a number one best seller in Canada that won the Rogers Writers' Trust Fiction Prize, was short-listed for the Scotiabank Giller Prize and the Governor General's Award for Fiction, and has been translated into fourteen languages. She is also the author of a story collection, "Oxygen;" a book of novellas, "The Best Thing for You;" and two juvenile novels, "All-Season Edie" and "Encore Edie." Lyon lives in British Columbia with her husband and two children.
Praise For The Sweet Girl…
 
"Brilliantly imagined . . . How Pythias emerges with cunning and triumph into young womanhood, even as she conspires to keep herself safe in a rough and dangerous world, forms the triumphant second half of this beautifully made and other-worldly, or I should say ancient-worldly, novel. A world of kings and gods and demons that, at the same time, seems as familiar as our own." —Alan Cheuse, NPR/All Things Considered

"Lyon has vividly brought Pythias's fourth century BC world to life . . . This is an entertaining work, full of raw gusto . . . As Lyon portrays her, Pythias is not the 'sweet girl' her father had called her, but resilient and resourceful—a survivor." —Boston Globe

"A remarkable novel, not just a pleasure to read but also a book that I expect to reread several times . . . While Woolf's classic book A Room of One's Own remains a brilliant polemic, it is a mere sketch compared to the thickly and quirkily imagined world of ancient Greek women that Lyon gives us in her novel." —National Post (Canada)
 
"Potently elegiac . . . Lyon shows with chilling precision just how quickly a life can unravel . . . She has a knack for intrigue, the sizzle behind seemingly ordinary remarks, and she uses this to great effect." —Madeline Miller, The Guardian (U.K.)
 
"With intoxicatingly earthy descriptions, Lyon conjures a world in thrall to the senses." —Elle

"A provocative tale that undoes any romantic delusions a reader might hold about ancient Greek society and thought." —Kirkus Reviews

"Exhilaratingly original . . . This novel thrills in its immediacy and the family at its heart, in their love for each other, is instantly, captivatingly real." —Daily Mail (U.K.)
 
"Lyon does a remarkable job of making Pythias, her ancient world, and her eternal problems raw and compelling." —Publishers Weekly

"Exceptional . . . Lyon takes readers on a journey they won't soon forget; it includes love, lust, Greek gods and goddesses, mythology, and more . . . Spectacular." —Vancouver Sun (Canada)

Reviews for The Golden Mean by Annabel Lyon
 
"This quietly ambitious and beautifully achieved novel is one of the most convincing historical novels I have ever read." —Hilary Mantel 
 
"[A] vivid imagining of the encounter between Aristotle and the young Alexander the Great . . . Lyon's evocation of the ancient world is earthy and immediate." —The New Yorker

"Sensational . . . Not to be missed . . . [It] hooked me as a first novel should, carried me along, and left me determined to read whatever the author writes next . . . Beautifully written." —Taylor Antrim, The Daily Beast
 
"It takes chutzpah to make your main characters Aristotle and Alexander the Great, but Lyon pulls it off; she has the gift of finding the pulse of the ancient world and bringing it back to glorious life . . . Gripping, with a powerful sense of time and place." —The Times (U.K.)

Coverage from NPR
Advertisement