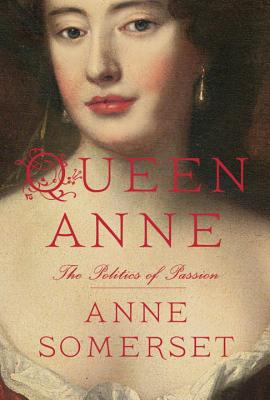 Queen Anne
The Politics of Passion
Hardcover

* Individual store prices may vary.
Other Editions of This Title:
Digital Audiobook (9/5/2016)
Hardcover (1/1/2012)
Paperback (10/7/2014)
Description
She ascended the thrones of England, Scotland and Ireland in 1702, at age thirty-seven, Britain's last Stuart monarch, and five years later united two of her realms, England and Scotland, as a sovereign state, creating the Kingdom of Great Britain. She had a history of personal misfortune, overcoming ill health (she suffered from crippling arthritis; by the time she became Queen she was a virtual invalid) and living through seventeen miscarriages, stillbirths, and premature births in seventeen years. By the end of her comparatively short twelve-year reign, Britain had emerged as a great power; the succession of outstanding victories won by her general, John Churchill, the Duke of Marlborough, had humbled France and laid the foundations for Britain's future naval and colonial supremacy.

While the Queen's military was performing dazzling exploits on the continent, her own attention—indeed her realm—rested on a more intimate conflict: the female friendship on which her happiness had for decades depended and which became for her a source of utter torment.

At the core of Anne Somerset's riveting new biography, published to great acclaim in England ("Definitive"—London Evening Standard; "Wonderfully pacy and absorbing"—Daily Mail), is a portrait of this deeply emotional, complex bond between two very different women: Queen Anne—reserved, stolid, shrewd; and Sarah Churchill, Duchess of Marlborough, wife of the Queen's great general—beautiful, willful, outspoken, whose acerbic wit was equally matched by her fearsome temper.
           
Against a fraught background—the revolution that deposed Anne's father, James II, and brought her to power . . . religious differences (she was born Protestant—her parents' conversion to Catholicism had grave implications—and she grew up so suspicious of the Roman church that she considered its doctrines "wicked and dangerous") . . . violently partisan politics (Whigs versus Tories) . . . a war with France that lasted for almost her entire reign . . . the constant threat of foreign invasion and civil war—the  much-admired historian, author of Elizabeth I ("Exhilarating"—The Spectator; "Ample, stylish, eloquent"—The Washington Post Book World), tells the extraordinary story of how Sarah goaded and provoked the Queen beyond endurance, and, after the withdrawal of Anne's favor, how her replacement, Sarah's cousin, the feline Abigail Masham, became the ubiquitous royal confidante and, so Sarah whispered to growing scandal, the object of the Queen's sexual infatuation.

To write this remarkably rich and passionate biography, Somerset, winner of the Elizabeth Longford Prize for Historical Biography, has made use of royal archives, parliamentary records, personal correspondence and previously unpublished material.

Queen Anne is history on a large scale—a revelation of a centuries-overlooked monarch.

Praise For Queen Anne: The Politics of Passion…
Praise for Anne Somerset's
 
QUEEN ANNE
 
"Spirited and extremely convincing...Queen Anne is essentially a political biography…The rivalries and back-stabbing between various factions make as unedifying a spectacle as anything to be seen on today's Senate floor."
 
                                                            —Brooke Allen, cover of The New York Times Book Review
 
"Those who are compulsive watchers of The Game of Thrones or The Tudors would in fact be better off reading Anne Somerset's masterful and fast-paced biography.  This is all Game of Thrones material, sex, jealousy, and politics, but fascinating as it is, Ms. Somerset is a serious biographer and a very readable historian…Somerset tells brilliantly the story of this tangled reign, in which England and Scotland were finally combined to create "Great Britain," and in which English conquests and victories on land an on sea made it a worldwide empire. She brings Anne to life as a shrewd and an instinctive politician.  Her book is history at its best, authoritative without being overbearing or over-detailed, constantly illuminated by a canny eye for the revealing detail or anecdote, and above all readable.  Those who write history are constantly being criticized for being either too 'popular' or too 'academic,' but Anne Somerset manages to strike the perfect balance between the two, her book being at once entertaining and yet solidly based on meticulous scholarship. It is a grand achievement…If ever a work of history managed to be 'definitive' and yet great fun to read, this is it."
 
                                                            —Michael Korda, The Daily Beast
 
 
 "A sumptuously great read from a master chronicler at the height of her powers….Every page is seamlessly good reading."
 
                                                            —Steve Donoghue, Open Letters Monthly
 
"The definitive biography of the first Queen of modern Britain. Here, in brilliant detail, unfolds the passionate highs and tragic lows of a woman who fought to place her own mark in history. Queen Anne is a triumph of research and empathy."
 
                                                            —Amanda Foreman
                        
 
"A must-read for all those who love English royal history and, after three centuries of misogyny and misunderstanding, Anne Stuart has found a worthy champion in Anne Somerset. Out of this impeccably written and researched new biography emerges the portrait of a wise, loving, tolerant woman who held the reins of government in calm, capable hands. Somerset dispels the shadow cast over the last of the Stuarts by her great friend and implacable enemy, Sarah Churchill, First Duchess of Marlborough. Henceforth we will be able to speak of "Good Queen Anne" without irony or condescension. Vivat Regina!"
           
—Gillian Gill, author of We Two: Victoria and Albert, Rulers, Partners, Rivals
 
"We chose [Queen Anne] because of its depth, range, empathy and the fact that it is full of surprises…written by a biographer who knows how to handle political intrigue, family relations, the pathos of failed relationships and stunted lives, and the complex meanings of 'friendship' in the early eighteenth century…A riveting portrait of authority and power, and how people accustom themselves to handling it…A biography written with passion as well as judiciousness: which makes it a very worthy winner of the 2013 Elizabeth Longford Prize."
 
—Professor  Roy Foster, Chair of the Elizabeth Longford Prize
 
"Definitive . . . clearly the fullest, best and most sympathetic account of [Queen] Anne yet written."
                                                            —Lucy Worsley, Evening Standard
 
"Wonderfully pacy and absorbing."
                                                            —John Harding, Daily Mail
 
"Formidable . . . It is has taken immense patience and skill . . . to create a new and subtler image of the last of the Stuart monarchs. Anne Somerset has done a real service both to us and to her namesake."
                                                            —Miranda Seymour, Sunday Times
 
"Sympathetic and engaging . . . Somerset brings Anne's anxious and dutiful character to life with delicacy."
                                                            —Christopher Silvester, Daily Express
 
"Magisterial . . . incisive and compelling."
                                                            —Martin Williams, Country Life
 
"Fascinating and rewarding . . . in this excellent biography [Queen] Anne's reputation is reclaimed."
                                                            —Aline Reed, Sunday Express
 
"Excellent . . . it is time to think differently about Queen Anne."
                                                            —Kathryn Hughes, Mail on Sunday
 
"A meticulously crafted view from the cockpit of power . . . Queen Anne, Somerset shows, deserves fresh respect."
—Clarissa Campbell Orr, Times Literary Supplement
 
 
Knopf Publishing Group, 9780307962881, 621pp.
Publication Date: October 15, 2013
About the Author
Anne Somerset was born in London and graduated from King s College, London. She is the author of "The Life and Times of" "King William IV, Ladies in Waiting "and "Elizabeth I." She has worked as a research assistant for several historians, among them Antonia Fraser. Somerset, the daughter of the 11th Duke of Beaufort, lives in London.

"
or
Not Currently Available for Direct Purchase