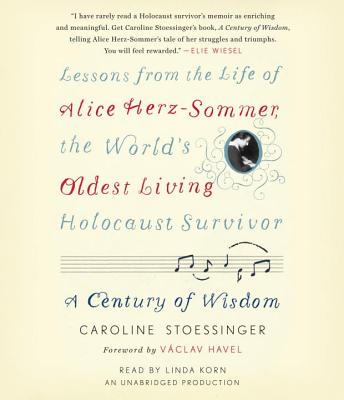 A Century of Wisdom (Compact Disc)
Lessons from the Life of Alice Herz-Sommer, the World's Oldest Living Holocaust Survivor
Random House Audio Publishing Group, 9780307967671, 6pp.
Publication Date: March 20, 2012
Other Editions of This Title:
Digital Audiobook (3/19/2012)
Hardcover (3/1/2012)
Hardcover (3/20/2012)
Paperback (3/1/2012)
* Individual store prices may vary.
Description
The subject of the Academy Award-winning documentary "The Lady in Number 6: Music Saved My Life, " Alice Herz-Sommer was the world's oldest Holocaust survivor when she died on February 23, 2014. "A Century of Wisdom "is the true story of her life--an inspiring story of resilience and the power of optimism.
Before her death at 110, the pianist Alice Herz-Sommer was an eyewitness to the entire last century and the first decade of this one. She had seen it all, surviving the Theresienstadt concentration camp, attending the trial of Adolf Eichmann in Jerusalem, and along the way coming into contact with some of the most fascinating historical figures of our time. As a child in Prague, she spent weekends and holidays in the company of Franz Kafka (whom she knew as "Uncle Franz"), and Gustav Mahler, Sigmund Freud, and Rainer Maria Rilke were friendly with her mother. When Alice moved to Israel after the war, Golda Meir attended her house concerts, as did Arthur Rubinstein, Leonard Bernstein, and Isaac Stern. Until the end of her life Alice, who lived in London, practiced piano for hours every day.
Despite her imprisonment in Theresienstadt and the murders of her mother, husband, and friends by the Nazis, and much later the premature death of her son, Alice was victorious in her ability to live a life without bitterness. She credited music as the key to her survival, as well as her ability to acknowledge the humanity in each person, even her enemies. "A Century of Wisdom" is the remarkable and inspiring story of one woman's lifelong determination--in the face of some of the worst evils known to man--to find goodness in life. It is a testament to the bonds of friendship, the power of music, and the importance of leading a life of material simplicity, intellectual curiosity, and never-ending optimism.
Praise for "A Century of Wisdom"
" "
"An instruction manual for a life well lived."--"The Wall Street Journal"
" "
"As if her 108 years of experience alone were not enough to coax you, there is the overarching fact that draws people to Herz-Sommer's story: She survived the Theresienstadt concentration camp and is believed to be the oldest living Holocaust survivor."--"The Washington Post"
"I have rarely read a Holocaust survivor's memoir as enriching and meaningful. Get Caroline Stoessinger's book, "A Century of Wisdom, "telling Alice Herz-Sommer's tale of her struggles and triumphs. You will feel rewarded."--Elie Wiesel
""A Century of Wisdom" is a stately and elegant book about an artist who found deliverance in her passion for music. Caroline Stoessinger writes with a special purity, as though she were arranging pearls on a string of silk."--Pat Conroy
"As one of millions who fell in love on YouTube with Alice Herz-Sommer, a 108-year-old Holocaust survivor who plays the piano and greets each day with no hint of bitterness, I'm grateful to Caroline Stoessinger for writing a book that explains this mystery. You will be inspired by the story of Alice Herz-Sommer, who lives to teach us."--Gloria Steinem
"I walked on the cobblestones in Prague for thirty years wondering who might have walked on them before me: Kafka, Freud, Mahler. It feels like a miracle to have encountered, in Caroline Stoessinger's wonderful book, Alice Herz-Sommer, who walked with them all--with a heart full of music."--Peter Sis
""A Century of Wisdom "is universal and will enrich readers for generations to come."--Itzhak Perlman
"From the Hardcover edition.
About the Author
Caroline Stoessinger is artist-in-residence at John Jay College, CUNY, and president of The Mozart Academy, where lessons are tuition-free for immigrant children. She produced the New York tribute to Alice Herz-Sommer on Alice's 104th birthday with narrator Lynn Redgrave, the first New York performance of Brundibar, and the dedication of the Schindler violin at the U.S. Memorial Holocaust Museum; and she was artistic director of the Legacy of Shoah film festivals in Prague and New York. Stoessinger is a specialist in the music performed in Theresienstadt, and as a pianist she has premiered works in New York by Theresienstadt composers Hans Krasa, Pavel Haas, and Stepan Lucky. She has spoken worldwide for YPO and the Chief Executive's Forum and is now working on a documentary film the life of Alice Herz-Sommer.
Praise For A Century of Wisdom: Lessons from the Life of Alice Herz-Sommer, the World's Oldest Living Holocaust Survivor…
"A survivor of Theresienstadt and a world-class Czech pianist shares her amazing story of survival and triumph. Now living in London since she relocated from Jerusalem to be closer to her only son (now deceased), Herz-Sommer is shortly turning 108, still playing the piano, disciplined and abstemious in her daily habits and fairly active, as Stoessinger records over interviews with her between 2004 and 2011. These are short segments that amplify important aspects of her life, such as her acquaintanceship as a young girl in Prague with Franz Kafka and his circle, her happy though too-brief marriage and successful early career as a concert pianist and teacher, the birth of her son in 1937 just as the Nazis were exerting their terror over the Jewish community in Prague and their abrupt deportation to Theresienstadt in 1943. …[W]hat Stoessinger's work reveals startlingly and firsthand are details of life in the concentration camp, especially how the musicians coped with the horrible conditions and even formed a vibrant community. … 'Every concert played there,' Stoessinger writes, 'became a moral victory against the enemy.' … Rounding out this work are memories from Herz-Sommer's students and friends, reflections on favorite authors such as Spinoza, Rilke and Zweig and even recipes."—Kirkus Reviews

"I have rarely read a Holocaust survivor's memoir as enriching and meaningful. Get Caroline Stoessinger's book, A Century of Wisdom, telling Alice Herz-Sommer's tale of her struggles and triumphs. You will feel rewarded."—Elie Wiesel
 
"A Century of Wisdom is a stately and elegant book about an artist who found deliverance in her passion for music. Caroline Stoessinger writes with a special purity, as though she were arranging pearls on a string of silk."—Pat Conroy
 
"As one of millions who fell in love on YouTube with Alice Herz-Sommer, a 108-year-old Holocaust survivor who plays the piano and greets each day with no hint of bitterness, I'm grateful to Caroline Stoessinger for writing a book that explains this mystery. You will be inspired by the story of Alice Herz-Sommer, who lives to teach us."—Gloria Steinem
 
"I walked on the cobblestones in Prague for thirty years wondering who might have walked on them before me: Kafka, Freud, Mahler. It feels like a miracle to have encountered, in Caroline Stoessinger's wonderful book, Alice Herz-Sommer, who walked with them all—with a heart full of music."—Peter Sis
 
"Caroline Stoessinger's celebration of music and life and of the meaning and legacy of Alice Herz-Sommer's remarkable, love-filled journey across the bitter, hate-filled years of twentieth-century madness is lyrical, compelling, and profoundly moving. This is an extraordinary, enchanting, entirely inspiring book—most timely and needed now."—Blanche Wiesen Cook