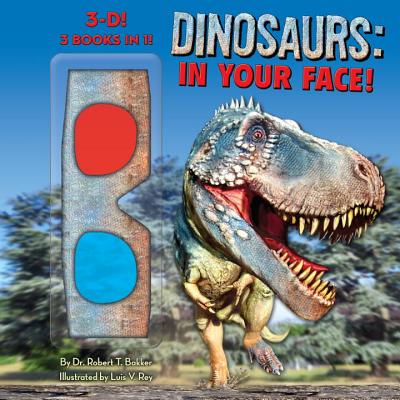 Dinosaurs: In Your Face! [With 3-D Glasses] (Hardcover)
In Your Face! [With 3-D Glasses]
Random House Books for Young Readers, 9780307976925, 76pp.
Publication Date: August 7, 2012
* Individual store prices may vary.
or
Not Currently Available for Direct Purchase
Description
Renowned paleontologist Dr. Robert T. Bakker and paleoartist Luis V. Rey combine forces in this hardcover omnibus of three impeccibly accurate, dino-centric Picturebacks, available for the first time in 3-D The dynamic dinos in "Dinosaurs , Prehistoric Monsters , " and "Dino Babies " have always "looked" like they could jump off the printed page--and now they literally "can " Watch as a spiked "Stegosaurus" tail whips off the page and scores a direct hit into an allosaurus (ouch ), or a pack of raptors leap onto the back of an unsuspecting tenontosaurus (uh-oh), or a squealing baby titanosaur hatches from an egg and is greeted by its giant mother (awww . . . ). Complete with a sturdy pair of 3-D glasses that fold into a reusable storage case, "Dinosaurs: In Your Face " makes a perfect gift for kids who like their science to come with a little action.
About the Author
DR. ROBERT T. BAKKER is one of the most respected vertebrate paleontologists in the world. Often credited with starting the "Dinosaur Rennaisance," he is Curator of Paleontology at the Houston Museum of Natural Science.
Advertisement