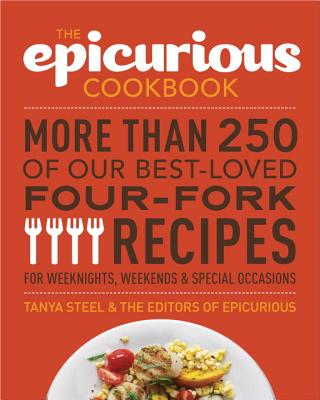 The Epicurious Cookbook
More Than 250 of Our Best-Loved Four-Fork Recipes for Weeknights, Weekends & Special Occasions
Paperback

* Individual store prices may vary.
Description
For home cooks hungry for make-again recipes, here is an impeccably curated collection from Epicurious with more than 250 of their "4-fork" recipes, conveniently compiled in a book with new photography, new headnotes, and informative user tips. 
 
Epicurious is, undisputedly, the most respected website for people who like to cook. In their first-ever cookbook, the Epicurious editors have culled their extraordinary database of 180,000 recipes and selected their most popular recipes.

Organized seasonally and by meal type, The Epicurious Cookbook offers everything from 30-minute weeknight dinners to weekend warrior show-stoppers. Also included are comfort food favorites, small dishes perfect for parties and plenty of repertoire-building mains and sides, plus breakfasts, breads, and desserts. All new stunning four-color photography shows Epicurious at its most irresistible. Throughout are Epicurious member suggestions for tweaking recipes, ideas for menu planning, smart substitutions, and homespun recipes from dozens of Epicurious members newly tested for this cookbook. Recipes include: 
 
Easy comfort foods: Chicken and Fall Vegetable Pot Pie, Beef Short Ribs Tagine, Spicy Mac and Cheese with Pancetta, Deviled Fried Chicken, Chili con Carne with Chili Cheddar Shortcakes
 
Fast Weeknight Dinners: Quick Paella, Wild Rice with Pecans, Raisin, and Orange Essence, Brussels Sprouts Hash with Caramelized Shallots, Rosemary Lamb Chops with Swiss Chard and Balsamic Syrup, Pan-Fried Spicy Orange Tilapia 
 
Please-Everyone Vegetarian and Vegan Dishes: Chilled Soba with Tofu and Sugar Snap Peas, Spiced Lentil Tacos with Chipotle Sour Cream, Roasted Eggplant Salad
 
Special occasion show-stoppers: Tom Colicchio's Herb-Butter Turkey, Beef Brisket with Merlot and Prunes, Wine-Braised Duck Legs
 
American Classics Updated—Burgers, Pizzas, Salads, Pastas, and Grilled Cheese: Coffee-Rubbed Cheeseburger with Texas Barbeque Sauce; Hearty Asparagus, Fingerling Potato, and Goat Cheese Pizza; Lobster Pasta in a Roasted Corn Sweet Bacon Cream; Grilled Cheese with Onion Jam, Taleggio, and Escarole
 
Breakfast and Brunch Stars: Extreme Granola with Dried Fruit, Kitchen Sink Frittata, Crème Brulee French Toast, and Ultimate Sticky Buns
 
Decadent Desserts: Double Layer Chocolate Cake, Apple Tart with Caramel Sauce, Frozen Lemon Ginger Snap Pie, Peanut Butter and Fudge Brownies with Salted Peanuts
 
Destined to be that classic you'll turn to daily, The Epicurious Cookbook enhances the very best online content in a gorgeous cookbook.
Clarkson Potter, 9780307984852, 400pp.
Publication Date: October 30, 2012
About the Author
TANYA STEEL was the Editor-in-Chief of EPICURIOUS.COM. Winner of a James Beard award for restaurant reviewing, and a member of the Digital Hall of Fame, Steel was previously an editor at Bon Appetit, Diversion, Food & Wine, and Mademoiselle. She is the co-author of the award-winning Real Food for Healthy Kids.

Launched in 1995, EPICURIOUS is the most award-winning food site on the web, which has received 64 awards, including two James Beards, an Emmy, eighteen Webbys, and three from the American Society of Magazine Editors.