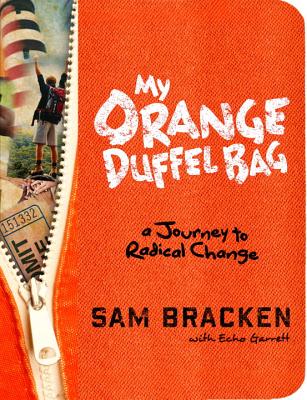 My Orange Duffel Bag: A Journey to Radical Change (Hardcover)
A Journey to Radical Change
Crown Archetype, 9780307984883, 203pp.
Publication Date: June 12, 2012
* Individual store prices may vary.
or
Not Currently Available for Direct Purchase
Description
Abandoned at age 15, Sam Bracken battled homelessness, poverty, and abuse to successfully earn a full-ride football scholarship to the Georgia Institute of Technology. When he left for college, everything he owned fit in an orange duffel bag. Now, in this award-winning illustrated memoir and road map to personal transformation, Sam
shares his story as well as everything he's learned about overcoming the odds and radically changing his life so that you can create positive, lasting change of your own. With "My Orange Duffel Bag," you ll have the inspiration, motivation, and tools to realize your potential and achieve your dreams.
Watch the video: http: //www.youtube.com/watch?v=Z2r366n3rKE&feature=youtu.be
"My Orange Duffel Bag" Award Highlights:
2011 Outstanding Book of the Year in Young Adult/Children's from the American Society of Journalists and Authors, the first self-published book in the organization's 60-year history to win an award.
2011 Merit Award for Editorial Design from HOW Magazine
2011 Benjamin Franklin Book Award Silver Medalist in both Self Help and Juvenile/Young Adult Nonfiction categories from the Independent Book Publishers Association
2011 IPPY Gold Medal from Independent Publishers Book Awards for Most Outstanding Design out of 4,000 entries from 14 countries
2011 National Indie Excellence Book Awards Winner in these two categories: New Non-Fiction and Young Adult Non-Fiction

About the Author
SAM BRACKEN is general manager of FranklinCovey Media Publishing and spokesperson for the My Orange Duffel

Bag Foundation.

ECHO GARRETT, a journalist with thirty years experience, co-founded the Orange Duffel Bag Foundation and

works to support its mission."
Praise For My Orange Duffel Bag: A Journey to Radical Change…
"Change is hard. Everyone wants it. So few get it. In this one-of-a-kind book, Sam lays out a fool-proof, step-by-step approach to change through sharing his own remarkable journey from victim to conqueror. This book is a must read for everyone who wants to leave their baggage behind once and for all and become the change they seek!" --Stephen R. Covey, author of The 7 Habits of Highly Effective People, The 8th Habit: From Effectiveness to Greatness and The Leader in Me

"Sam Bracken is a shining example of the transformational power of education. A caring teacher looked closely enough at his life to take away his barrier to learning. That simple act launched Sam on his journey out of poverty." --Ruby Payne, Ph.D., author of the bestsellers A Framework for Understanding Poverty and Bridges Out of Poverty: Strategies for Professionals and Communities 

"This is the must-read book of the year. It represents everything I believe in: promoting literacy, saving our children and appealing to all learning styles. I was hooked the moment I unzipped its orange cover. I haven not found a book that made me feel like this since Same Kind of Different as Me and The Blind Side." --Kathy Louise Patrick, founder of the world's largest book club The Pulpwood Queens, which named this book the November 2010 Book Selection 

"I spent five years with Sam Bracken at a time of transformation for him. His is a stunning story of courage, resiliency, and servant-leadership. He told a 1,000-page story in exactly 66 pages. The format, the sincerity, and yes, the agony that leaps off the pages is palpable and transforming. There are two pains in life-the pain of discipline and the pain of regret...we all choose every day. The difference in Sam and those who are gobbled up by our sick society is that he usually chose wisely. He took our team s messages to heart in tangible ways. We would all do well to read, and heed, his powerful message." --Bill Curry, NCAA football coach, former NFL player with three SuperBowl rings

"If you want to make big changes in your own life, but aren't sure how, please read this book." --Sean Covey, author of The 7 Habits of Highly Effective Teens and The 6 Most Important Decisions You'll Ever Make: A Guide for Teens

"In Sam Bracken's simple, unique, and poignant telling of his life story, he manages to take away all excuses and inspire readers to move past the valleys of hurts and disappointments in their lives." --Richard Paul Evans, #1 New York Times bestselling author of The Christmas Box

"In My Orange Duffel Bag Sam Bracken not only shares his remarkable story of overcoming life's problems but teaches all of us how we can do the same. From desire to gratitude this book will touch your heart and change your life." --Chester Elton, co-author of The Carrot Principle
Advertisement