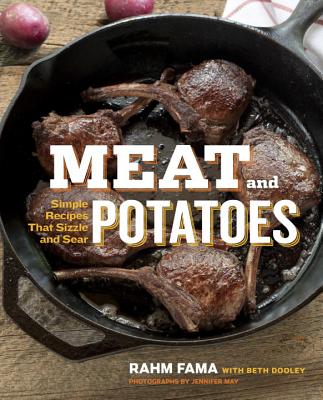 Meat and Potatoes (Paperback)
Simple Recipes That Sizzle and Sear
Clarkson Potter Publishers, 9780307985248, 239pp.
Publication Date: July 1, 2014
* Individual store prices may vary.
Description
Armed with a cast-iron skillet and the best ingredients he can find, meat-loving chef Rahm Fama serves up a fresh take on chuck wagon cuisine for flavorful meals you can enjoy no matter where you are.
Inspired by his early years on a Southwest cattle ranch, he followed his carnivorous curiosity across the country, seeking the choicest cuts and best ways to cook them. There's nothing like the thrill of throwing a pat of butter in a hot pan and searing a perfect steak, or grilling a pork chop, or braising chicken. "Meat and Potatoes "presents 52 irresistible and simple meals one for every week:
Pepper-Crusted New York Strip Steak, Hand-Cut Fries & Wilted Mustard Greens
Pan-Seared Pork Tenderloins, Granny Smith Apple Mashed Potatoes & Roasted Fennel Ragu
Turkey Kabobs, Tzatziki Couscous Salad & Eggplant Caviar
Lamb Medallions, Sweet Potato Galette & Crusty Fried Green Tomatoes
Here, too, are one-pot recipes, including Shepherd's Pie Cupcakes and Paella with Pepper Bacon, plus ideas for sandwiches to make with leftover meat. Meals that take less than an hour are highlighted throughout for fast, delicious weeknight options. Rahm's knowledge about meat and rustic recipes from the range will help you upgrade your dishes, no matter who rides into town.
About the Author
RAHM FAMA grew up on a ranch in Santa Fe and cooked his way through Austin, Phoenix, Scottsdale, New York, Colorado Springs, and St. Lucia, and most recently was the executive chef of The Lodge at Vail. He is the corporate chef at US Foods, the nation s leading food distributor, and he regularly teaches cooking classes. Rahm was the host of Food Network s primetime show "Meat & Potatoes. "He lives in Southern California."
or
Not Currently Available for Direct Purchase