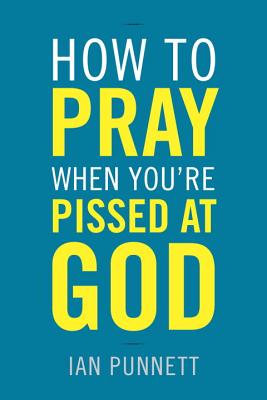 How to Pray When You're Pissed at God: Or Anyone Else for That Matter (Hardcover)
Or Anyone Else for That Matter
Harmony, 9780307986030, 174pp.
Publication Date: April 30, 2013
* Individual store prices may vary.
or
Not Currently Available for Direct Purchase
Description
When things really go wrong, what do you do with the feeling that God is to blame? A popular Coast to Coast radio host (and Episcopal clergy) provides some answers. In a first of its kind book, Ian Punnett provides a spiritual path for expressing your rawest emotions through prayer and how to rebuild a relationship with one's higher power--or anybody else in your life.
 
In this important and practical book, Ian Punnett provides insight on   feeling anger and resentment toward God and offers advice on how to deal with the pain and blame that accompanies these emotions. In a book that is edgy, timely, funny and compassionate, Punnett presents real help in everyday language for transforming the negativity of anger into a positive and useful force that will ultimately help us pray more effectively, bring us closer to God, enhance our spiritual relationship, and change the way we live and love others.
 
After a divorce, a broken friendship, the death of a loved one, the loss of a job or even the accumulation of all the tiny cracks in our spirit from life's disappointments, it's easy to feel pissed at God. When anger is left unchecked, it is harmful to  our minds, bodies and souls.

 "How to Pray When You're Pissed at God is not "the last word" on angry prayer," Punnett writes, "but it might be the first words you have ever heard on the topic. By the end of the book, it is my hope that you'll understand the role of anger in our lives, the benefit of honest prayer, and the need for honest, angry prayer in the lives of the faithful and faithless."
 
About the Author
IAN PUNNETT is one of the hosts of "Coast to Coast AM," a legendary radio show syndicated on almost 600 stations across North America and a deacon in The Episcopal Church who received his Masters of Divinity degree from Columbia Theological Seminary in Atlanta.
Praise For How to Pray When You're Pissed at God: Or Anyone Else for That Matter…
"Ian Punnett is one of those truly rare and special people you meet infrequently in a lifetime and deserves to be treasured. I highly recommend this incredible book to all readers." -- Judith Orloff, author of Emotional Freedom

"The warmth, humor, and wisdom  that comes through in Ian Punnett's radio programs  is evident on every page of  this book.  The "Our Father"  has its charms, but I'll take Punnett's  "Prayer for Those Who Are Cut Off In Traffic" any day of the week." --Mary Roach, author of Stiff and Gulp

"Ian Punnet understands the real politik of human frailty. Life is fired at us all from point blank range, we all succeed some days and fail on others. We all endure hardship and we need spiritual understanding coupled with practical tools to grow our own personal brand of faith so we can match calamity with serenity. Punnet delivers solutions, educates and enlightens, touching the heart and giving us all a keen understanding of the nature of a relationship with God. A relationship that by the way is like any other we have. I needed this book in a big way during a bad year, and it allowed me to forgive and vigorously reconnect with my own Higher Power. I love this book." -- Andrew Zimmern, host of Bizarre Foods

Advertisement