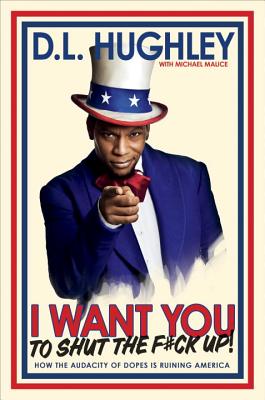 I Want You to Shut the F#ck Up (Hardcover)
How the Audacity of Dopes Is Ruining America
Crown Archetype, 9780307986238, 279pp.
Publication Date: July 31, 2012
Other Editions of This Title:
Paperback (8/6/2013)
* Individual store prices may vary.
Description
"Let us begin by committing ourselves to the truth to see it like it is, and tell it like it is." —Richard Nixon
 
"I believe America is the solution to the world's problems." —Rush Limbaugh
 
"SHUT THE F#CK UP." —D. L. Hughley

The American dream is in dire need of a wake-up call. A f*cked up society is like an addict: if you are in denial, then things are going to keep getting worse until you hit bottom. According to D. L. Hughley, that's the direction in which America is headed.

In I Want You to Shut the F*ck Up, D.L. explains how we've become a nation of fat sissies playing Chicken Little, but in reverse: The sky is falling, but we're supposed to act like everything's fine. D.L. just points out the sobering facts: there is no standard of living by which we are the best. In terms of life expectancy, we're 36th--tied with Cuba; in terms of literacy, we're 20th--behind Kazakhstan. We sit here laughing at Borat, but the Kazakhs are sitting in their country reading.

Things are bad now and they're only going to get worse. Unless, of course, you sit down, shut the f*ck up, and listen to what D. L. Hughley has to say. I Want You to Shut the F*ck Up is a slap to the political senses, a much needed ass-kicking of the American sense of entitlement.  In these pages, D. L. Hughley calls it like he sees it, offering his hilarious yet insightful thoughts on:

- Our supposedly post-racial society
- The similarities between America the superpower and the drunk idiot at the bar
- Why Bill Clinton is more a product of a black upbringing than Barack Obama
- That apologizing is not the answer to controversy, especially when you meant what you said 
- Why civil rights leaders are largely to blame for black people not being represented on television
- Why getting your ghetto pass revoked should be seen as a good thing, not something to be ashamed of 
- And how hard it is to be married to a black woman
About the Author
D.L. HUGHLEY is one of the most popular and highly recognized standup comedians on the road today. D.L. serves as a weekly contributor to "The Tom Joyner Morning Show." D.L. hosted his own late night talk show on CNN, "D.L. Hughley Breaks the News." Recently, D.L. starred in his own one-hour special (his fourth for HBO) entitled "Unapologetic." As the star and producer of his namesake television show that ran on ABC and UPN, "The Hughleys," D.L. is also well known as one of the standout comedians on the hit comedy docu-film "The Original Kings of Comedy." He is a regular on the late-night talk show circuit, including appearances on "Real Time with Bill Maher," "The Tonight Show with Jay Leno" and "Conan." He has even guest-hosted on such shows as "The View" and "Live with Regis & Kelly."
Praise For I Want You to Shut the F#ck Up: How the Audacity of Dopes Is Ruining America…
"I Want You to Shut the F#ck Up is the best book since The Hunger Games. First he was a King of Comedy; now he's the king of comedy authors. You should buy this book or get out the country because D. L. stands for 'don't lie,' and he doesn't in his amazing new book." --Chris Rock, CEO & President of NOTHING! 

"I always knew it wouldn't take a politician, a preacher, or even a scholar to solve the problems of this country. I knew it would take someone who used comedy, common sense, and a lot of cussing. D.L. has risen from a King of Comedy to a higher calling: D.L. for President 2016?   Both he and this hilarious book on how to get past the B.S. get my vote!" —Tom Joyner

"[Hughley] has starred in shows on ABC (The Hughleys), CNN (D.L. Hughley Breaks the News) and HBO (Unapologetic) in addition to radio (The D.L. Hughley Morning Show), and now he finds a solid footing on yet another plateau as he makes an easy transition to the printed page….In the closing chapter, he concludes, "Comedy might not be able to change minds—but it can certainly expose truths and knock down fallacies." Ditto for this book, which provides that much-needed wakeup call." –Publishers Weekly

"Hughley's a hard-line pragmatist whose brash opinions almost always transcend polarized black/white and liberal/conservative comfort zones. [I Want You to Shut the F#ck Up] is a solid combination of a street-tough attitude and a keen grasp of social and political hot-button issues." --Kirkus
or
Not Currently Available for Direct Purchase