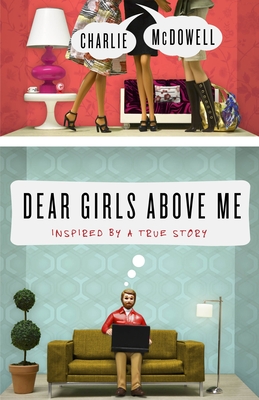 Dear Girls Above Me
Inspired by a True Story
Paperback

* Individual store prices may vary.
Other Editions of This Title:
Digital Audiobook (6/3/2013)
Description
Based on the wildly popular Twitter feed Dear Girls Above Me, a roman à clef about how thinking like a couple of girls turned one single guy into a better man.
 
When Charlie McDowell began sharing his open letters to his noisy upstairs neighbors—two impossibly ditzy female roommates in their mid-twenties—on Twitter, his feed quickly went viral. His followers multiplied and he got the attention of everyone from celebrities to production studios to major media outlets such as Time and Glamour.  Now Dear Girls breaks out of the 140-character limit as Charlie imagines what would happen if he put the wisdom of the girls to the test.
 
After being unceremoniously dumped by the girl he was certain was "the one," Charlie realized his neighbors' conversations were not only amusing, but also offered him access to a completely uncensored woman's perspective on the world. From the importance of effectively Facebook-stalking potential girlfriends and effortlessly pulling off pastel, to learning when in the early stages of dating is too presumptuous to bring a condom and how to turn food poisoning into a dieting advantage, the girls get Charlie into trouble, but they also get him out of it—without ever having a clue of their impact on him.
Praise For Dear Girls Above Me: Inspired by a True Story…
"By introducing us to the memorable American folk heroes known as the Girls Above Him, Charlie McDowell sneakily does one better: he introduces us to Charlie McDowell, the hapless, wit-soaked everyman who is attempting to bridge the gap between the sexes like a very skilled, and freaking funny, anthropologist of the Kardashian era."
—Lena Dunham
 
"If any one of us were in Charlie's situation, we likely would have committed murder. We would have killed these two girls and their vapid musings. Yet Charlie and his big heart somehow derive humor, meaning, and maybe even a little sympathy for these girls and their generation of throaty babblers."
—Mark Duplass
 
"Charlie McDowell is a wonderful writer.  I have gotten his emails."
—Zach Galifianakis

Crown, 9780307986337, 288pp.
Publication Date: June 4, 2013
About the Author
CHARLIE MCDOWELL is a filmmaker and comedy writer. He made his directorial debut in 2014 with The One I Love, starring Mark Duplass and Elizabeth Moss. He studied directing at the American Film Institute and owns his own production company, Cloudbreak Productions.
@charliemcdowell
www.deargirlsaboveme.com