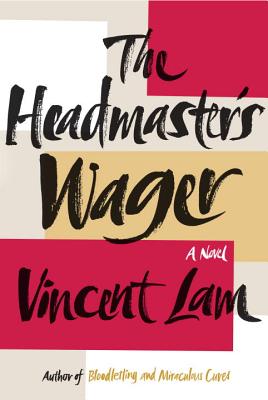 The Headmaster's Wager
Hardcover

* Individual store prices may vary.
Other Editions of This Title:
Digital Audiobook (10/22/2018)
Digital Audiobook (8/13/2012)
Paperback (5/14/2013)
Paperback (4/1/2012)
Description
A superbly crafted, highly suspenseful, and deeply affecting debut novel about one man's loyalty to his country, his family and his heritage
 
   Percival Chen is the headmaster of the most respected English academy in 1960s Saigon, and he is well accustomed to bribing a forever-changing list of government officials in order to maintain the elite status of his school. Fiercely proud of his Chinese heritage, he is quick to spot the business opportunities rife in a divided country, though he also harbors a weakness for gambling haunts and the women who frequent them. He devotedly ignores all news of the fighting that swirls around him, but when his only son gets in trouble with the Vietnamese authorities, Percival faces the limits of his connections and wealth and is forced to send him away. 
   In the loneliness that follows, Percival finds solace in Jacqueline, a beautiful woman of mixed French and Vietnamese heritage whom he is able to confide in. But Percival's new-found happiness is precarious, and as the complexities of war encroach further into his world, he must confront the tragedy of all he has refused to see.
   Graced with intriguingly flawed but wonderfully human characters moving through a richly drawn historical landscape, The Headmaster's Wager is an unforgettable story of love, betrayal and sacrifice.
Praise For The Headmaster's Wager…
"[A] sumptuously plotted first novel... Lam goes for the jugular, combining an operatic love story…with evocations of Vietnam's occupation by the Japanese and the later horrors of the Vietcong's persecution of the city of Hue… His most provocative character is the shadowy Teacher Mak, Chen's longtime aide-de-camp, whose shifting masks of comrade and adversary potently embody the intricate survival tactics required of aliens afloat in a country of fractured allegiances." –New York Times Book Review

"A vivid, palpable and lyrical document evoking a forgotten segment of modern Vietnamese history. An unforgettable portrait of love, betrayal and sacrifice." –Shelf Awareness

"A masterfully paced exploration of a world convulsed by war, wherein faith and reason no longer hold sway...Lam marshals his characters with humor suspense, and tenderness as the fall of Saigon looms...[and] depicts a world caught in an implacable cycle of violence, leavened only by the grace of a father's love." – Publishers Weekly (starred review)

"Lam, winner of the Scotiabank Giller prize for his short story collection Bloodletting and Other Miraculous Cures, has created a tour de force that reaches from the Japanese occupation of Hong Kong to the American withdrawal from Vietnam in 1975." —Library Journal (starred review)

"With The Headmaster's Wager, Lam has produced a grand, sweeping saga that vividly re-creates 40 crucial years of Asian history from Japanese invasion to the "freeing" of South Vietnam." —San Antonio Express
 
"In his first novel, Lam provides both an unusual perspective on the Vietnam War and a sweeping story of one man's brutal education in realpolitik." —Booklist
 
 "Lam writes tellingly about intrigue, political collusion and the clash of cultures."  —Kirkus

"A first novel of astonishing force, craft and beauty, The Headmaster's Wager conjures up a dizzyingly evocative wartime Saigon in the story of Percival Chen, a Chinese schoolmaster in Vietnam.  This extraordinary book made me weep.  Read it." – Janice Y.K. Lee, author of the New York Times bestseller The Piano Teacher

"Set in 1960s Saigon, this debut follows a haughty, corrupt school official whose grave mistake makes him a target of the Vietcong." –Entertainment Weekly

"Hugely impressive…powerful and engrossing…The Headmaster's Wager has the makings of a masterpiece." – The Globe and Mail
 
"A novel of many twists and turns, full of people who aren't what they appear to be…Lam has created a hypnotically tragic tale, epic in scope." – The Toronto Star
 
"It's [the] street-level view of a story we're more accustomed to viewing in panorama that ultimately makes Lam's novel so effective and affecting. In stages so subtle they're scarcely noticeable until he's got you fully in his grip, Lam combines elements of historical fiction, political thriller and domestic drama to present one of the 20th century's defining stories in a whole new way." – The Montreal Gazette
Hogarth, 9780307986467, 432pp.
Publication Date: August 14, 2012
About the Author
DR. VINCENT LAM is from the expatriate Chinese community of Vietnam, and was born in Canada. Dr. Lam did his medical training and is an emergency physician in Toronto. His first book, "Bloodletting and Miraculous Cures," was awarded the 2006 Scotiabank Giller Prize.
or
Not Currently Available for Direct Purchase