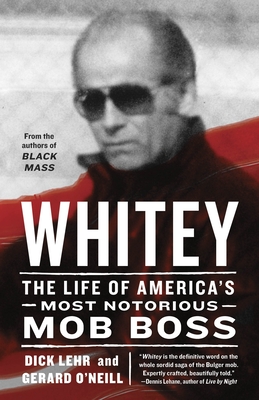 Whitey (Paperback)
The Life of America's Most Notorious Mob Boss
Broadway Books, 9780307986559, 448pp.
Publication Date: August 27, 2013
* Individual store prices may vary.
Description
From the bestselling authors of Black Mass comes the definitive biography of Whitey Bulger, the most brutal and sadistic crime boss since Al Capone.
 
Drawing on a trove of sealed files and previously classified material, Whitey digs deep into the mind of James J. "Whitey" Bulger, the crime boss and killer who brought the FBI to its knees. He is an American original --a psychopath who fostered a following with a frightening mix of terror, deadly intimidation and the deft touch of a politician who often helped a family in need meet their monthly rent. But the history shows that despite the early false myths portraying him as a Robin Hood figure, Whitey was a supreme narcissist, and everything--every interaction with family and his politician brother Bill Bulger, with underworld cohorts, with law enforcement, with his South Boston neighbors, and with his victims--was always about him. In an Irish-American neighborhood where loyalty has always been rule one, the Bulger brand was loyalty to oneself.
                 
Whitey deconstructs Bulger's insatiable hunger for power and control. Building on their years of reporting and uncovering new Bulger family records, letters and prison files, Dick Lehr and Gerard O'Neill examine and reveal the factors and forces that created the monster. It's a deeply rendered portrait of evil that spans nearly a century, taking Whitey from the streets of his boyhood Southie in the 1940s to his cell in Alcatraz in the 1950s to his cunning, corrupt pact with the FBI in the 1970s and, finally, to Santa Monica, California where for fifteen years he was hiding in plain sight as one of the FBI's Ten Most Wanted. In a lifetime of crime and murder that ended with his arrest in June 2011, Whitey Bulger became one of the most powerful and deadly crime bosses of the twentieth century. This is his story.
About the Author
DICK LEHR is a professor of journalism at Boston University and a former reporter at the Boston Globe, where he won numerous awards and was a Pulitzer Prize finalist for investigative reporting. He is the author of The Fence: A Police Cover-up Along Boston's Racial Divide, which was an Edgar Award finalist and a Boston Globe bestseller. He is the co-author of several other books, including the national bestseller and Edgar Award-winning Black Mass: Whitey Bulger, the FBI, and a Devil's Deal. 

GERARD O'NEILL has won the Pulitzer Prize in journalism as well as many other national journalism awards. He was the longtime editor of the Boston Globe's award-winning investigative team. He co-authored Black Mass and also, with Lehr, The Underboss, as well as Rogues and Redeemers (Crown 2012), a political history of the Boston Irish focusing on the city's most famous mayors.
Praise For Whitey: The Life of America's Most Notorious Mob Boss…
"A comprehensive life and times...a fascinating psychological profile."
—The Boston Globe

"Whitey is the definitive word on the whole sordid saga of the Bulger mob. Expertly crafted, beautifully told." —Dennis Lehane, author of Live by Night

 "Having first uncovered the terrible Bulger story, Gerard O'Neill and Dick Lehr have now brought it full circle - a true circle of hell. Exemplary journalism, high drama, and, for Bulger's victims, an ongoing tragedy: rarely has a book mattered more." 
—James Carroll, author of An American Requiem
 
"Black Mass, also by Lehr and O'Neill, was the definitive book on the corrupt relationship of the Boston office of the FBI and the notorious gangster, Whitey Bulger. Whitey will stand right next to it as the most in depth portrayal yet of the life of the man who ruled the South Boston underworld by terror and duplicity. In this ground-breaking, intimately researched work, we learn how he became the person who was feared by so many. Once you start reading, you don't want to put it down." —Bill Bratton, former Boston and NYPD Police Commissioner and LAPD Police Chief
 
"Lehr and O'Neill have outdone themselves. Whitey isn't just a chilling biography of a monster—it's also a vivid portrait of Southie, a blood-spattered history of Boston mob wars, and a searing indictment   of the corrupt FBI agents who literally gave Whitey Bulger a license to kill. Full of new information about Whitey's prison stint as a young man and his life as an elderly fugitive, this is the definitive account of one of weirdest and most sordid chapters in the history of American crime." —Tom Perrotta, author of The Leftovers  

"Whitey is a masterpiece of investigative reporting that unravels a tension-filled tale of murder, treachery, and abuse of power." —Ronald Kessler, author of The Secrets of the FBI and In the President's Secret Service

"Dennis Lehane and Martin Scorsese: take a seat. Nobody knows the twisted saga of Whitey Bulger and his gang; covered this story of criminal savagery and official corruption with more courage, or tell the tale now with such élan as Gerard O'Neill and Dick Lehr." —John Farrell, author of Tip O'Neill and the Democratic Century

"So much has been written about Whitey Bulger, including by Lehr and O'Neill, but this book is different. It is comprehensive in its scope tracing Bulger's family, his own journey from Southie, to Europe, from Leavenworth and finally, to the Princess Eugenia Apartment in Santa Monica, California. Lehr and O'Neill have culled material far and wide – transcripts, old prison records, official documents, interviews, books and clippings. But best of all, they've woven it all in a narrative that is extraordinary, compelling and impossible to put down." —Nancy Gertner (Retired, U.S.District Court Judge) and author of In Defense of Women