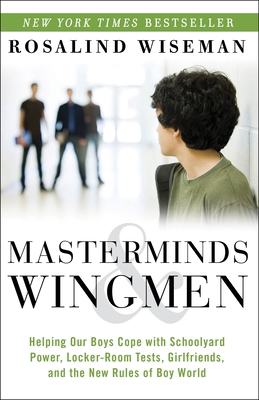 Masterminds and Wingmen
Helping Our Boys Cope with Schoolyard Power, Locker-Room Tests, Girlfriends, and the New Rules of Boy World
Paperback

* Individual store prices may vary.
Other Editions of This Title:
Digital Audiobook (9/9/2013)
Description
A landmark book that reveals the way boys think and that shows parents, educators and coaches how to reach out and help boys overcome their most common and difficult challenges -- by the bestselling author who changed our conception of adolescent girls.
 
Do you constantly struggle to pull information from your son, student, or athlete, only to encounter mumbling or evasive assurances such as "It's nothing" or "I'm good?"  Do you sense that the boy you care about is being bullied, but that he'll do anything to avoid your "help?"   Have you repeatedly reminded him that schoolwork and chores come before video games only to spy him reaching for the controller as soon as you leave the room? Have you watched with frustration as your boy flounders with girls?
 
Welcome to Boy World. It's a place where asking for help or showing emotional pain often feels impossible. Where sports and video games can mean everything, but working hard in school frequently earns ridicule from "the guys" even as they ask to copy assignments. Where "masterminds" dominate and friends ruthlessly insult each other but can never object when someone steps over the line. Where hiding problems from adults is the ironclad rule because their involvement only makes situations worse. Boy world is governed by social hierarchies and a powerful set of unwritten rules that have huge implications for your boy's relationships, his interactions with you, and the man he'll become. If you want what's best for him, you need to know what these rules are and how to work with them effectively.
 
What you'll find in Masterminds and Wingmen is critically important for every parent – or anyone who cares about boys – to know. Collaborating with a large team of middle- and high-school-age editors, Rosalind Wiseman has created an unprecedented guide to the life your boy is actually experiencing – his on-the-ground reality.  Not only does Wiseman challenge you to examine your assumptions, she offers innovative coping strategies aimed at helping your boy develop a positive, authentic, and strong sense of self.
Praise For Masterminds and Wingmen: Helping Our Boys Cope with Schoolyard Power, Locker-Room Tests, Girlfriends, and the New Rules of Boy World…
"Rosalind Wiseman, who so insightfully explained the world of girls in Queen Bees and Wannabes, has done it again . . . This is an essential guide – not just for parents but anyone who wants to better understand their own childhood and its impact." --Anderson Cooper
 
"Rosalind Wiseman offers readers deep, nuanced, up-to-the-minute insight into today's boy. She explains how and why boys, in so many areas, make it easy for parents and educators to miss out on their suffering and their strength. Most important, she shows how to reach out and lift boys up without getting on their nerves." --Wendy Mogel, PhD, author of the New York Times bestseller The Blessing of a Skinned Knee
 
"Rosalind Wiseman, the well-known 'girl expert,' has a real feel for the inner life of boys, and for the way they interact with their parents. Her new book, Masterminds and Wingmen, contains some of the best advice for communicating with boys that I've ever read: wise, clear and tough. The brilliant chapter on why boys lies to their parents is alone worth the price of the book." --Michael Thompson, coauthor of the New York Times bestseller Raising Cain: Protecting the Emotional Life of Boys

"Trying to communicate with boys, teenage boys especially-- can sometimes feel like cracking the world's most complicated secret code. What makes Masterminds and Wingmen so remarkable is how thoroughly it decrypts boy-world language.  It allows us to really connect with boys.  If you want to understand what's in your son's head, read this book!" --Michael Gurian, New York Times bestselling author of The Wonder of Boys
 
"Rosalind Wiseman is perhaps America's foremost guide through the complex social hierarchies and cruel logics that govern adolescents' lives . . . With clear analysis and down-to-earth practical advice, this book will guide many many conversations between parents and their sons." --Michael Kimmel, author of Guyland: The Perilous World Where Boys Become Men
 
"Rosalind Wiseman brings a distinctive perspective and voice to whatever issue she takes up . . . I found the book insightful and useful, as both a father to sons and as a professional working with violent youth who must deal with the most serious life issues facing other people's sons." --James Garbarino, PhD, author of Lost Boys: Why Our Sons Turn Violent and How We Can Save Them
 
"Don't even try parenting, teaching or coaching a boy without reading Wiseman's book -- a field manual that you'll absolutely need if you wish to enter the strange and wondrous world of guys." --Richard Whitmire, author of Why Boys Fail
 
"The world bombards boys with confusing and destructive messages– the net result is the creation of characters instead of young men with character.  Masterminds and Wingmen will help parents, teachers, and coaches understand young boys and make a difference in their lives.  An intriguing read." --Dr. Kevin Leman, author of Have a New Kid by Friday
Harmony, 9780307986689, 384pp.
Publication Date: July 29, 2014
About the Author
Rosalind Wiseman is a teacher, thought leader and bestselling author of Queen Bees & Wannabees (the book that inspired the movie and musical Mean Girls) and Masterminds & Wingmen, as well as the curriculum Owning Up: Empowering Adolescents to Confront Social Cruelty, Bullying, and Injustice. She is the founder of Cultures of Dignity and lives in Colorado with her husband and two children. Follow her on Twitter at @culturesodignity or on Facebook at culturesofdignity.