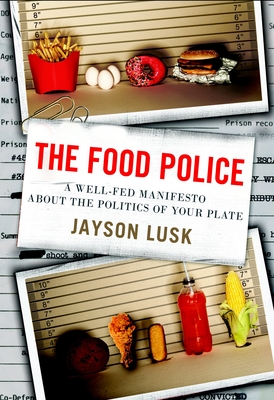 The Food Police: A Well-Fed Manifesto about the Politics of Your Plate (Hardcover)
A Well-Fed Manifesto about the Politics of Your Plate
Crown Forum, 9780307987037, 230pp.
Publication Date: April 16, 2013
Description
A rollicking indictment of the liberal elite's hypocrisy when it comes to food.
Ban trans-fats? Outlaw Happy Meals? Tax Twinkies? What's next? Affirmative action for cows?
A catastrophe is looming. Farmers are raping the land and torturing animals. Food is riddled with deadly pesticides, hormones and foreign DNA. Corporate farms are wallowing in government subsidies. Meat packers and fast food restaurants are exploiting workers and tainting the food supply. And Paula Deen has diabetes
Something must be done. So says an emerging elite in this country who think they know exactly what we should grow, cook and eat. They are the food police.
Taking on the commandments and condescension the likes of Michael Pollan, Alice Waters, and Mark Bittman, The Food Police casts long overdue skepticism on fascist food snobbery, debunking the myths propagated by the food elite. You'll learn:
- Organic food is not necessarily healthier or tastier (and is certainly more expensive).
- Genetically modified foods haven't sickened a single person but they have made farmers more profitable and they do hold the promise of feeding impoverished Africans.
- Farm policies aren't making us fat.
- Voguish locavorism is not greener or better for the economy.
- Fat taxes won't slim our waists and "fixing" school lunch programs won't make our kids any smarter.
- Why the food police hypocritically believe an iPad is a technological marvel but food technology is an industrial evil
So before Big Brother and Animal Farm merge into a socialist nightmare, read The Food Police and let us as Americans celebrate what is good about our food system and take back our forks and foie gras before it's too late
About the Author
JAYSON LUSK is a professor and the Willard Sparks Endowed Chair in the agricultural economics department at Oklahoma State University. In the past ten years, Lusk has published more than one hundred articles in peer-reviewed journals on topics related to consumer behavior and food marketing and policy. By many accounts, he is the most cited and most prolific food economist of his generation."
Praise For The Food Police: A Well-Fed Manifesto about the Politics of Your Plate…
"If you are looking for one book to set the record straight on the progress in American food, start here." - Tyler Cowen, author of An Economist Gets Lunch

"Jayson Lusk boils down and slices and dices the hypocrisy of liberals ever growing fetish with America's food in a way nobody has before. No empty calories in this expose. You'll be hungry for more." –Andrea Tantaros, New York Daily News columnist and co-host of The Five on Fox News

"This is hard hitting and to the point.,  And scary. The Food and Drug Administration is mainly known for its activities that "protect" consumers from new and beneficial drugs. But, as Jayson Lusk, shows in powerful and pointed detail, the FDA creates massive levels of mischief and confusion through its misguided regulation of food and drink.  Chocked-filled with telling anecdotes, and informed by strong economic theory, Lusk offers a compelling expose of government misadventure that tends to hurt the very people whom it is said to protect." - Richard Epstein, law professor at university of Chicago and author of several books

"This is a wonderful and well-written book.  Reading it was a cathartic experience.  It packs an awful lot of common sense and clear headed thinking into a small space.  Lusk makes clear that a lot of what academics and politicians take for granted about our agricultural system is in fact nonsense.  It is tempting to dismiss the food police as well-intentioned, if not exactly well-informed about the science and economics of food production and consumption.   Lusk has reinforced my conviction that to ignore them would be irresponsible.  The food police have considerable clout at the highest levels of government and they think they know best about what everyone should eat, including you and me. If they get their way, they would put at risk the ability of our farms to produce healthy and nutritious food at a price the whole world can afford."  - Jay Bhattacharya, M.D., Ph.D. Associate Professor of Medicine, Stanford University

"The conclusions from [Lusk's] research will do more to advance healthy eating than would a nation of Mayor Bloombergs." - Jeff Stier in the New York Post.

"​Lusk makes a strong case that the food police are a major obstacle to the kind of innovation we need. Their intransigence on many of the benefits of food modernization — from genetically modified food to industrial farming and synthetic fertilizers, and even modern conveniences such as large-scale grocery stores and today's shipping methods — is the kind of thinking that will, as Lusk warns, ultimately doom us to poverty." - Julie Gunlock in The National Review

"​Sometimes sacred cows must be slaughtered to get to the truth.  Lusk does that, and in a way that reads like a charming personal memoir by your favorite college professor." - Henry Miller at Forbes.com

"​to newcomers who want the story of how a few cranks took over how a country thinks about food, The Food Police provides an excellent primer." - Center for Consumer Freedom

"​This book is amazing at how it thoroughly describes the how the food police screw things up, increase costs, hurt the environment, and ultimately, cost us freedom." - Matt Rousu

"Whether or not readers agree with Lusk's on agriculture and the politics of food production, he will make you think about your food choices."  - ​Kirkus reviews
Advertisement