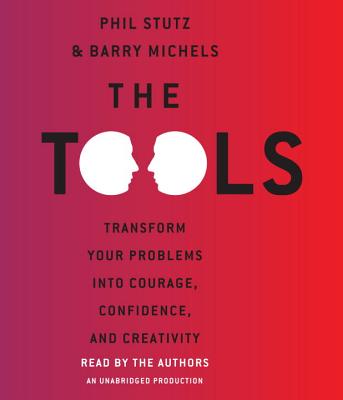 The Tools: Transform Your Problems Into Courage, Confidence, and Creativity (Compact Disc)
Transform Your Problems Into Courage, Confidence, and Creativity
Random House Audio Publishing Group, 9780307987686, 6pp.
Publication Date: May 29, 2012
* Individual store prices may vary.
or
Not Currently Available for Direct Purchase
Description
NEW YORK TIMES BESTSELLER - A groundbreaking book about personal growth that presents a uniquely effective set of five tools that bring about dynamic change--as seen on Goop and The Dr. Oz Show The Tools offers a solution to the biggest complaint patients have about therapy: the interminable wait for change to begin. The traditional therapeutic model sets its sights on the past, but Phil Stutz and Barry Michels employ an arsenal of techniques--"the tools"--that allow patients to use their problems as levers that access the power of the unconscious and propel them into action. Suddenly, through this transformative approach, obstacles become opportunities--to find courage, embrace discipline, develop self-expression, deepen creativity. For years, Stutz and Michels taught these techniques to an exclusive patient base, but with The Tools, their revolutionary, empowering practice becomes available to every reader interested in realizing the full range of their potential. The authors' goal is nothing less than for your life to become exceptional--exceptional in its resiliency, in its experience of real happiness, and in its understanding of the human spirit. "An 'open secret' in Hollywood . . . Stutz and Michels] have developed a program designed to access the creative power of the unconscious."--The New Yorker From the Hardcover edition.
About the Author
PHIL STUTZ graduated Phi Beta Kappa from City College in New York and received his MD from New York University. He worked as a prison psychiatrist on Rikers Island and then in private practice in New York before moving his practice in Los Angeles in 1982. BARRY MICHELS has a BA from Harvard, a law degree from University of California, Berkeley, and an MSW from the University of Southern California. He has been in private practice as a psychotherapist since 1980.
Praise For The Tools: Transform Your Problems Into Courage, Confidence, and Creativity…
"Transcendent . . . a rapid and streamlined method of self-improvement."—Publishers Weekly (starred review)

"Barry Michels and Phil Stutz are profoundly talented guides to the inner workings of the psyche. The Tools is breakthrough material that ignites your own capacity to transform your life."—Marianne Williamson

"These tools are emotional game changers; they can help you work through conflicts, get happier, and feel a deep sense of purpose. As simple and practical as they are, they do nothing less than deliver you to your best and most powerful self."—Kathy Freston, author of Quantum Wellness: A Spiritual Guide to Health and Happiness

"Every single thing I've written of any power or merit came through using the tools Barry taught me. Usually counterintuitive, sometimes dangerous, they only changed my life."—Stephen Gaghan, Academy Award–winning writer of Traffic and writer/director of Syriana
Advertisement