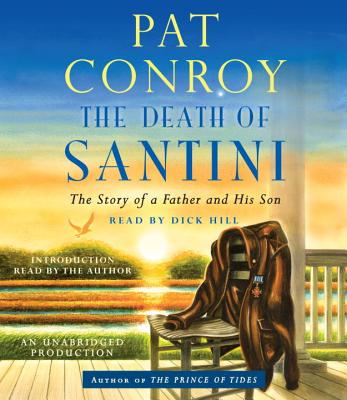 The Death of Santini
The Story of a Father and His Son
Compact Disc

* Individual store prices may vary.
Other Editions of This Title:
Digital Audiobook (10/28/2013)
Paperback (12/2/2014)
Hardcover (10/29/2013)
Description
In this powerful and intimate memoir, the beloved bestselling author of "The Prince of Tides" and his father, the inspiration for "The Great Santini," find some common ground at long last.
Pat Conroy's father, Donald Patrick Conroy, was a towering figure in his son's life. The Marine Corps fighter pilot was often brutal, cruel, and violent; as Pat says, I hated my father long before I knew there was an English word for hate. As the oldest of seven children who were dragged from military base to military base across the South, Pat bore witness to the toll his father's behavior took on his siblings, and especially on his mother, Peg. She was Pat's lifeline to a better world that of books and culture. But eventually, despite repeated confrontations with his father, Pat managed to claw his way toward a life he could have only imagined as a child.
Pat's great success as a writer has always been intimately linked with the exploration of his family history. While the publication of "The Great Santini" brought Pat much acclaim, the rift it caused with his father brought even more attention. Their long-simmering conflict burst into the open, fracturing an already battered family. But as Pat tenderly chronicles here, even the oldest of wounds can heal. In the final years of Don Conroy's life, he and his son reached a rapprochement of sorts. Quite unexpectedly, the Santini who had freely doled out physical abuse to his wife and children refocused his ire on those who had turned on Pat over the years. He defended his son's honor.
"The Death of Santini" is at once a heart-wrenching account of personal and family struggle and a poignant lesson in how the ties of blood can both strangle and offer succor. It is an act of reckoning, an exorcism of demons, but one whose ultimate conclusion is that love can soften even the meanest of men, lending significance to one of the most-often quoted lines from Pat's bestselling novel "The Prince of Tides" In families there are no crimes beyond forgiveness.
Praise For The Death of Santini: The Story of a Father and His Son…
"The Death of Santini instantly reminded me of the decadent pleasures of [Conroy's] language, of his promiscuous gift for metaphor and of his ability, in the finest passages of his fiction, to make the love, hurt or terror a protagonist feels seem to be the only emotion the world could possibly have room for, the rightful center of the trembling universe....Conroy's conviction pulls you fleetly through the book, as does the potency of his bond with his family, no matter their sins, their discord, their shortcomings." —Frank Bruni, The New York Times Book Review

"In several of his 12 previous books, bestseller Conroy mined his brutal South Carolina childhood—most directly in the book that became a 1979 hit movie, The Great Santini, about a violent fighter pilot and his defiant son. In this memoir, the 68-year-old sheds the fictional veil, taking 'one more night flight into the immortal darkness to study that house of pain a final time.' The result is a painful, lyrical, addictive read that his fans won't want to miss." —People, 3 ½ out of 4 stars
 
"Despite the inherently bleak nature of so much of this material, Conroy has fashioned a memoir that is vital, large-hearted and often raucously funny. The result is an act of hard-won forgiveness, a deeply considered meditation on the impossibly complex nature of families and a valuable contribution to the literature of fathers and sons." —The Washington Post

"Conroy remains a brilliant storyteller, a master of sarcasm, and a hallucinatory stylist whose obsession with the impress of the past on the present binds him to Southern literary tradition." —The Boston Globe

"Conroy has the reflective ability that comes only with age. He has a deeper understanding of his father and the havoc he brought to his family.…But against the backdrop of ugliness and pain, Conroy also describes a certain kind of love, even forgiveness." —Associated Press

"Conroy writes athletically and beautifully, slicing through painful memories like a point guard splitting the defense….It is a fast but wrenching read, filled with madness and abuse, big-hearted description and snarky sibling dialogue — all as Conroy comes to terms with what he calls 'the weird-ass ruffled strangeness of the Conroy family.'" —Minneapolis Star Tribune
 
"A heady, irresistible confusion of love and hate, 'one more night flight into the immortal darkness to study that house of pain one more time,' to prove how low his princes and princesses of Tides can sink and how high they can soar. True Conroy fans wouldn't have it any other way." —Atlanta Journal-Constitution
 
"An emotionally difficult journey that should lend fans of Conroy's fiction an insightful back story to his richly imagined characters. The moving true story of an unforgiveable father and his unlikely redemption." —Kirkus Reviews, starred review
Random House Audio Publishing Group, 9780307989826, 12pp.
Publication Date: October 29, 2013
About the Author
Pat Conroy is the author of ten previous books: "The Boo," "The Water Is Wide," "The Great Santini," "The Lords of Discipline," "The Prince of Tides," "Beach Music," "My Losing Season," "The Pat Conroy Cookbook: Recipes of My Life," "South of Broad," and "My Reading Life." He lives in Beaufort, South Carolina.
or
Not Currently Available for Direct Purchase