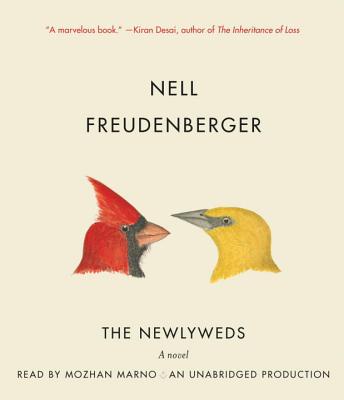 The Newlyweds
Compact Disc

* Individual store prices may vary.
Other Editions of This Title:
Digital Audiobook (4/30/2012)
Hardcover (5/1/2012)
Paperback (2/12/2013)
Description
A powerful, funny, richly observed tour de force by one of America's most acclaimed young writers: a story of love and marriage, secrets and betrayals, that takes us from the backyards of America to the back alleys and villages of Bangladesh.
In The Newlyweds, we follow the story of Amina Mazid, who at age twenty-four moves from Bangladesh to Rochester, New York, for love. A hundred years ago, Amina would have been called a mail-order bride. But this is an arranged marriage for the twenty-first century: Amina is wooed by—and woos—George Stillman online. 
For Amina, George offers a chance for a new life and a different kind of happiness than she might find back home. For George, Amina is a woman who doesn't play games. But each of them is hiding something: someone from the past they thought they could leave behind. It is only when they put an ocean between them—and Amina returns to Bangladesh—that she and George find out if their secrets will tear them apart, or if they can build a future together.
The Newlyweds is a surprising, suspenseful story about the exhilarations—and real-life complications—of getting, and staying, married. It stretches across continents, generations, and plains of emotion. What has always set Nell Freudenberger apart is the sly, gimlet eye she turns on collisions of all kinds—sexual, cultural, familial. With The Newlyweds, she has found her perfect subject for that vision, and characters to match. She reveals Amina's heart and mind, capturing both her new American reality and the home she cannot forget, with seamless authenticity, empathy, and grace. At once revelatory and affecting, The Newlyweds is a stunning achievement.
Praise For The Newlyweds…
"The beauty of The Newlyweds rests in its apparent simplicity. In clear, unfussy prose, this is the story of a marriage between two people who believe they can carve their own fate. Amina, a thoughtful Muslim woman, had always dreamed of escaping the deprivations of her life in Bangladesh. George, an engineer, was keen to settle down, yet he lacked any aptitude for the games of Western wooing. After an epistolary courtship via a dating website, the two get married and begin a life of slow mutual discovery. Within this straightforward arc lurk larger ideas: about love, destiny, choices, and the immigrant experience. Freudenberger's gifts as a writer are in spinning yarns that are engrossing and wise, with just enough suspense to build momentum. . . . She explores here the sharp contrasts and amusing discoveries of a world glimpsed through foreign eyes [and] with a light touch, conveys the gamble of choosing one's destiny."  —The Economist 
 
"Beautiful . . . Strong.  [This is] the story of a 24-year-old from Bangladesh who moves to Rochester, NY, to marry a man she met online for love. She's never left her home country, and only met her fiancé once—but to those around her, the fact that the marriage is unarranged is the oddest part. The story follows her assimilation into American culture, and her struggles with establishing her new home, culturally, religiously, psychologically and even sexually. The commentary on women in modern society, as well as their place overseas, will jolt you into thinking about gender roles, and the constant tension in discussions about marriage, both arranged and for love, is provocative. Most importantly, Freudenberger's narrative is also a discovery for her main character, Amina, of her own strength. Turns out that the process of writing The Newlyweds was one of evolution for the author, a busy mother and strong woman herself." —Meredith Turits, Glamour

"Surprising . . . riveting. [The Newlyweds] succeeds based on Freudenberger's uncanny ability to feel her way inside Amina's skin as she takes courageous, self-sacrificing steps toward realizing her dream. Caught between two worlds, Amina begins to know herself and to understand the inevitable limits of her choices. . . . For all its global sophistication, the most remarkable accomplishment of this hugely satisfying novel is Freudenberger's subtle exploration of the stage of adulthood at the heart of The Newlyweds, and all the compromises with selfhood those early years of love and marriage entail." —Jane Ciabattari, Los Angeles Times

"The union at the heart of Freudenberger's gentle new novel is not of the Cupid's arrow bliss the title evokes. George and Amina's marriage, though not lacking in affection, is more of a leap of faith than most. . . . The Newlyweds is about all sorts of complex relationships: between parents and children; with first loves; with the places we depart and those we adopt, and 'the many selves' this fluidity creates. Freudenberger does an especially lovely job creating Amina's worlds—her emotional terrain, her wonder and bewilderment adjusting to America, her life in Bangladesh."  —Agnes Torres Al-Shibibi, The Seattle Times

"A merging of lives, a collision of cultures—these themes are at the heart of Freudenberger's fine second novel . . . Amina Mazid 'meets' George Stillman on a dating website. He's 10 years older, looking to get married and start a family. She dreams of a better life in America. After nearly a year of corresponding online, George travels to Amina's home village to meet her family, and they become engaged. Yet both hide secrets that will complicate their relationship. By the following spring, they're living together in Rochester. Several aspects of Amina's new life prove puzzling: American megastores, such as WalMart and Bed, Bath and Beyond, overwhelm her. In conversation, she doesn't understand the concept of sarcasm. And she has no idea what a snooze button is. Yet Freudenberger doesn't simply trace cultural misunderstandings on an amusing or superficial level. She delves into more serious issues between Amina and George. . . .The Newlyweds crosses continents, cultures and generations. . . . It's funny, gracefully written and full of loneliness and yearning. It's also a candid, recognizable story about love—the real-life kind, which is often hard and sustained by hope, kindness, and pure effort." —Carmela Ciuraru, USA Today 
 
"A lonely man in upstate New York decides that American women don't suit him, so he takes to the Internet. Half a world away in Bangladesh, a determined young woman posts an ad on a matchmaking site for Western men and Asian women. They're George and Amina, the newlyweds in the second novel from Freudenberger, decorated by The New Yorker and Granta as a promising young fictionnaire. You may think you know how this story goes, but as they say on Facebook, it's complicated. As Amina cautiously shapes a life in her new country of Starbucks and suburbs, she and her spouse stubbornly resist settling into cliché. Freudenberger's central couple are more than well-crafted characters; they shimmer with believability and self-contradicting nuance. . . . As the tale traces their tumultuous first years together, George and Amina's union is revealed as hardly standard, but at once idiosyncratic and universal. . . . Fluid and utterly confident." —Allison Williams, Time Out New York (four stars)
 
"A true triumph . . . Freudenberger's most successful book yet. The Newlyweds' s appealing protagonist, Amina, is a young, slender Bengali (e)mail order bride who grew up in and around Dhaka. The novel follows her to Rochester, NY, where she meets her fiancé George, learns the meaning of words like 'dumbstruck' and how to shovel snow, and gets a job at a sales clerk at a store called MediaWorks. Where Freudenberger excels is in her understanding of familial love and the comical side of learning to live in a foreign land . . . Amina is unpretentious, a character who shares a common language with the reader. Her perceptions of her new life are inflected by her unfamiliarity with America, and those of her past in Dhaka are brought to life in an angry vividness. Freudenberger's masterful prose makes comprehensible how someone can become a stranger in two places at once." —Michael Woodsmall, New York Observer

"Captivating . . . Freudenberger's latest novel explores the unexpected consequences when two distinct cultures collide. . . . This engaging story, with its page after page of effortless prose, ultimately offers up a deeper narrative of the protagonist's yearning." —S. Kirk Walsh, The Boston Globe 
 
"After Amina Mazid of Bangladesh meets George Stillman of Rochester, NY, on a dating site, she leaves everything that is familiar and travels across the world to become his wife. Freudenberger shows us Amina in all her complexity: ambitious, devoted, intelligent, ambivalent and, when alone with George, sexually curious . . . Amina and George keep secrets from each other that threaten their fragile bond, and the author takes her time letting them unfold. The relationship between reader and writer is always something of an arranged marriage, in the sense that the reader enters a stranger's sensibility, hoping for the best. Amina and George may have a complicated connection, but Newlyweds is an unambiguous success." —Meg Wolitzer, More Magazine

"Evocative . . . From the time she broke into The New Yorker at age 26 with her first-ever published short story, Freudenberger has been regarded as a heavyweight literary phenom. . . . The latest feather in [her] cap is The Newlyweds. It's really, really good. As always, [she] is fascinated by culture clash, here encapsulated in the marriage of a young woman from Bangladesh and an American engineer from Rochester, New York, who's 10 years her senior. This is not a love match. Lonely George wants a family; Amina recognizes that her aging parents' security depends on her making a good marriage, particularly since her father is something of a Bengali Willy Loman. . . . [But] The Newlyweds is so much more than a 'lost-in-translation' romp: There are soulful depths to the sociology. Both Amina and George had been in love with other people before they resorted to international computer dating and the novel, which roams in a twisting, lavish storyline between America and Bangladesh, explores the strong and sometimes disastrous pull of those earlier attachments. The Newlyweds also tackles the promise of America and the payment—practical and psychic—it demands of immigrants. . . . [A] luscious and intelligent novel that will stick with you. . . . Freudenberger keep[s] the wonderfulness coming." —Maureen Corrigan, NPR

"Freudenberger returns to the theme of cultural identity through the story of a 24-year-old Bangladeshi who leaves her native country and religious circle to marry an American whom she met online. Settling in Rochester, New York, Amina's happiness is elusive. . . . When [she] makes her first visit back home, she finds her relatives critical of her. It forces Amina to think about how being part of a close-knit group can be oppressive—and leads readers to consider the conflict between the weight of family obligations and individual desires. Through Amina, Freudenberger explores how technology and the global economy have changed marriage and religion, and raises questions about the limits of cultural adaptation. Freudenberger has also created an unforgettable character: Amina's determination, intelligence, and resilience make her a heroine for any culture and any time." —Emily Witt, Marie Claire
 
"A modern-day variety of arranged marriage. George and Amina, the husband and wife of The Newlyweds, have met on the matchmaking website AsianEuro.com. . . . [But] Freudenberger is doing much more here than writing an exposé of the tawdry system of mail-order brides. . . . Amina, through whose eyes the story is told, is intelligent and self-sufficient—she works a retail job even as she takes care of the house and studies for her citizenship exam. Parts of The Newlyweds might be about the learning curve faced by any freshly married couple—in Amina's most trenchant line, she says to George: 'At first we were puzzle pieces. Now we are the puzzle.' But the marriage is still founded on an essential inequality, and The Newlyweds is quietly damning in showing how George almost unthinkingly exploits the power that comes with having money. Amina feels herself being subtly molded into the kind of spouse—pragmatic and low-maintenance—that George would like her to be . . . The distance between Amina's American self and her Bangladeshi self is perceptively explored by Freudenberger. Like writers such as Jhumpa Lahiri and Ha Jin, she deftly shows how strange the rituals of suburban America seem to an observant outsider." —Sam Sacks, The Wall Street Journal 
 
"Once certain borders are crossed, it's impossible to truly go home again—or so finds Amina, the intrepid young Bangladeshi e-mail-order bride at the center of Freudenberger's quietly compelling second novel. Arriving in suburban Rochester to start a life with her engineer husband, the cautiously game Amina embarks on a new life filled with curious challenges—balancing college classes with a job at Starbucks; unfathomable quantities of snow; and the difficult-to-read friendliness of Americans. But neither does Amina feel quite like herself back in her village, where she returns, green card in hand, to bring her parents to America, only to find herself drawn in by potent family resentments (and the sympathy of a former suitor). Amina's American dreaming isn't about self-invention but about reconciling her own contested boundaries, and her journey through the foreign continent of marriage, full of daily encounters with the unknown, takes on an epic power." —Megan O'Grady, Vogue

"A delight, one of the easiest book recommendations of the year. The cross-cultural tensions and romance so well drawn here recall the pleasures of Monica Ali's Brick Lane and Helen Simonson's Major Pettigrew's Last Stand. On a recent trip, I read most of The Newlyweds out loud to my wife, and we both fell in love with Freudenberger's Bangladeshi heroine. Freudenberger is that rare artist who speaks fluently from many different cultural perspectives, without preciousness or undue caution. She understands the complicated negotiations that always attend contacts between people of radically different backgrounds. The Newlyweds explores the tangled misimpressions and deceptions that separate Amina and George—and sometimes bind them together. Freudenberger knows Amina as well as Jane Austen knows Emma, and despite its globe-spanning set changes, The Newlyweds offers a reading experience redolent of Janeite charms: gentle touches of social satire, subtly drawn characters and dialogue that expresses far more than its polite surface. And how Freudenberger keeps the chapters moving is a mystery of perpetual motion . . . Much of the appeal of The Newlyweds is the way Amina and George negotiate the demands of their respective families with a mixture of affection and exasperation. Moving gracefully between the suburbs of Rochester and the aromatic markets of Dhaka, the novel locates that unsettling inflection point when we shift from being cared for by our parents to caring for them—without ever losing the need to please them, to win their approval, to make them happy. . . . Suspended between two cultures, two homes 8,000 miles apart, Amina wonders if there's an essential identity that exists 'beneath languages' [and she] can't escape her suspicion that the price of assimilation is too high.  George and Amina soon realize, as any couple must, that they don't know as much about each other as they once believed. After all, an online algorithm is so primitive compared with the intimate knowledge a village matchmaker can offer a young couple in the villages of Bangladesh. On either side of the world, making a marriage work demands casting off not just old lovers, but cherished fantasies about who we are. Whether these two alien lovebirds can—or should—do that is the question Freudenberger poses so beguilingly." —Ron Charles, The Washington Post 
 
"Affecting . . . A genuinely moving story about a woman trying to negotiate two cultures, balancing her parents' expectations with her own aspirations, her ambition and cynical practicality with deeper, more romantic yearnings. . . . Writing about a foreign country kick[s] Freudenberger's gift for observation into high gear, and she does a visceral job of conjuring the place where Amina grew up: the countryside 'so green that you almost expected to look up and see a green sun in the sky; the city streets, hazardous with mobs and rickshaws and pools of black sewage.' Here there are roaches in the hospital corridors and the danger of violent assaults in which acid is thrown at an enemy. But here there is also a dense network of extended family, family friends and neighbors, a support system in the face of the swirling whirlpools of fortune. Freudenberger captures Amina's confusion, her sense of being caught between two cultures, for having become someone who is regarded as an outsider in both her new adopted country and the country she still thinks of as home.  . . . The Amina-Nasir relationship and Amina's relationship with her aging parents are the nucleus of this novel and reveal the contradictions deep within Amina's own heart. These are real, complex, deeply felt connections that have both endured and changed over time, and in depicting them, Freudenberger demonstrates her assurance as a novelist and her knowledge of the complicated arithmetic of familial love, and the mathematics of romantic passion." —Michiko Kakutani, The New York Times 
 
"Freudenberger is aware of the pitfalls she faces in telling us Amina's tale, and she wants us to be aware of them, too. At stake here isn't—or shouldn't be—the question of authenticity; the more pressing issue is verisimilitude, truthlikeness, the illusion of being real. [As] a work in the realist vein, truthlikeness is important to [The Newlyweds'] ambitions, and Freudenberger brings impressive attributes to bear in achieving it: a powerful sense of empathy, of being able to imagine what it is to be someone else, to feel what someone else feels; an effective writing style that avoids drawing attention to itself; and an international sensibility, which allows her to write about places outside America not as peripheral—mere playgrounds for American characters—but as central to themselves. . . . Set largely in Dhaka and Rochester, with stopovers in New York City and rural Bangladesh, the love polyhedron that is The Newlyweds is at heart a tale of never-ending migrations. Its world is full of mirrors, the refracted similarities conjured up by globalization. Upstate New Yorkers wear elements of South Asian garb to yoga studios, and a young man pulls a Bangladeshi rickshaw in 'a lungi and a black T-shirt with a picture of the Sydney Opera House in neon green.' But differences remain, and one of these lies on attitudes toward relationships between younger adults and the elderly.  . . Truths are indeed present in this novel—in its clear-eyed openness and compassion toward the world, in its nuanced and human representation of Muslim characters and their varying Islams, and in the understanding and sympathy it displays for the nostalgia of migrants—which is to say, for all human beings, even those who are born and die in the same town and travel only in time." —Mohsin Hamid, The New York Times Book Review

"Dazzling . . . Freudenberger's rich, wise, bighearted novel concerns a young woman who leaves her family in Bangladesh to live in America as the wife of a man she met on the Internet. 'You're so much more sensible than other women,' George tells Amina as she sets up housekeeping with him in Rochester, New York. Amina is sensible, yes, as well as thrifty, hardworking, and pious (she wants a proper Muslim wedding in a mosque, with no objection from her Christian husband-to-be). She's also devoted to her parents back home and, as an only child, longs for the day they can move to Rochester too. But Amina is no docile mail-order bride, and George is no easy stereotype either. Each harbors complications, secrets, desires, disappointments—complications the 30-something author probes with a clarity of language and empathy of soul that make her one of the most perceptive and least mannered younger storytellers working today. An experienced traveler throughout Asia, Freudenberger found her inspiration for The Newlyweds in a chance airplane encounter with a woman who was herself bound for an Internet-facilitated marriage to an American man; that new bride, now a friend, gave permission for her life story to be absorbed into fiction. And in return, the writer works with care and respect, giving a full voice to every Deshi aunt, American cousin, and passing employee at the Starbucks where Amina finds a job. Freudenberger moves gracefully between South Asian fantasies of American life and the realities of bone-cold, snow-prone upstate New York—and turns the coming together of newlyweds Amina and George into a readers' banquet. Grade: A." —Lisa Schwartzbaum, Entertainment Weekly

"In this modern romance, 24-year-old Amina Mazid moves from Bangladesh to New York after falling in love with an engineer over the Internet. The cultural adjustments that follow—and the truths revealed—drive this honest tale."     —People Stylewatch 
 
"Amina of Dhaka, Bangladesh, meets George of Rochester, New York, on AsiaEuro.com and comes to America to wed. She is smart and disciplined at 24; he is 10 years older, a well-employed loner set in his ways. Her English is excellent, though she claims to find sarcasm difficult to catch even as she slyly employs it. Yes, Amina is a marvelously wily narrator, and Freudenberger greatly advances her standing as a writer skilled in understatement and deadpan wit as she continues her signature exploration of the dynamics between Americans and Southeast Asians in this exceptionally intimate, vivid, and suspenseful novel. . . . This classic tale of missed chances, crushing errors of judgment, and scarring sacrifices, all compounded by cultural differences, is perfectly pitched, piercingly funny, and exquisitely heartbreaking."  —Donna Seaman, Booklist (starred review) 
 
"In the first paragraph of Freudenberger's winning novel, we meet Amina, coatless, in slippers, running to the mailbox, announcing silently to her new neighbors that she has come to stay. But where did she come from, and why? Freudenberger addresses these questions, and many others, in this a thoughtful treatise on cross-cultural relationships tucked into a wry satire of American life.  How will Amina adjust to a society that allows adult children to stop speaking to their parents? More important, how will she deal with George's betrayals, small and not so small? Freudenberger is too sophisticated to make this a simple tale of a disappointed bride: Amina, for all her ingeniousness, has secrets of her own. That she and George manage to muddle though the first years of marriage is a testament to the power of love and respect; that we care about them all the way through says as much about Freudenberger's keen observations and generous heart."  —Sara Nelson, O, The Oprah Magazine 
 
"When we leave home, our self-knowledge and life goals are often thrown into disarray. For dutiful, driven Amina, the woman at the heart of Nell Freudenberger's densely beautiful novel The Newlyweds, advancing the plan that seemed most favorable to her family—bringing her parents out of Bangladesh to America after gaining citizenship here herself—is initially gratifying.  But when Amina learns that [her new husband] George is not so eager to install her parents in their 3BR split-level—and has a more complicated romantic history than he had let on—her shame is searing. By the time [she] returns to Bangladesh to fetch her parents, we don't know whether she will go back to George or pursue her father's best friend's handsome, worldly son, for whom she finds she feels intense desire. Even more stirring than this tension is [her] growing understanding that moving forward often involves losing one's grip. Freudenberger, a deliciously precise and perceptive writer, loosely based Amina on a woman she met on an airplane, and when she describes Amina's recognition 'that the permanent part of your own experience' is largely an illusion, we can only be glad they struck up what must have been a helluva conversation."—Louisa Kamps, ELLE

"Freudenberger draws women's complex lives as brilliantly as Austen or Wharton or Woolf, and, with The Newlyweds, has given a performance of beauty and grace." —Andrew Sean Greer, author of The Story of a Marriage

"A big, complicated portrait of marriage, culture, family, and love. Freudenberger never settles for an easy answer, and what she delivers is a story that feels absolutely true. Every minute I was away from this book I was longing to be back in the world she created." —Ann Patchett, author of State of Wonder

"Exceptional . . . Here is an honest depiction of life as most people actually live it: Americans and Asians, Christians and Muslims, liberals and conservatives. Freudenberger writes with a cultural fluency that is remarkable and in a prose that is clean, intelligent, and very witty." —David Bezmozgis, author of The Free World 
 
"Once in a while, you come across a novel with characters so rich and nuanced, and situations so pitch-perfect, that you forget you're reading fiction. The Newlyweds is that sort of novel. I was floored by it--captivated from beginning to end. And now that I'm done, I can't stop thinking about it." —J. Courtney Sullivan, author of Maine
 
"Wise, timely, ripe with humor and complexity, The Newlyweds is one of the most believable love stories of our young century." —Gary Shteyngart, author of Super Sad True Love Story
 
"Limpid, precise prose, clear as glass, magnifies, slows, and allows us into the heart of this love story set in a globalized time. Freudenberger has rare humanity, and talent great enough to command not only a vast landscape of imbalance and misunderstanding, but also a tender sphere of tiny intimacy, hidden yearning. The Newlyweds is a marvelous book." —Kiran Desai, author of The Inheritance of Loss
Random House Audio Publishing Group, 9780307989994, 11pp.
Publication Date: May 1, 2012
About the Author
Nell Freudenberger is the author of the novel "The Dissident" and the story collection "Lucky Girls, " winner of the PEN/Malamud Award and the Sue Kaufman Prize for First Fiction from the American Academy of Arts and Letters; both books were "New York Times Book Review" Notables. A recipient of a Guggenheim Fellowship, a Whiting Award, and a Dorothy and Lewis B. Cullman Fellowship from the New York Public Library, she was named one of "Granta"'s Best Young American Novelists and one of "The""New Yorker"'s "20 Under 40." She lives in Brooklyn with her family.