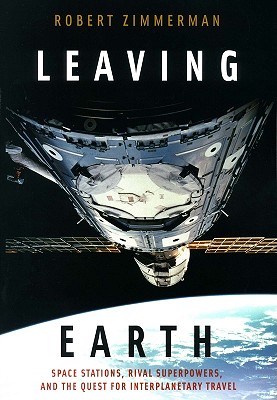 Leaving Earth (Hardcover)
Space Stations, Rival Superpowers, and the Quest for Interplanetary Travel
Joseph Henry Press, 9780309085489, 544pp.
Publication Date: September 6, 2003
* Individual store prices may vary.
Description
Charged with the ever-present potential for danger and occasionally punctuated by terrible moments of disaster, the history of space exploration has been keenly dramatic. The recent disaster of the Space Shuttle Columbia was a sad but certain reminder that space travel is an extraordinarily dangerous occupation. Oddly enough, it often takes a tragic accident to remind us that we still have a presence in space.
In the decades between triumph and tragedy we tend to ignore the fact that there have been scores of space pioneers who have risked their lives to explore our solar system. Indeed, the International Space Station is sometimes referred to as oeAlpha, a moniker that implies that it is our first real permanent presence in space. But this notion is frowned upon by the Russians " and for good reason. Prior to the construction of the controversial International Space Station, a host of daring Russian cosmonauts, and a smaller number of intrepid American astronauts, were living in space for months, some of them for over a year.
In this definitive account of man (TM)s quest to become citizens of the cosmos, noted space historian Robert Zimmerman reveals the great global gamesmanship between Russian and American political leaders that drove us to the stars. Beaten to the Moon by their Cold War enemies, the Russians were intent on being first to the planets. They believed that manned space stations held the greatest promise for reaching other worlds and worked feverishly to build a viable space station program " one that would dwarf American efforts and allow the Russians to claim the vast territories of space as their own.
Although unthinkable at the time, the ponderously bureaucratic Soviet Union actually managed to overtake the United States in the space station race. Leveraging their propaganda machine and tyrannical politics to launch a series of daring, dangerous, and scientifically brilliant space exploits, their efforts not only put them far ahead of NASA, they also helped to reshape their own society, transforming it from dictatorship to democracy. At the same time, the American space program at NASA was also evolving, but not necessarily for the better. In fact, the two programs were slowly but inexorably trading places.
Drawing on his vast store of knowledge about space travel, as well as hundreds of interviews with cosmonauts, astronauts, and scientists, Zimmerman has superbly captured the excitement and suspense of our recent space-traveling past. For space and history enthusiasts alike, Leaving Earth describes a rich heritage of adventure, exploration, research, and discovery.

or
Not Currently Available for Direct Purchase