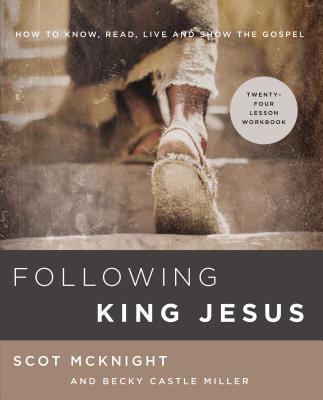 Following King Jesus
How to Know, Read, Live, and Show the Gospel
Paperback

* Individual store prices may vary.
Description
Whether you desire a fresh look at what it means to be a disciple or are new to the idea of Christian discipleship, this workbook is a gospel-centered guide to what Jesus means when he asks us to follow him.
Why is there so often a divide between being a Christian in name and being a true follower of Jesus? They should be the same thing. But learning how to follow Jesus--to live into the name Christ-ian by working to become like him--takes a lifetime of devotion and a renewed focus on the gospels.
Author and professor Scot McKnight teaches what it means to follow King Jesus by helping individuals and study groups:
Understand the biblical meaning of the gospel
Learn (or re-learn) how to properly read the Bible
Live as disciples of Jesus in all areas of life
Show the world God's character through the community of the church
Based on four of McKnight's bestsellers (The King Jesus Gospel, The Blue Parakeet - 2nd edition, One.Life, and A Fellowship of Differents), this workbook is designed for personal study and disciple-making groups of two or more. These 24 lessons on discipleship essentials will help you develop a proper framework for being a disciple in your relationship to God, yourself, fellow believers, and the world.
Harperchristian Resources, 9780310105992, 208pp.
Publication Date: April 16, 2019