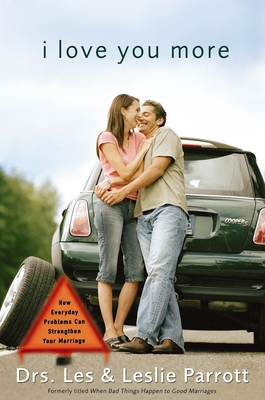 I Love You More: How Everyday Problems Can Strengthen Your Marriage (Paperback)
How Everyday Problems Can Strengthen Your Marriage
Zondervan, 9780310257387, 208pp.
Publication Date: July 25, 2005
Description
How to make the thorns in your marriage come up roses. The big and little annoyances in your marriage are actually opportunities to deepen your love for each other. Relationship experts and award-winning authors Les and Leslie Parrott believe that your personal quirks and differences--where you squeeze the toothpaste tube, how you handle money--can actually help draw you together provided you handle them correctly. Turn your marriage's prickly issues into opportunities to love each other more as you learn how to ? build intimacy while respecting personal space ? tap the power of a positive marriage attitude ? replace boredom with fun, irritability with patience, busyness with time together, debt with a team approach to your finances . . . and much, much more. Plus--get an inside look at the very soul of your marriage, and how connecting with God can connect you to each other in ways you never dreamed.
About the Author
A psychologist and a marriage and family therapist, Drs. Les and Leslie Parrott are founders of the Center for Relationship Development at Seattle Pacific University. Their bestselling books include Love Talk, Crazy Good Sex The Complete Guide to Marriage Mentoring, and the award-winning Saving Your Marriage Before It Starts. Their work has been featured in The New York Times and USA Today, and they have appeared on CNN, O'Reilly Factor, Good Morning America, Today Show, The View, and Oprah. They live with their two sons in Seattle. Visit LesandLeslie.com.
Advertisement