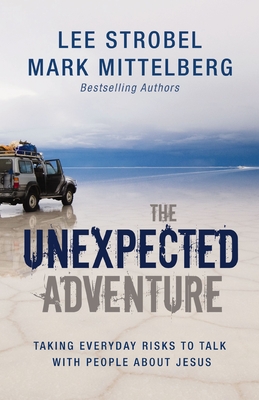 The Unexpected Adventure: Taking Everyday Risks to Talk with People about Jesus (Paperback)
Taking Everyday Risks to Talk with People about Jesus
Zondervan, 9780310283928, 292pp.
Publication Date: April 29, 2009
Description
When we seize opportunities to talk with others about Jesus, days that start out dull and tedious can quickly blossom into exciting escapades. Written fortoday's multigenerational, multicultural world, The Unexpected Adventure helps readers take easy steps into a natural evangelistic lifestyle that will energize their own faith while making an eternal difference in the lives of people they encounter.Using a devotional-style format, bestselling authors Lee Strobel and Mark Mittelberg tell dramatic and sometimes funny stories from their own lives and then draw out practical applications backed by Scripture. Readers will be inspired with fresh compassion for their spiritually confused friends and equipped with practical strategies for influencing others for Christ. Entire churches will be rejuvenated as congregations discover that evangelism can be the adventure of a lifetime -- starting today.
About the Author
Lee Strobel was the award-winning legal editor of The Chicago Tribune and is the best-selling author of The Case for Faith, The Case for Christ, and The Case for a Creator, all of which have been made into documentaries by Lionsgate. With a journalism degree from the University of Missouri and a Master of Studies in Law degree from Yale, Lee wrote 3 Gold Medallion winners and the 2005 Book of the Year with Gary Poole. He and his wife live in Colorado. Visit Lee's website at: www.leestrobel.com.
Advertisement