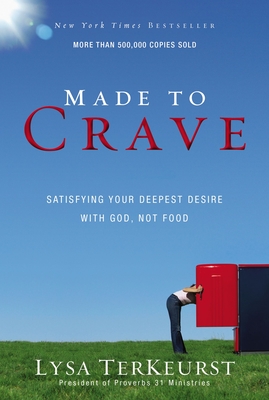 Made to Crave
Satisfying Your Deepest Desire with God, Not Food
Paperback

* Individual store prices may vary.
Other Editions of This Title:
Paperback (1/18/2011)
Paperback (2/19/2011)
MP3 CD (5/6/2014)
Paperback, Spanish (8/6/2011)
Compact Disc (8/13/2013)
MP3 CD (8/13/2013)
Compact Disc (8/13/2013)
Description
What would happen if you started listening to your cravings instead of trying to silence them? If you're tired of the same old messages of eat less and move more, this book is what you've been missing. You know "how to" get healthy... but now there's finally a book to help you find your "want to"- the lasting emotional and spiritual motivation to meet your goals and stay healthy.
The reality is we were made to crave. Craving isn't a bad thing. But we must realize God created us to crave more of him. Many of us have misplaced that craving by overindulging in physical pleasures instead of lasting spiritual satisfaction. New York Times bestselling author of It's Not Supposed to Be This Way, Uninvited, and The Best Yes, Lysa TerKeurst, invites you to find the missing link between a woman's desire to be healthy and the spiritual empowerment necessary to make that happen. In this book, Lysa will help you:
Break the cycle of "I'll start again Monday" and feel good about yourself today.
Stop agonizing over numbers on the scale and make peace with your body.
Replace rationalizations that lead to failure with wisdom that leads to victory.
Reach your healthy goals and grow closer to God through the process.
This is not a how-to book. This is not the latest and greatest dieting plan. This book is the necessary companion for you to use alongside whatever healthy lifestyle plan you choose. This is a book and Bible study to help you find the "want to" in making healthy lifestyle choices.
Thomas Nelson, 9780310293262, 218pp.
Publication Date: December 25, 2010
About the Author
Lysa TerKeurst is the New York Times bestselling author of The Best Yes. She is president of Proverbs 31 Ministries and writes from her sticky farm table in North Carolina where she lives with her husband, Art, five kids, three dogs, and a mouse that refuses to leave her kitchen. Connect with her at www.LysaTerKeurst.com.