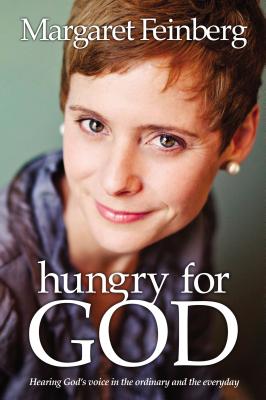 Hungry for God
Hearing God's Voice in the Ordinary and the Everyday
Paperback

* Individual store prices may vary.
Description
In your heart you feel the longing--an emptiness that can't be satisfied by food, or friendships, or entertainment, or success, or anything this world can offer. Only God can fill the void. More than you know, you hunger for God.
In Hungry for God, critically acclaimed author Margaret Feinberg puts you in touch with your desire for intimacy with your Creator and what it takes to find fulfillment. Feinberg writes, "The sound of his voice is spiritual nourishment, his voice a banquet for my soul--every syllable a tasty morsel, every expression flavored with love."
With rare insight into the Scriptures, human nature, and the heart of God, Feinberg invites you to discover the ways in which God speaks to you not from the top of some holy mountain, but in the midst of your everyday affairs. Learning to hear God's voice isn't as much a destination as it is a journey, and if you travel far enough, you'll find yourself abiding in the presence of God.
Passionate, honest, and filled with wisdom and inspiration, Hungry for God will help you cultivate the holy intimacy your spirit craves.
Zondervan, 9780310332077, 188pp.
Publication Date: May 28, 2011
About the Author
Margaret Feinberg is a popular Bible teacher and speaker at churches and leading conferences such as Catalyst, Thrive, and Women of Joy. She was recently named one of 50 women most shaping culture and the church today by Christianity Today. Her books, including The Organic God, The Sacred Echo, and Scouting the Divine sold nearly a million copies. Margaret lives in Morrison, Colorado, with her husband, Leif, and their super pup, Hershey.